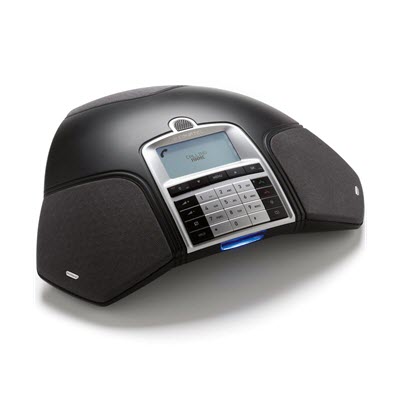 Konftel 250 vergadertelefoon
The Konftel 250 is equipped with the patented OmniSound HD audio technology. The Konftel 250 has a built in recording function that enables calls to be recorded to an SD Memory card.
Konftel 250 Conference Phone Overview
The Konftel 250 Conference phone with analog connection is perfect for simple meetings in both small and large conference rooms. This conference phone is equipped with patented OmniSound HD for crystal clear sound.
This Konftel phone allows for calls to be recorded on an SD memory card to be transferred to any computer to be saved. The Konftel 250 is suitable for smaller conference rooms but can also be expanded into larger rooms with the addition of optional expansion microphones.
€241,95
Nieuwste Producten
ZyXEL GS1910 GS1910-24HP 24 Port Gigabit Smart Managed PoE+ 4x 10GbE SFP+ Ports Switch

The ZyXEL GS1910-24HP is a smart switch with optional 10GbE uplink for maximum throughput to fulfill increasing network demands for Small and Medium Businesses (SMB).

ZyXEL GS1910-24HP Key Benefits

Smart Layer 2 features enrich access networks
GbE bandwidth for desktops
Energy management with IEEE 802.3az and IEEE 802.3at PoE Plus
Optional 10GbE uplink for flexible data delivery

The GS1910 is ideal for securing 10/100, Gigabit and 10GbE connectivity. The GS1910-24HP also offers IEEE 802.3az, access security, advanced prioritization, traffic-monitoring capabilities and a fanless design. Meanwhile, the Series supports smooth IPv6 migration for future expansions. As a result, the GS1910 is suitable for fulfilling SMB network needs with cost-effective, valuable frameworks.

ZyXEL GS1910-24HP PoE Switch – Technical Specifications

Standard Compliance

IEEE 802.3
IEEE 802.3u
IEEE 802.3ab
IEEE 802.3z 1000BASE-X
IEEE 802.3x flow control
IEEE 802.3az EEE support
IEEE 802.1p CoS support
IEEE 802.3af/at (PoE models only)
Full-duplex and half duplex operation with
IEEE 802.3x flow control and backpressure
Store and forward
N-way auto-negotiation

Traffic Management and QoS

Port-based VLAN
MAC-based VLAN
Protocol-based VLAN
802.1Q VLAN tagging
Guest-VLAN
Voice VLAN
Storm Control (Unicast, Broadcast, and Unknown
traffic) 802.1p Priority Queues per Port
802.1p Queuing method (scheduler)
Input priority mapping
QoS control list (QCL mode)
Queue egress shaper
Tag remarking
Rate Limiting, port based (ingress/egress)
Rate Limiting, per IP/TCP/UDP per port
802.3x flow control
Policy based Prioritization

Class of Service (CoS)

802.1p Class of Service (SPQ, WFQ, SPQ/WFQ
combination capable)
DiffServ (DSCP)
Policy based CoS

Resilience and availability

IEEE 802.1D STP/802.1w RSTP/802.1s MSTP
IEEE 802.1s instances
IEEE 802.3ad LACP (standalone mode)
(GS1910-24/24HP, XGS1910-24: max 32 trunks/
12 links per trunk; GS1910-48/48HP, XGS1910-48:
max 32 trunks/24 links per trunk)
Loop guard
Port error Recovery

Security

802.1x
Port Security
MAC authentication
MAC address limit
Layer 2 MAC filtering
Layer 3 IP filtering
Layer 4 TCP/UDP socket filtering
BPDU guard
Static MAC forwarding
Multiple RADIUS servers
Multiple TACACS+ servers
802.1x VLAN and QoS assignment by RADIUS
RADIUS authentication
TACACS+ authentication
RADIUS accounting
RADIUS authorization
TACACS+ authorization
SSL
DHCP snooping
ARP Inspection
UPNP
P/MAC/Port binding (dynamic/static)
• IP/MAC/Port binding dynamic to static
Policy-based security filtering
Port Isolation
IP Source Guard
ACL Packet Filtering (IPv4/IPv6)
ACL for policing/port copy (incl. ACL Wizards)

Layer 2 Multicast

IGMP Snooping (v1, v2, v3)
IGMP Snooping Fast Leave
IGMP Snooping Statistics
IGMP Throttling
MVR support
IGMP Filtering
IGMP proxy mode & snooping mode selection
IPv6 MLD snooping (v1, v2)

IPV6

IPv6 management
IPv6 over Ethernet (RFC 2464)
Dual Stack (RFC 4213)
ICMPv6 (RFC 4884)
Neighbor Discovey (RFC4861)
IPv6 Addressing Architecture (RFC 4291)
IPv6 MLD snooping
SNMP/UDP or TCP/IPv6

Discovery

Network Management

Web-based management
SNMP v1, v2c, v3
RMON: four RMON groups 1, 2, 3, 9 (history,
statistics, alarms, and events) for enhanced traffic
management, monitoring, and analysis
Dual image
NTPv4 Client
DHCP relay
DHCP client
DHCP option 82
Syslog
Port mirroring & Remote Port mirroring
DNS client, Proxy
sflow
EEE

MIB Information

RFC 1213 MIB II
RFC 2819 RMON (Group 1, 2, 3, 9)
RFC 2863 Interface Group MIB using SMIv2
RFC 3411 SNMP Management Frameworks
RFC 3414 User-based Security Model for SNMPv3
RFC 3415 View-based access Control Model for
SNMP
RFC 3635 Ethernet-like MIB
RFC 3636 802.3 MAU MIB
RFC 4133 Entity MIB v3
RFC 4188 Bridge MIB
RFC 4668 RADIUS auth. Client MIB
RFC 4670 RADIUS Accounting MIB
RFC 5519 Multicast Group Membership
Discovery MIB
IEEE 802.1Q Bridge MIB
IEEE 802.1 MSTP MIB
IEEE 802.3AB LLDP-MIB
IEEE 802.3ad LACP MIB
IEEE 802.1X PAE MIB
TIA 1057 LLDP-MED

Certifications

Safety: LVD
EU RoHS compliant
EMI: FCC, CE, CNS, ICES
BSMI: CNS14336 & CNS13438

Inclusief rackmountkit !!
---