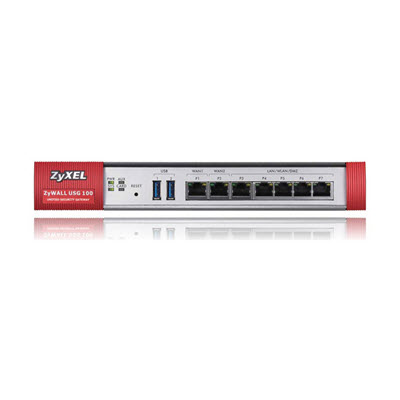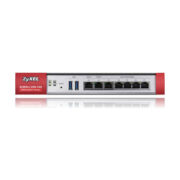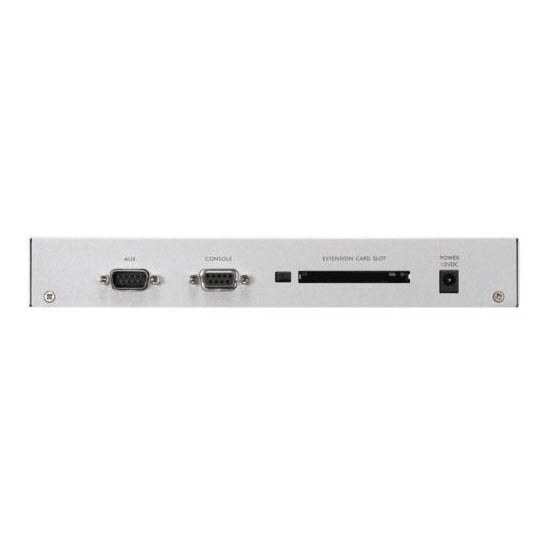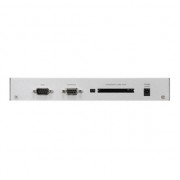 ZyXEL Zywall USG 100 firewall
As broadband quickly becomes a necessity in the business world facing network security threats, the breaches evolve into highly sophisticated attacks to paralyze networks and to steal sensitive information. In response to such attacks, small businesses have to meet the great challenge protecting their networks.
The ZyXEL USG 20/20W/50/100/100-PLUS/200 Series is designed for small business to provide real-time inspection and multi-layer network protection to prevent the network from threats. The USG Series embodies Stateful Packet Inspection (SPI) Firewall, Anti-Virus (AV), Intrusion Detection and Prevention (IDP), Content Filtering, Anti-Spam and VPN (IPSec/SSL/L2TP) features in one box. In addition, the USG Series not only offers complete security license to fulfill your demand but also guarantees the continuous firmware upgrades to save your cost. Incorporating comprehensive security features in the connected devices, the USG Series safeguards your organization's customer and company records, intellectual properties as well as critical resources from both external and internal threats.
Robust security without sacrificing performance
Comprehensive support to IPv6
Robust hybrid VPN (IPSec/SSL/2TP)

Zero-configuration remote access with EASY VPN
Support L2TP VPN on mobile device (iPhone and Android phone)

ICSA Firewall, IPSec certification
Content filter stops malware and Web threats
Powerful Email security
Non-stop Internet access with multiple WAN and 3G backups
Robust security without sacrificing performance
The ZyXEL USG 20/20W/50/100/100-PLUS/200 Series is built with a powerful Integrated High-Performance Security architecture that provides real-time inspection to prevent networks from threats without sacrificing performance. Corporate networks are not only flawlessly secured but also get significant performance enhancements on productivity and efficiency since file loading, emailing and information searching applications are processed at higher speeds.
Comprehensive IPv6 support smoothly connects future-ready networks
The ZyXEL USG Series is IPv6-ready today and is certified with "IPv6 Ready" gold logo. With IPv6 feature enabled, the USG Series ensures businesses with a smooth migration path from the IPv4-based networks to the full IPv6 infrastructure. It assigns IPv6 addresses to clients and passes the IPv6 traffics through the IPv4 environment. The USG Series supports dual-stack and IPv4 tunneling (6rd and 6to4 transition tunnel) implementations for Internet connectivity to access IPv6 applications.
EASY VPN reduces operation cost and time
Establishing a VPN tunnel is a good way to build secure connections among remote offices, branch offices and partners; however it is difficult for non-technical employees, such as sales people, to use because of complicated configuration. The ZyXEL USG Series is equipped with the "EASY VPN" solution to push configuration files to the VPN clients automatically; this eliminates the configuration efforts while securing the access at the same time. In addition, the USG Series supports L2TP VPN technology on iPhones, Android phones and many other mobile devices as L2TP VPN enables employees in remote places to connect to the headquarters with easy and free access.
Content filter for safer Web surfing
The World Wide Web has become the main target for network threats, since the Internet itself is a very effective malware delivery mechanism. With threats hidden directly in contents such as cookies, add-ons and rootkits, it makes malware exceptionally difficult to detect.
The ZyXEL USG Series content filter solution provided by Blue Coat and Commtouch, the leading providers, reduces costs and extends protection by combining a comprehensive, integrated database featuring millions of URLs, IP addresses and domains. With the solution, the USG Series not only enables real-time protection that deters emerging Web threats including malware and phishing, but also blocks or monitors certain sites to maintain employee productivity.
Powerful Email security
The ZyXEL USG Series delivers industry-leading protection, powered by Commtouch, against spam, phishing and virus-laden emails. The extremely high performance of Commtouch technology comes from the unique recurrent pattern detection (RPD) mechanism that possesses its superior capability through analyzing millions of new patterns each day (24x7x365) to block all the associated messages real-time. In addition, the ZyXEL USG applies sender-based IP reputation to remove over 80% of unwanted mails and to take advantage of the zero-hour virus outbreak protection feature, which is capable of blocking or delaying suspicious messages hours before commercial anti-virus signatures are available.
More 3G card support
The ZyXEL USG Series not only supports multiple WAN ports but also 3G networks through USB or PC cards. With 3G connections, the USG Series enables load sharing or failover to deliver highly reliable network connectivity; it also supports more 3G cards with generic driver to ensure excellent interoperability. Since the customers don't have to purchase specific 3G cards to save cost.
Dit is een nieuw product !!
Uitverkocht
Extra informatie
Beoordelingen (0)