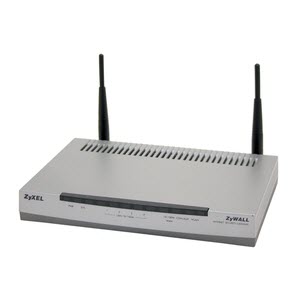 ZyXEL ZyWALL firewall 2WE
De ZyWALL 2WE met geïntegreerd draadloos toegangspunt.
De ZyWALL 2WE ZyXEL biedt een uitstekend netwerk bescherming en VPN prestaties voor thuiskantoren, kleine kantoren en winkels. Het is uitgerust met robuuste beveiligingsfuncties zoals stateful inspectie en verdediging tegen denial-of-service aanvallen en biedt NAT (Network Address Translation) voor meerdere openbare IP-adressen. De firewall kan een specifieke configuratie, zoals de installatie van een openbare server op het lokale netwerk. De ingebouwde draadloze access point biedt extra flexibiliteit. De ZyWALL 2WE voldoende zekerheid voor thuis en kleine kantoren met internettoegang via ADSL, kabel of huurlijn en kan gebruikt worden als een VPN-client voor 2 simultane sessies (max. 2 PC's) te configureren.
Firewall Security
In de Firewalls ZyXEL Stateful Inspection, een technologie geïntegreerd, zoals het ook wordt gebruikt voor de firewall marktleider Check Point. Gegevens van internet toegestaan door de firewall, indien ze deel uitmaken van een sessie, die werd geïnitieerd door een gebruiker van het beveiligde netwerk. Hackers en andere niet-geautoriseerde gebruikers worden geblokkeerd. In een logbestand aanvallen worden opgenomen op de firewall en kan via e-mail worden gestuurd naar de systeembeheerder. De veiligheid wordt bovendien versterkt door Network Address Translation. Dit maakt het bedrijven prive adressen naar buiten maar alleen de officiële routeradres zichtbaar. Om bescherming tegen nieuwe webtechnologieën zoals Java, ActiveX en cookies geven, kunnen ze selectief worden geblokkeerd. Een ander belangrijk element is de bescherming tegen denial-of-service (DoS)-aanvallen. De bekende aanvallen zoals Ping of Death, LAND Attack en IP-spoofing worden automatisch geblokkeerd.
Dit produkt is nieuw in doos !!
1 op voorraad
Extra informatie
Beoordelingen (0)
Gerelateerde producten
Check Point UTM-1 Edge X VPN Firewall Router SBX-166LHGE-5

Safe@Office UTM appliances deliver proven, integrated security and networking features right out-of-the-box. Safe@Office offers a simple, affordable and reliable solution to keep small business networks protected anytime, anywhere.

Your Challenge:
In today's business environment, maintaining customer confidence and protecting your business means securing your broadband connection and network. Taking steps to safeguard critical data is vital to your success and often mandated by industry-specific regulations. Internet threats, such as viruses, worms, hackers and zero-hour attacks, require a host of different solutions that are difficult to integrate and costly to manage. You need a solution designed to meet the complex needs of today's small business.

Check Point Solution:
Designed specifically to meet the needs of small businesses, Check Point Safe@Office® 500 Unified Threat Management appliances deliver proven Internet security by incorporating the same patented technology used by 98% of the Fortune 500. A single Safe@Office appliance can protect a network of up to 100 users from a multitude of Internet threats, creating a solid line of defense against hacking attempts, denial of service attacks, phishing and viruses. Also available with an integrated secure wireless access point and with an advanced ADSL/ADSL2+ modem, Safe@Office meets small businesses' needs for connectivity and network securityFeatures & Benefits:Product

Features:

Industry's most proven and trusted Firewall
Robust IPSec VPN (site-to-site and remote access)
Intrusion Prevention, Antivirus and Web Filtering capabilities
Easy-to-use, wizard-based management with preset security rules and automatic updates
Integrated, high-performance networking capabilities
Wireless LAN, ADSL2+ modem and support for 3G cellular connectivity

Product Benefits:

Delivers an affordable, easy-to-use, all-in-one security solution for small businesses
Provides small businesses with the same proven security technologies trusted by 98% of the Fortune 500
Addresses industry specific network security regulations
Maximizes employee productivity through secure Wireless LAN, web-filtering and VPN connectivity
Streamlines ongoing security policy administration
Ensures around-the-clock business continuity

€

69,95 incl. 21% BTW