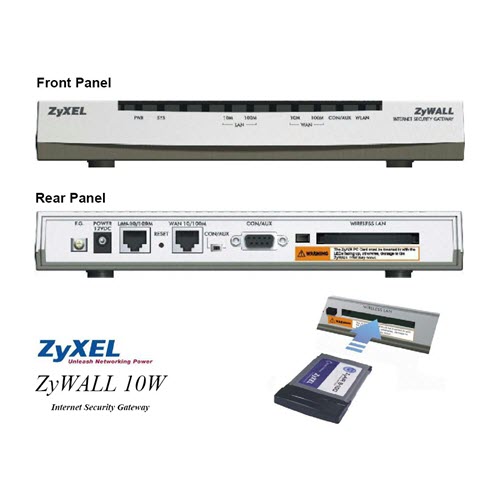 ZyXEL ZyWALL 10W SOHO firewall Wifi
ICSA-gecertificeerde firewall (firewall)
Firewall – het is niet alleen een router die het netwerk beveiliging biedt. Deze benadering van beveiliging. Het helpt om een ​​veiligheidsbeleid dat de aard van de toegestane diensten en de toegang definieert om ze te implementeren. Alle geteste verbindingen met het netwerk via de firewall, waar ze kunnen worden beoordeeld en goedgekeurd of afgekeurd.
ZyWALL apparatuur – is een inspectie firewalls stateful, die gecertificeerd door de International Computer Security Association (International Computer Security Association – ICSA). ZyWALL serie is ontwikkeld op basis van de bewezen besturingssysteem, de ZyXEL ZyNOS ™ bedrijf, dat alle van de netwerkfuncties die nodig zijn voor de volledige en veilige integratie van het lokale kantoor netwerk met het internet of bedrijfsnetwerk biedt.
In aanvulling op de basisfunctionaliteit van de ZyWALL scherm heeft een aantal geavanceerde beveiligingsfuncties, zoals:
Het voorkomen van vervalsing van IP-adressen;
Filteren van de inhoud van de informatie;
Ondersteuning voor veilige virtual private networks (VPN);
Signalering en preventie van nieuwe soorten aanvallen, resulterend in de zogenaamde "denial of service" (Denial of Service, DoS).
Belangrijkste voordelen
Bescherming tegen aanvallen, wat leidt tot "denial of service" (DoS).
Opzetten standaard ZyWALL kunt u automatisch te detecteren en te elimineren nieuw soort aanvallen, wat resulteert in een zogenaamde denial of service, zoals de Ping of Death, SYN Flood, LAND Attack, IP Spoofing en andere soortgelijke. Het doel van de aanval door de methode van "denial of service" (Denial of Service, DoS) is niet de diefstal van informatie, en het blokkeren van het apparaat of netwerk zodat gebruikers geen toegang meer hebben tot netwerkbronnen.
Stateful Inspection Technology
ZyWALL implementeert geavanceerde packet inspection technologie op basis van protocol staat (Stateful Inspection). Dit pakket wordt onderschept op netwerkniveau, waarna het betrokken is bij een test virtuele machine. Het haalt informatie over de context die ze nodig hebben om beslissingen te nemen op alle niveaus, en slaat deze gegevens in dynamische tabellen naar de volgende pakketten te controleren. Wanneer een klant vraagt ​​om een ​​server die zich buiten het interne netwerk van de opening van een omgekeerde verbinding, de ZyWALL verwijdert het poortnummer van deze aanvraag. De lijst wordt opgeslagen client-adres en het poortnummer van de server. Bij de vaststelling van de poging om een ​​verbinding vanaf een extern netwerk, de ZyWALL door de lijst en controleert of de verbinding een reactie op een geldige clientaanvraag stellen. De lijst van ondersteunde verbindingen dynamisch, zodat alleen de benodigde poorten open zijn. Zodra de sessie is gesloten, worden de poorten geblokkeerd, een hoog veiligheidsniveau. Default toegestaan ​​ZyWALL in ieder verbindingen geïnitieerd vanuit het interne netwerk zijn verboden, en alle verbindingen gestart vanaf de buitenkant. Met behulp van Stateful Inspection-technologie zorgt voor een zeer veilige oplossing die maximale prestaties, schaalbaarheid en uitbreidbaarheid biedt.
Toegestaan ​​u aansluitingen geïnitieerd vanuit de LAN naar het WAN
Gebruik geen verbindingen geïnitieerd vanuit het WAN naar het LAN niet maken
Filtering internet-content
Internet content filtering maakt scholen en bedrijven de flexibiliteit om toegang tot internet beleid te maken en af ​​te dwingen op basis van hun eigen behoeften:
blokkeren van bepaalde websites per categorie. Bijvoorbeeld, entertainment portals en internet winkels;
om web-onderdelen, zoals ActiveX-besturingselementen, applets, Java, koekjes, die virussen kunnen bevatten, blokkeren;
de toegang tot externe proxy servers uit te schakelen;
handhaven afzonderlijke lijsten met geblokkeerde en open toegang tot websites;
bepaalde tijd of dagen waarin de filters zijn inbegrepen. Bijvoorbeeld, het filteren van de inhoud kan worden opgenomen in de school tijdens de schooluren, aan de studenten van onnodige informatie te beschermen, en na school leraren om volledige toegang tot het internet. Een soortgelijk beleid kan worden gebruikt in organisaties medewerkers volledige toegang tot het internet bieden pas eind werkuren.
Individuele gebruikers kunnen worden wachtwoorden filters en volledige toegang omzeilen op een moment dat de rest van de inhoud filtering is ingeschakeld.
Gezien de dagelijkse verandering van het internet inhoud lijst van de inhoud filters is ook bijgewerkt en bekend gemaakt op een dedicated server, die communiceert met de ZyWALL. Het mechanisme berust op een moderne web-filtertechnologie Cerberian®, die in de categorie database met meer dan 3.500.000 URL. Een dynamische functie evaluatie in real time kunt u voortdurend en "on the fly" om nieuwe sites rang.
Kopers staat zal zijn tijdens de eerste maand van het gebruik van Web filtering services gratis. Voor verdere updates van het filter lijst internet-content, moet u de aankoop en activeert een van de iCard kaarten. Er zijn drie soorten kaarten – Silver, Gold en Platinum, en verschillen in het aantal gebruikers geserveerd (10, 50, en onbeperkt – respectievelijk). Geldigheidsduur – 1 jaar vanaf de datum van activering.
Het waarborgen van de kwaliteit van de Internet-toepassingen
Producten ZyWALL serie biedt netwerkbeheerders de mogelijkheid om de regels voor het gebruik van de internetverbinding te definiëren. Dit verzekert dat de vereiste kwaliteit van dienstverlening (QoS) voor prioritaire groepen gebruikers en applicaties.
Voorbeeld configuratie van de bandbreedte op basis van de aanvragen:
Voorbeeldconfiguratie van bandbreedte op basis van subnetten:
Voorbeeldconfiguratie van bandbreedte op basis van aanvragen en subnetten:
De combinatie van bedrijfsnetwerken via het internet
VPN-ondersteuning stelt u in staat om veilig te verbinden het lokale netwerk van de onderneming vestigingen en mobiele gebruikers met behulp van gecodeerde kanalen via het internet, in plaats van te huren dure huurlijnen. Het vermogen van het centrale beheer van de gehele gedistribueerd netwerk vermindert de administratieve kosten.
Unified Management System
Met behulp van de ingebouwde grafische webinterface, command line interface, of de Vantage gebruiksvriendelijke interface, kunt u snel en gemakkelijk het hele gedistribueerd netwerk te beheren. Dankzij het softwarepakket van ZyXEL Vantage voor centraal netwerkbeheer, kunnen alle ZyWALL apparatuur in het netwerk geïnstalleerd veilig en gemakkelijk worden bediend vanuit één controlecentrum. Hierdoor kunnen netwerkbeheerders om gedetailleerde analyse van de gegevens uit te voeren over de werking van de apparatuur en om snel te reageren op veranderingen in het netwerk. Ook gecentraliseerd beheer mogelijk maakt de extra personeelskosten verlagen.
gegarandeerd aansluiting
ZyWALL 70W EE heeft twee poorten voor aansluiting op het wereldwijde netwerk. In het geval van het gebruik van twee onafhankelijke communicatiekanalen, ZyWALL 70W EE maakt automatische back-up verbinding in geval van een storing van een van de kanalen. Bovendien, indien nodig, een dergelijk ontwerp maakt het delen van de belasting tussen de verkeerskanalen of aggregaat.
Ondersteuning voor draadloze lokale netwerken
Draadloze lokale netwerken worden steeds meer en meer populariteit met de aansluiting van de abonnees. ZyXEL Company besteedt veel aandacht aan nieuwe technologieën en dus alle ZyWALL modellen bevatten een uitbreidingsslot voor draadloze adapter draadloze netwerk. Nadat u deze adapter te installeren ZyWALL verwerft extra functionaliteit beschermd door access points en stelt u in staat om mobiele werknemers te verbinden.
Address Translation (NAT Multi)
Address Translation-functie (Network Address Translation – NAT, RFC 1631) is een technologie die het mogelijk maakt om te veranderen in een netwerk pakket bron IP-adres van het pakket wordt gebruikt in het interne netwerk om het IP-adres behorende tot het externe netwerk. Network Address Translation kan worden gebruikt voor interne netwerkadressen, met behoud van gelijktijdige en transparante internettoegang voor alle computers op het netwerk, en alle computers op het interne netwerk zijn onzichtbaar voor het externe netwerk, waarbij het beveiligingsniveau verhoogt. Bovendien de mogelijkheid om verbinding over het netwerk via enige legitieme IP-adressen reduceert installatiekosten. Implementatie van NAT in de ZyWALL maakt zonder extra configuratie om deze populaire online applicaties zoals MS traceroute, CuSeeMe, IRC, RealAudio, VDOLive, Quake en PPTP gebruiken.
Logging en Alerting
ZyWALL houdt notulen van alle gebeurtenissen die nuttig zijn voor het bewaken van de veiligheid van uw netwerk kan zijn. Het logbestand kan worden gemaild naar elk adres. Zo kunt u snel een melding van een mogelijke aanval op de server en, in de tijd om adequate maatregelen te nemen.
Achterpaneel ZyWALL 10W EE / 30W EE
LAN Ethernet 10 / 100Base-T
Reset-knop naar de fabrieksinstellingen
Ethernet 10 / 100Base-T Global Network
Switch Console / Backup-poort
RS-232-console / Backup-poort
Draadloze uitbreidingsslot voor draadloze netwerkadapter
2 op voorraad
Extra informatie
Beoordelingen (0)