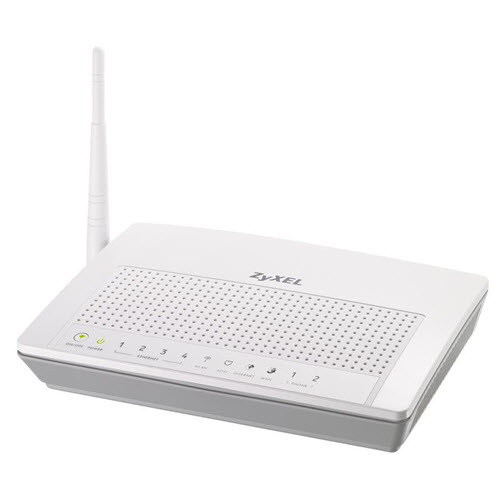 ZyXEL Prestige P-2612HW-F3 router
Superior Dual WAN IAD for Smoothing Next-generation Access Network Migration
– Dual WAN to Enrich ISPs Feasibility on Logistics
– Ease of Wireless Network Installation with WPS, and Time Scheduling for Energy Saving
– Auto Configuration and Provisioning via TR069, and TR104
– Effective Bandwidth Management to Enhance Triple-play Application
– Robust Firewall Protection and IPSec VPN Security
Dual WAN to Enrich ISPs Feasibility on Logistics
When ISP migrates the service from ADSL2+ to VDSL2, PON, or WiMAX, subscribers can keep existing P-2612HW Series for terminating the IP-connection but now via the Ethernet WAN, originally DSL WAN. The end-users can still experience in most cases from the original CPE, and which is better than the case that customer have to change current CPE due to the difference of physical connection.
Ease of Wireless Network Installation with WPS, and Time Scheduling for Energy Saving
WPS provides an efficient way for users who possess even with little understanding of Wi-Fi and security configuration to automatically configure wireless LAN, add new devices, and enable security by simply pressing WPS button on the top cover. The P-2612HW Series also supports Wi-Fi scheduling that allows customers to easily program when the Wi-Fi radio on or off for further energy saving.
Auto Configuration and Provisioning via TR069, and TR104
Auto provisioning mechanism allows provisioning P-2612HW Series at the same time of connection to the broadband access network, and the feasibility for re-provision at any subsequent time, main capabilities including auto-configuration, dynamic service provisioning, image management, status monitoring, and diagnostics.
Effective Bandwidth Management to Enhance Triple-play Application
The P-2612HW Series enables users to allocate network resources while guaranteeing Quality of Service (QoS). Network Bandwidth Management increases productivity and efficiency by tailoring a system to specific demands in todays 3-play solutions where mission critical applications (VoIP, IPTV, Video on demand, etc) are expected to work in xDSL network.
Robust Firewall Protection and IPSec VPN Security
The ICSA-certified ZyNOS operating system ensures state-of-the-art SPI firewall protection especially against DoS attacks. The P-2612HW Series provides the first line of defense against hackers, network intruders, and other malicious threats. For SOHO users, IPsec VPN helps ensure secured transmission between two sites, allowing secure connection between telecommuters and branch offices without expensive lease lines.
Kenmerken
merk ZyXEL
Type P-2612HW-F3 802.11g Wireless ADSL2+ VoIP IAD over ISDN
Fabrikantnummer 91-006-101001B
EAN 4718937511907
Specificaties
Aansluitingen
Aantal Ethernet LAN (RJ-45)-poorten 5
Andere features
Afmetingen (BxDxH) 218 x 144 x 40 mm
Max. overdrachtssnelheid 0.1 Gbit/s
Verbindingstechnologie Draadloos
Beheerfuncties
Draadloze Universal Plug & Play (UPnP) Ja
Quality of Service (QoS) Ja
Reset button Ja
DSL-eigenschappen
DSL aansluiting ADSL
DSL-specificatie ADSL2+
Draadloos LAN
WLAN-verbinding Ja
Eisen aan de omgeving
Luchtvochtigheid bij opslag 20 – 90 procent
Relatieve luchtvochtigheid, in bedrijf 20 – 85 procent
Temperatuur bij opslag -20 – 60 °C
Temperatuur, in bedrijf 0 – 40 °C
Energie
Protocollen
DHCP client Ja
DHCP server Ja
Technische details
Gewicht 0.46 kg
ISDN-aansluiting Ja
Stemcodecs G.711
Verpakking
Breedte van de doos 277 mm
Diepte van de doos 263 mm
Hoogte van de doos 77 mm
Ongebruikt in geopende doos !!
1 op voorraad
Extra informatie
Beoordelingen (0)