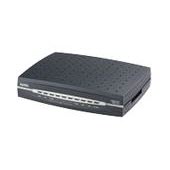 ZyXEL Prestige 652-serie ADSL Security Router
ZyXEL's Prestige 652 series ADSL security router is an innovative, next-generation DSL solution for SOHO, small and medium business (SMB) and enterprise branch offices.
The Prestige 652 series integrates a high-speed 10/100Mbps auto-negotiating LAN interface, high-speed ADSL port and a Stateful Packet Inspection firewall into a single package to allow secure high-speed Internet connections to remote networks.
Its built-in powerful firewall capabilities and secured Virtual Private Network (VPN) data transmission protect the internal network resource from unauthorized access and sensitive data that would normally be exposed to the public Internet. The Prestige 652 firewall is based on the ZyWALL series ICSA certified ZyNOS platform.
Scalable, secure and easy to use, ZyXEL's Prestige 652 series is the ideal secure broadband solution to meet today's business needs.
Benefits:
High-speed Internet Access
The Prestige 652 can support downstream transmission rates of up to 8Mbps and upstream transmission rates of 32 Kbps. It also supports rate management, which allows ADSL subscribers to select an Internet access speed that best suites their needs and budgets.
IPSec VPN Capability
Establish a Virtual Private Network (VPN) to connect with business partners and branch offices using data encryption and the Internet to provide secure communications without the expense of leased site-to-site lines. The Prestige 652's VPN is based on the IPSec standard and is fully interoperable with other IPSec-based VPN products.
Secured Firewall Protection
The Prestige 652 is a stateful inspection firewall with DoS (Denial of Service) protection. By default, when the Firewall is activated, all incoming traffic from the WAN to the LAN is blocked unless it is initiated from the LAN. The Prestige 652 supports TCP/UDP inspection, DoS detection and prevention, real time alerts, reports and logs.
Ease of Use
With an embedded Web-based Graphical User Interface (GUI), the Prestige 652 series provides intuitive on-site and remote management of Internet connectivity, security and the LAN.
Dial Backup
In case of DSL service interruption, the Dial Backup feature enables non-stop Internet access by automatically switching traffic to an external analog or ISDN modem.
ADSL Compliance
Multi-Mode ADSL Standard
RADSL (DMT T1.413 Issue 2)
G.dmt (ITU G.992.1)
G.lite (ITU G.992.2)
G.hs (G.994.1)
G.ploam (G.997.1)
ADSL over ISDN (Prestige 652R-13)
G.dmt (ITU G.992.1 Annex B)
Auto-negotiating rate adaptation
Internet Access Sharing
RFC 791 for IP, RFC 826 for ARP, and
ICMP support
NAT/PAT support
Multi-NAT (Network Address
Transmission) support
Dynamic DNS
Network Protocols
IEEE 802.1d Transparent bridging
IP routing supports RIP-1 and RIP-2
Management Support
Menu-driven user interface
Command-line interpreter (CLI)
Password-protected Telnet support
Web-based Graphical User Interface
(GUI) configuration
SNMP support
TFTP and FTP firmware upgrade and configuration backup and restore
Built-in diagnostic tool
1 op voorraad
Extra informatie
Beoordelingen (0)