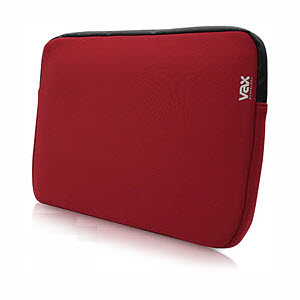 Vax Barcelona 16 inch laptopsleeve Pedrables rood
Bags w / 16" Red Notebook Pedralbes – Vax Barcelona
Carry your notebook with more charm and practicality with exchanges of the Spanish brand Vax Barcelona. No way to charge your laptop in those black suitcases and bland. This case was made in neoprene and finished the zipper to prevent water entry, plush finish internally and still has 2 years warranty and 3 years through the manufacturer's website with for extended warranty. Guard your computer with more style.
Technical information
Merk Vax Barcelona
Functionality Laptop Bags
Voltage Contains No Voltage
Package Contents 1 Case
Approximate Dimensions (cm) – HxWxD 41x31x4 cm
Wet weight. Approximate product (kg) 275 g
Warranty Provider 24 months
Model Pedralbes S16psrds
Reference Model Pedralbes S16psrds
Provider Now Digital
SAC 0800-994-0680
Barcode 8717249407287
Dit is een nieuw product !!
1 op voorraad
Extra informatie
Beoordelingen (0)
Gerelateerde producten
ZAGG Invisible shield voor MACBOOK PRO 15-INCH 2ND GEN full

Full Body Coverage: Top, Bottom, Wrist rest, Track pad and Buttons.

Features

Scratch-Proof, patented film
Military Grade
Lifetime Guarantee
Invisible protection
No added bulk
Improves grip
Easy to remove, leaving no sticky residue

Your search for a Apple Macbook Pro 15″ skin, or cover is now over. ZAGG's invisibleSHIELD is an exceptionally clear and virtually indestructible film that will protect your Apple Macbook Pro 15″ from unsightly scratches. Our exclusive, patented film with nano-memory technology covers and shields your device, keeping it as pristine as the day you took it out of the box.

The precision pre-cut invisibleSHIELD applies directly to your Apple Macbook Pro 15″, providing the toughest, most durable protection you will find. The invisibleSHIELD has its origins in the military, where it was used to protect high-speed helicopter blades from dust, dirt and debris. Now you can use that same powerful technology to protect your Apple Macbook Pro 15″.

The invisibleSHIELD is only .2 millimeters thick making it the slimmest Apple Macbook Pro 15″ skin or Apple Macbook Pro 15″ cover of its kind. It is so tough that we back it with a lifetime guarantee. So, if it ever does wear or scratch, we will replace it for free, for the life of your device. And if you ever need to remove the invisibleSHIELD, no problem; it comes off clean and leaves no sticky residue.

Dit is een nieuw product !!

€

24,95 incl. 21% BTW