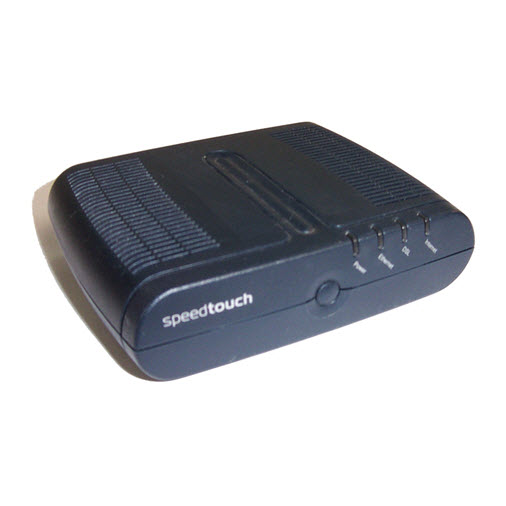 Thomson Speedtouch 516 ST dsl router
The SpeedTouch 516 is a simple and flexible ADSL2+ router with a single 10/100 LAN port providing a fast, full-featured routing engine and a solid firewall. The ST516's firewall can be configured by end-users, equipment retailers or service providers for a broad range of security policies and requirements.
This router can achieve download speeds of up to 24Mbps. It provides a quick Setup Wizard that can reduce the installation process to 5 clicks.
2 op voorraad
Extra informatie
Beoordelingen (0)
Gerelateerde producten
Cisco soho 77H adsl Router

Product Beschrijving: De Cisco SOHO 77H Router is goed voor kleine kantoren of thuiskantoren en gebeurt er het volgende:

Hiermee kunnen meerdere gebruikers te delen een enkele DSL-lijn en een IP-adres
Firewall-beveiliging – dynamische toegangscontro le (stateful inspection) voor alle verkeer over perimeters
Controleert op pakketverlies headers, te laten vallen verdachte pakketten
Verdedigt en beschermt router middelen tegen denial-of-service-aanvallen
Verbergt interne IP-adressen van externe netwerken
Kunnen vier apparaten rechtstreeks worden aangesloten op de router
Eenvoudige set-up en implementatie met Web-gebaseerde configuratie
Interactieve diagnostiek / debug functies
Cisco IOS command-line interface (CLI)
Maakt beheer op afstand en bewaking via SNMP, Telnet, of HTTP en lokale beheer via de console poort

Technische specificaties voor Cisco SOHO 70-routers:

Processor: MMC 855T RISC
Snelheid: 50 MHz
Standaard DRAM-geheugen: 16 MB
Maximum DRAM-geheugen: 16 MB
Standaard Flash2 Geheugen: 8 MB
Maximum Flash-geheugen: 8 MB

Ethernet : 10 Mbps (4-poort hub op SOHO 78) Console: RJ-45 WAN-poorten: Cisco SOHO 76 = 1 ADSL over ISDN Cisco SOHO 78 = 1 G.SHDSL LEDs: 7 Stapelbaar: Ja Crossover Hub Switch (Om PC-naar HUB): Ja Voeding: Universele 100-240VAC

Specifications Cisco Router 77H ADSL f CISCO SOHO

Launch date: 27/06/05
Dimensions W x D x H 246 x 216 x 51 mm
Operating temperature range (T-T) 0 – 40 °C
Maximum data transfer rate 0.01 Gbit/s
Operating relative humidity range 10 – 85 %
LED indicators Power, link OK, receive
Networking features PPPoE, PPPoA
Power requirements AC 100/240 V ( 50/60 Hz )
I/O ports 4 x network – Ethernet 10
Serial number(model): CISCOSOHO77H
Ean code: 0746320697802

€

19,95 incl. 21% BTW