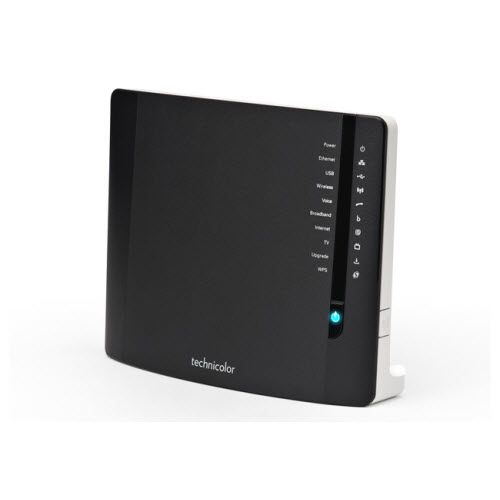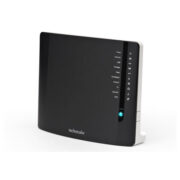 Technicolor TG789vn v3 draadloos ADSL en VDSL2 modem
De Technicolor TG789vn v3 is een uniek triple play VDSL2 gateway met VoIP functionaliteit. Een speciale Gigabit Ethernet WAN-poort maakt de Technicolor TG789vn v3 de ideale service gateway voor DSL en glasvezel verbindingen.
De Thomson TG789n Business is een nieuw en uniek Voice over IP modem die VDSL2 connectivity ondersteunt. Daarnaast beschikt de 789n over de nieuwste Voice over IP functies voor business gebruikers.
De Thomson TG789n bevat 4 ethernet ports, een 802.11b/g/n draft 2.0 wireless LAN interface en detecteert automatisch een VDSL of ADSL2 connectie. Daarnaast heeft de TG789 ook een Gigabit Ethernet WAN Port, zodat de TG789 ook als service gateway in gezet kan worden bij bedrijven.
VDSL ondersteuning
4 10/100 Ethernet poorten
2 USB 2.0 poorten voor netwerkhardeschijf of DECT-Dongel
2 FXS ports
Full FXO
Beheer op afstand
Wi-Fi Protected Setup
Innovatief design
VDSL Ondersteuning
De TG789 is één van de eerste modems die de nieuwe VDSL techniek ondersteund.
VDSL is de snellere opvolger van ADSL2+. VDSL bereikt een snelheid van maximaal 40Mbit en kan alleen gebruikt worden met speciale VDSL modems.
Future Proof Design
Dankzij een groter geheugen bevat de Thomson TG789 nieuwe, geavanceerdere software. Dankzij deze software is het mogelijk allerlij applicaties te integreren. Het design van de Thomson TG789 is volledig aan te passen, bijvoorbeeld de kleuren en de logo's van het display.
Media Sharing
De Thomson TG789n Business kan gebruikt worden als centraal hub voor de distributie van alle content van ieder media apparaat. De TG789n streamed muziek, data, foto's en videos naar elk apparaat die verbonden is met de Thomson TG789n.
Easy is Key
De Thomson TG789n is gemakkelijk in gebruik dankzij "plug&play" en de home installatie wizard. Met een druk op de knop is de TG789n geinstalleerd en klaar voor gebruik!
The Ultimate in Ultra-Broadband
De Thomson TG789n is een VDSL2 modem met Gigabit Ethernet, wat inhoudt dat hij hoge bandbreedte levert. Dit komt de voice, data en video doorvoer ten goede! Daarnaast bevat de Thomson TG789n de 802.11n technologie, welke zorgt voor de hoogste draadloze snelheid.
Voice over IP
De Thomson TG789n bevat 2 telefoon aansluitingen voor telefoon en fax en ondersteund Voice over IP.
U kunt uw analoge telefoons inpluggen in de FXS poorten zodat deze Voice over IP gaan bellen. Met VoIP is het mogelijk om goedkoper te bellen dan over een analoge lijn.
Unieke Voice over IP features
Naast alle standaard VoIP features bevat de Thomson TG789n een aantal unieke voice features:
Home Phone Assistance: een automatische service welke de gebruiker informeerd over de aanwezige voice services
Voice to Email: De gebruiker ontvangt een email als er een voicemail bericht achter gelaten is
Answering Machine Service
Specificaties :
Bijzonderheden : n.v.t.
Plug & Play : Ja
Virtual LAN : Nee
Quality of Service : Ja
Printserver : Ja, USB
VPN Encryptie : n.v.t.
VPN : Alleen Passthrough
VOIP : Ja, 2x FXS en 1x FXO
Firewall : Ja
Switch : 4-Poorts 10/100Mbps
Type ant. aansluiting : n.v.t.
Afneembare antenne : n.v.t.
Draadloze Beveiliging : WEP, WPA, WPA2
Draadloos : 802.11n (300Mbps)
Geschikt voor BabyXL : Ja
Geschikt voor Alice : Ja
Geschikt voor Tele2 : Ja, alleen als gegevens bekend zijn
Geschikt voor KPN : Ja
Geschikt voor BBNED : Ja
ADSL2+ : ADSL2+, VDSL, VDSL2
Type telefoonlijn  :Analoog
Refurbished
Uitverkocht
Extra informatie
Beoordelingen (0)