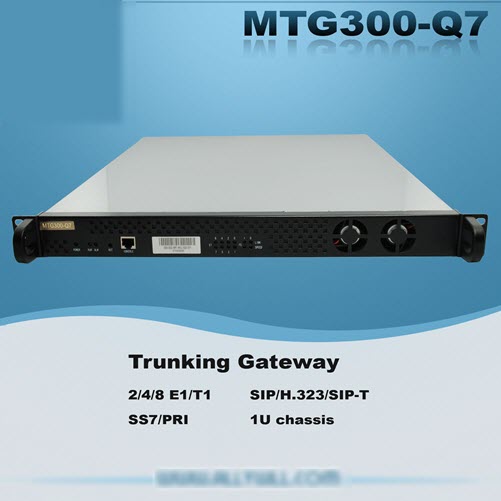 TDM Digital VoIP Gateway MTG300-Q7
TDM VoIP gateway MTG300-Q7
1. SS7/PRI/BRI digital gateway
2. SIP, H.323 digital gateway
3. Support 1, 2, 4,8,16,32 E1/T1
TDM Digital gateway MTG300-Q7series is a kind of digital trunking gateway based on embedded operating system. It supports standard SIP/H.323 protocol, with large-capacity carrier class telephone trunking gateway functions. Currently it supports 1 to 32 E1/T1 interfaces and can realize intercommunication with mainstream manufacturers softswitch system, and interwork with carriers local Telephone Exchange by PRI/SS7 interface.
Features:
Protocol interface: standard SIP 1.0/2.0;H.323 V4 protocol; PRI network side/user side; SS7 TUP/ISUP protocol.
Voice codec: standard G.711A/U,G.723,G.729AB.iLibc, supporting voice quality guaranteeing technologies such as VAD (Voice Activity Detection), CNG (Comfort Noise Generation), JitterBuffer and EC, reducing time delay and distortion.
Hardware interface: two FE0/FE1 interfaces connecting to L3/L2 exchange of IP metropolitan area network (MAN), also called business interface or network management interface; several E1/T1 interfaces (support two to eight E1 interfaces).
High compatibility: capable of intercommunicating with different manufacturers softswitch system.
Carrier-class access equipment: multi-route control,interval control, call forbid, call numberlimit, number replacement.
Security guarantee: as an embedded system it is reliable and stable, won't be disturbed by any virus and provides a good certification mechanism to protect user's interests.
Hot standby: double power supplies ensure the system runs normally & reliably.
Specification:
Dimensions : 435mm×500mm×445mm
Weight : 6.5kg
Operating : 32-104°For 0-40°C
Storage : 14-140°For -10-60°C
Humidity : 10%-90%
Power input : 85-265 AC,50-60Hz 1.2A
Power  : 40w
Network interface : 10/100BASE-TX
E1/T1 : 2-8
Console port : R232 9600bps
1 op voorraad
Extra informatie
Beoordelingen (0)