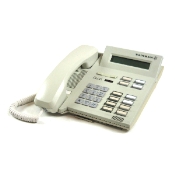 Tadiran Coral DKT-1110 white display speakerphone
Digital, 12 button speakerphone with tilting display for the Tadiran Coral family of telephone systems. Includes base cord and handset cord.
Features
Speakerphone
4 system wide fixed buttons w/LEDs
8 programmable buttons w/LEDs
2 line by 24 character LCD display
Volume control keys
Message waiting light
Enkele toestellen hebben verkleuring !!
9 op voorraad