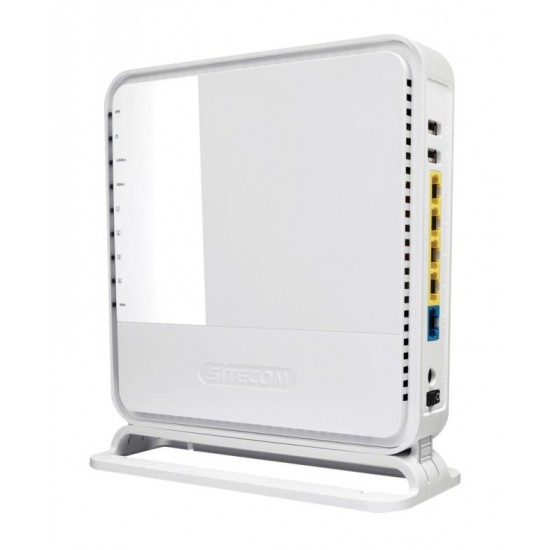 Sitecom WIFI router X6 N900
Met deze router creëer je eenvoudig een draadloos netwerk en kun je breedband internet, bestanden en randapparatuur delen. De router is des te overtuigender dankzij de state-of-the-art look en het innovatieve ontwerp. Door de matte, glanzende en met structuur afgewerkte witte buitenkant heeft de router een zeer hoogwaardig uiterlijk. Luchtopeningen aan alle kanten zorgen voor een optimale luchtcirculatie. Met de bijgeleverde standaard kan de router staand geplaatst worden, aan de muur gemonteerd of op de gebruikelijke plek op het bureau geplaatst worden.
Dit apparaat beschikt over Sitecom Cloud Security: een in de router geïntegreerde beveiliging tegen cybercriminaliteit op internet voor alle apparaten binnen het netwerk. Het gratis halfjaarabonnement beschermt tegen virussen, malware, phishing, schadelijke websites (URL-blokkering), ongewenste advertenties en biedt misbruikpreventie en de optie Do-Not-Track.
De router heeft optimaal bereik op drie verdiepingen, in de tuin en op het balkon en ondersteunt draadloze snelheden tot wel 450 Mbps. Bekabelde snelheden tot 1000 Mbps worden ondersteund en de router is ideaal voor high-speed internet.
Profiteer van het feit dat deze router tegelijkertijd gebruikmaakt van de standaard 2,4 GHz en de minder drukke 5 GHz-frequentie die optimale draadloze prestaties biedt bij tijdgevoelige toepassingen. Het apparaat is zeer geschikt voor zware toepassingen, zoals het bekijken van filmpjes op YouTube, het streamen van muziek en het downloaden van bestanden.
Gebruik de geïntegreerde USB-poorts voor de aansluiting van externe harddisks, printers, webcams en deel het apparaat met alle gebruikers binnen het netwerk. Print vanaf elke locatie in huis of maak backup-bestanden vanaf elke computer op de aangesloten externe harddisk.
Gebruik de ingebouwde DLNA-mediaserver om films die zijn opgeslagen op de aangesloten harddisk direct te streamen naar notebooks, tablets of mediaspelers overal in het huis.
De router wordt geleverd met wachtwoordbeveiliging en een apart vooringesteld WPA2-wachtwoord. Met slechts één druk op de OPS-knop (One Push Set-up) creëer je een veilig thuisnetwerk.
• 802.11a/b/g/n Wireless Standard Protocol
• Wireless speed up to 450 Mbps
• 802.3u 802.3i
• Security: WPA-TKIP, WPA-AES, WPA2, WPA-Radius
• Compatible with Dynamic IP, Static IP, PPPoE, PPTP internet connections
• 6 internal antennas
• Quality of Service (QoS)
• Universal Plug & Play (UPnP)
• Application Layer Gateway (ALG)
• IPv6 upgradable
• Automatic Firmware Update
| | |
| --- | --- |
| Productcode | CMPSC-WLR6100 |
| EAN | 8716502025916 |
| Poorten | 5 |
| Snelheid | 450 |
| Protocol | 802.3i/u + 802.11b/g/n |
| Draadloos | Ja |
| Modem | Nee |
| Afneembare Antenne | Nee |
| Merk | Sitecom |
Zo goed als nieuw en compleet in de doos !!
Uitverkocht
Extra informatie
Beoordelingen (0)