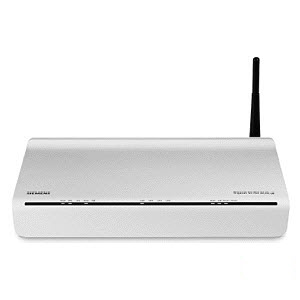 Siemens Gigaset SX762 WLAN dsl router
Ook qua VoIP steelt de SX762 Portabox de show – u kunt er 6 VoIP-accounts op kwijt en beschikt over centralefunctionaliteiten. Zeer indrukwekkend is de mogelijkheid om VoIP-producten op de geïntegreerde VoIP-telefooncentrale van de SX762 te registeren – een ideale feature voor het MKB of de veeleisende thuissituatie!
Siemens Gigaset SX762 Portabox – WiFi VoIP ADSL2+ modem router met telefooncentrale
VoIP: telefoneren zoals u altijd al deed!
Na de snelle en automatische configuratie kunt u uw huidige telefoontoestellen op de SX762 Portabox aansluiten. Ja, gewoon uw huidige telefoons – u hoeft geen nieuwe telefoons aan te schaffen. Uw vertrouwde analoge telefoon (wellicht DECT draadloos) voldoet uitstekend. De SX762 biedt ruimte voor max. 2 analoge telefoontoestellen.
De SX762 Portabox is voorzien van een tweetal FXS-poorten, een lifeline-aansluitpoort voor uw huidige KPN-lijn. Daarnaast biedt de portabox de mogelijkheid om externe IP-telefoons te registeren. Dit betekent dat u bijvoorbeeld een C450 IP of S450 IP als netwerkproduct in uw netwerk plaatst, en deze zich laat aanmelden op de Portabox. Daar heeft u de SIP-accountgegevens geregistreerd. Door de ingebouwde telefooncentrale kunt u gesprekken eenvoudig doorverbinden.
TIP: is uw oude toestel aan vervanging toe, overweeg dan de aanschaf van een van de nieuwe generatie, uiterst comfortabele Siemens Gigaset-modellen (bv. C450 IP, S450 IP). Deze toestellen komen maximaal tot hun recht in combinatie met de Siemens SX762.
product highlights
· draadloze transmissie tot 54 Mbits/s (802.11b/g) WiFi gecertificeerd
· geïntegreerd ADSL/ADSL2+ modem met krachtige router
· voorzien van USB-poort met FTP- en printserver (USB 2.0)
· geschikt voor max. zes VoIP-accounts (SIP) en maar liefst zes gelijktijdige gesprekken!
· handig: wireless bereik uitbreidbaar mbv Gigaset WLAN Repeater 108
· geïntegrerde telefooncentrale voor het gebruik van max. zes telefoonnummers
· ideale combinatie met de Gigaset S450IP en C450IP
· twee analoge poorten (FXS-poorten) voor analoge telefoon / fax
· breedband internettoegang voor al uw werkstations
· vier ethernetpoorten voor aansluiten van uw werkstations
· ook te gebruiken als router achter (kabel-)modem
· USB 2.0 Hostpoort – FTP- en printserver (USB 2.0)
· veel geavanceerde beveiligingsfuncties en geïntegreerde firewall
· eenvoudige installatie via web-browser
· geleverd met nederlandstalige software en gebruiksaanwijzing
Siemens Gigaset SX762 Portabox – WiFi VoIP ADSL2+ modem router met telefooncentrale
VoIP: geïntegreerde telefooncentrale
Zeer indrukwekkend is de telefooncentrale, die reeds in de Siemens SX762 Portabox is geïntegreerd. Hierop kunt u maar liefst tot 6 telefoonnummers samengebruiken. Zo kunt u gesprekken op eenvoudige wijze doorverbinden – van analoge telefoon tot PC of IP Phone, u zet het gesprek moeiteloos door naar een andere gebruiker. Dit maakt de Portabox zeer interessant voor MKB en kleinzakelijke toepassingen. Ook de capaciteit is hievoor toegerust – er kunnen maar liefst zes gesprekken tegelijkertijd worden gevoerd!
Krachtige internet-performance
De Siemens SX762 Portabox kan u op twee manieren voorzien van internetverbinding:
» via een netwerkkabel
» draadloos via WiFi
Met de WiFi USB-adapter (meegeleverd) sluit u in no-time één PC draadloos op de Siemens Portabox aan, om aldus van een geheel draadloze verbinding met het internet te profiteren. Gemak dient immers de mens!
Beschikken uw werkstations reeds over de benodigde WiFi-uitrusting? Geen punt – ook dan kunt u deze aanmelden op de Siemens SX762; de Portabox voldoet aan alle standaards en is te gebruiken in combinatie met elk merk of type wireless client voor de gangbare standaard 802.11b/g. De Portabox beschikt over een hoog zendvermogen van maar liefst 100mW (het maximum dat in Nederland is toegestaan) en kent tevens een WDS-modus. Hiermee kunt u het signaal draadloos versterken middels de bijpassende repeater (Siemens 108, los verkrijgbaar).
Voor bekabelde internetverbinding staan vier ethernetpoorten tot uw beschikking. De capaciteit kan desgewenst verder worden uitgebreid met een losse switch.
Siemens Gigaset SX762 Portabox – WiFi VoIP ADSL2+ modem router met telefooncentrale
Geavanceerde veiligheidsmogelijkheden
De Siemens SX762 is voorzien van een krachtige firewall. Deze firewall beschermt uw kostbare netwerk tegen tal van risico's en gevaren van buitenaf. Via de configuratie-interface kunt u uiteraard zelf bepalen welke beveiligingsopties u wel of niet wenst te gebruiken.
Voor vele toepassingen op internet, zoals spelletjes, videoconferenties, telefoneren, en dergelijke, is toegang vanaf het internet tot lokale toepassingen vereist. Voor andere zaken beschermt de Portabox u goed tegen inkomende requests van buitenaf – zij ondersteunt alleen internettoepassingen die aan een uitgaande verbinding genoeg hebben (bijv. file transfer, e-mail).
Handig: geïntegreerde printerserver voor gezamenlijk printergebruik
De Siemens SX762 Portabox is uitgerust met een USB-printerpoort – deze poort maakt het mogelijk om een printer te delen. Sluit de USB-printer aan op de Portabox en print vanaf alle computers in het netwerk snel en eenvoudig alle documenten die u wenst! Voordeel ten opzicht evan het delen van een printer via een computer, is dat u er niet meer voor hoeft te zorgen dat de betreffende computer aanstaat. Ideaal voor kleinzakelijk gebruik en thuis!
NB: maakt u gebruik van een all-in-one printer (met meerdere functies), en sluit u deze op de Portabox aan, dan kunt u enkel gebruik maken van de printerfunctionaliteit. Dit komt doordat de USB-poort geen communicatie of instructies over en weer accepteert. Alleen de printertaken kunnen worden verwerkt.
Productkenmerken o.a.
Wireless Router for internet access of several PC simultaneously
· Fast wireless networking compliant to standard IEEE 802.11g up to 54 Mbit/s
· ADSL 2+ -Modem integrated
· 1 port for analog fixed network
· 2 ports for analog devices internally (telephone, fax, answering machine)
· 4 Ethernet ports to connect PCs or another LAN (one port designed as LAN/WAN)
· USB 2.0 Host port for printer or mass storage device
· Local Private Branch Exchange (PBX) functionality up to 6 extensions (analog, LAN, WLAN)
· Support of up to 6 different VoIP Accounts + PSTN line
· Remote Management according TR-069/TR-104, Tango management integration
· Integrated SIP Proxy
· Home Entertainment Services ready
· Powerful security and firewall functions
· Easy Installation and setup
Specificaties o.a.
Standards
· Wireless LAN: IEEE 802.11g (compatible to IEEE 802.11b)
· Ethernet: IEEE 802.3 (10Base-T)
· Fast Ethernet IEEE 802.3u (100Base-TX)
· ITU G.992.5 Annex B (ADSL2+), ITU G.992.3 Annex B (ADSL2), ITU G.992.3 Annex L (reach extended mode ADSL2), ITU G.992.5 annex L (reach extended mode ADSL2+), ITU G.992.1 Annex B (G.dmt)
· DSL Forum TR-069/TR-104
· WMM (Wifi Multimedia
· T.38 for fax/modem transitions
ATM Functions
· ATM Forum UNI 3.1 / 4.0 Permanent Virtual Circuits (PVCs) with up to 8 PVCs
· UBR with traffic shaping
· RFC2684 LLC Encapsulation and VC multiplexing over AAL5
· RFC2364 Point-to-Point Protocol (PPP) over AAL5
· RFC2225 classical IP and ARP over ATM
· RFC2516 PPP over Ethernet support relay (transparent forwarding) and client functions
Protocols
TCP/IP, UDP, DHCP Server, HTTP, DNS relay, RIPv1/v2, Telnet, UPnP, IGMP
Security and Firewall functions
WPA2, WPA, 64 / 128 Bit WEP encryption, SSID, IEEE 802.1x, MAC-Filter, NAT, Stateful Packet Inspection, DoS Blocking, Intrusion Detection, Remote Management Control Virtual Private Network Pass-through PPTP, L2TP, IPSec
Internet access
PPPoE, dynamic / static IP, via Bridge Modus
WLAN range
· Up to 300m outside buildings
· Up to 30m in buildings
WLAN data rate
· Up to 54 Mbps
RF Specification
· frequency band 2,400 – 2,4835 MHz (ISM), DSSS spreading
· CCK, OFDM Modulation
· radiated power max. 100 mW
· 1 external adjustable antenna (+ one internal antenna)
WAN-interface
· RJ-11 (ADSL)
· One LAN port can be used as WAN port
LAN-interface
· Integrated 4-port switch (one LAN port can be used as WAN port)
· 10Base-T / 100Base-TX auto sensing, MDI / MDIX auto detection, RJ-45
Ports for analog fixed line
1 x RJ11 (TBR21) – connecting cable included in delivery
Ports for analog devices
2 x RJ11
Local Private Branch Exchange (PBX) functionality
· Internal Calls
· Call Pick up
· 3-party Conference
· Call Forwarding
· Call Transfer
· Do not Disturb
· Call Waiting
· Clip/CLIR
More functions
· switch on/off the WiFi interface via FXS1/2
· WiFi Repeater Mode (WDS)
· DMZ (Demilitarized Zone)
· Virtual Server
· Port forwarding
· DynDNS
· Time protocol
· Save and Restore of user settings
· Reset-button (restore to factory defaults)
Operating systems
independent
Installation and configuration
· With JavaScript-capable Internet-Browser (e.g. Microsoft Internet Explorer V6.00, Mozilla Firefox V1.0)
· Easy installation with Basic Setup
· Advanced security settings with 'Security Setup'
· Advanced installation and configuration with Expert Setup
· User interface and online help in 6 languages
Display and LED
· Power
· ADSL
· WAN
· USB
· VoIP
· Line (PSTN)
· LAN1 – LAN4 (Ethernet-connections)
· WLAN (WLAN connection to other clients)
· Phone 1-2
Power supply
External power supply, Input 230 V AC, Output 12V / 1.5A DC)
Dimension and weight
· L 260 mm x W 160 mm x H 50 mm
· ca. 400 500 g
Temperature range
· operating: 0 bis 40°C
· storage: -25 bis + 70°C
Humidity
· 5% – 90 % (non condensend)
Setup
· Desktop or wall mountable
Approvals
· CE-approval according to R&TTE-standard
Compleet in doos.
Refurbished
1 op voorraad
Extra informatie
Beoordelingen (0)