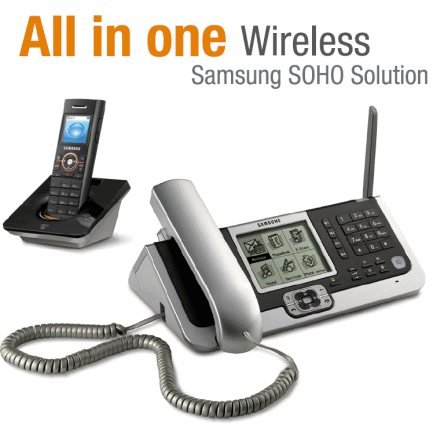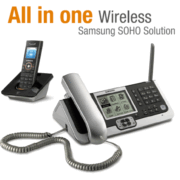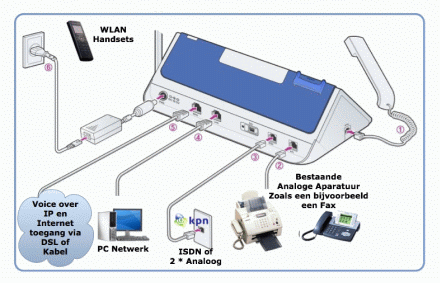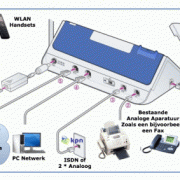 Samsung All in One Wireless VoIP SOHO Solution SIT200EID SMTW5100
All-in-one VoIP SOHO Solution: basis + handset (11g, ISDN of ANALOOG)
[SOHO-EMRB] of [SOHO-EIV]
WiFi VoIP ISDN centrale met WiFi handset
Professioneel, ruime capaciteit en zeer representatief
Geschikt voor ISDN telefoonlijn en zeer geschikt voor bellen over internet.
Het toestel werkt zeer goed met bijvoorbeeld een Voipbuster account zodat u zeer voordelig belt over internet, zelfs veelal gratis.
Schitterende WiFi VoIP-solution voor SOHO!
De Samsung SOHO Solution is een uiterst stijlvolle all-in-one VoIP-oplossing die specifiek werd ontwikkeld voor de MKB-omgeving en de zelfstandige met thuiskantoor. De oplossing biedt een gecombineerde WiFi VoIP-oplossing voor de omgeving tot 10 gebruikers. Het strak vormgegeven apparaat biedt de geccombineerde functionaliteit van een telefooncentrale, een Wireless Access Point, een router en een IP-telefoon. Breidt uw capaciteit eenvoudig uit met extra draadloze telefoons.
De Samsung SOHO ISDN voor aansluiting op een ISDN-telefoonlijn.
Nieuwe mogelijkheden
De Samsung SOHO Solution bestaat uit een basisstation en één of meerdere WiFi draadloze handsets (Samsung SMT-W5100). Op het SOHO basisstation kunnen tot maar liefst 8 handsets worden aangemeld! Dit maakt het produkt uniek in zijn soort.
In veel zakelijke situaties worden momenteel nog één of meer ISDN-telefoonlijnen gebruikt voor het telefoonverkeer. Eén ISDN-lijn biedt capaciteit voor twee simultane telefoongesprekken. Met de Samsung SOHO Solution kunt u de gesprekscapaciteit via VoIP uitbreiden tot maar liefst 4 simultane telefoongesprekken! VoIP-bellen betekent besparen op uw gesprekskosten ten opzichte van de conventionele telefonie, en wellicht kunt u zelfs de kosten van een ISDN-aansluitingen besparen.
SOHO solution – aansluitpoorten
Samsung SOHO WiFi VoIP centrale – aansluitvoorbeeld
Toelichting poorten Samsung SOHO:
1 – RJ11-poort voor aansluiting vaste telefoonhoorn (meegeleverd)
2 – 1 x FXS-poort voor aansluiting analoge telefoon of fax
3 – lifeline: 1 x ISDN of 2 x analoog (afhankelijk van uitvoering)
4 – 1 x LAN ten behoeve van netwerkapparaat of switch
5 – 1 x WAN voor aansluiting op uw modem
6 – aansluitpoort voedingsadapter
Wireless Access Point tbv draadloze apparatuur en WiFi telefoons
Compleet apparaat
De stijlvolle Samsung SOHO Solution doet dienst als:
» telefooncentrale voor vast en VoIP
» netwerkrouter met geïntegreerde firewall
» Wireless Access Point (11b/g) voor uw draadloze apparatuur
» voorzien van FireWall, wireless beveiliging via WEP en WPA
Hybride: vast én VoIP – het beste van twee werelden!
De Samsung SOHO Solution is een hybride oplossing: het slimme kastje verwerkt de traditionele vaste telefonie, én is geschikt voor VoIP. Deze combinatie biedt u de zekerheid van bereikbaarheid die u gewend bent én wenst te behouden, plus het voordeel van goedkoop bellen via internet! De vaste lijn zorgt ervoor dat u bereikbaar bent op uw huidige lijn (en dus uw huidige telefoonnummers), terwijl het uitbellen via het veel goedkopere VoIP gebeurt. Bij eventuele uitval van de VoIP-service belt u automatisch via het vaste net.
Extra handsets verkrijgbaar, kijk in onze webshop !!
Dit is een nieuw product !!
43 op voorraad