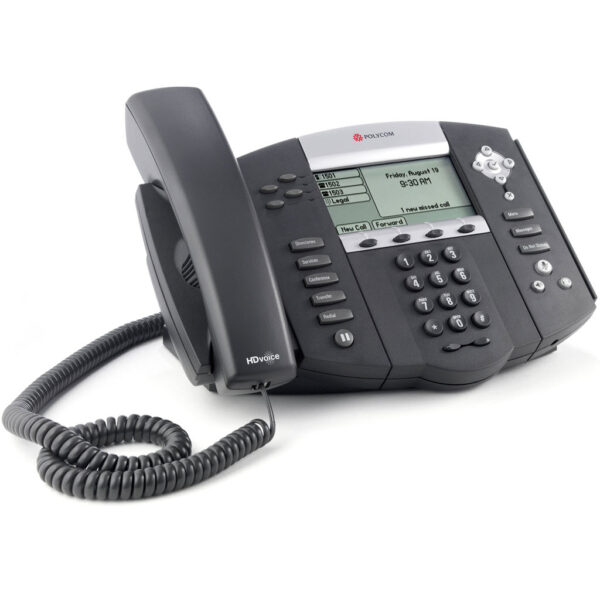 Polycom Soundpoint IP650 IP 650 telefoon
The Polycom SoundPoint IP 650 is a SIP desktop phone with crystal-clear voice quality and advanced features that support business work-flows.
Your teams need reliable communication devices. They prefer desk phones that come with multiple lines, but without complicated features.
The Polycom SoundPoint IP 650 is a six-line SIP desktop phone that brings life-like richness and voice quality to phone calls. It combines state-of-the-art hardware with the proven Polycom UC software designed for executive users and busy professionals.
This phone:
Is a six-line SIP desktop phone
Delivers revolutionary voice quality thanks to Polycom HD Voice technology
Grows with the needs of your business. It is expandable up to twelve lines with a Polycom SoundPoint IP Expansion Module
The SoundPoint IP 650 is a premium, six-line, SIP desktop phone with a color display. It delivers crystal clear HD voice quality that meets the voice communication needs of even the most discerning users. The phone supports SHARED call/bridged line appearance, an essential feature for effective phone interaction between executives and their assistants.
It offers:
Engineering that makes installation, configuration, and upgrades as simple and efficient as possible
An intuitive user interface
Six lines (standalone) / 12 lines (with the SoundPoint IP Expansion Module)
Interoperability with leading SIP-based IP PBX and Softswitch platforms
Polycom HD Voice technology, including support of G.722 wideband codec, Acoustic Clarity Technology 2, and a systems design optimized for Polycom HD Voice technology
Advanced functionality, including SHARED lines, busy lamp field, presence, and XHTML applications
A backlit, 320 x 160-pixel grayscale graphical LCD
Integrated IEEE 802.3af Power over Ethernet (PoE) support
A USB port for future applications
Wordt standaard geleverd zonder adapter !
Refurbished
1 op voorraad
Gerelateerde producten
Polycom PVX PC Conferencing Application V. 8.0

Polycom PC Conferencing Application Item # 5151-22710-001, The Polycom 5151-22710-001 PVX software application extends the premier Polycom video conferencing experience to every desktop and delivers unprecedented technology and performance. It also offers the benefits of high resolution content sharing, with simultaneous video and secure calling with embedded encryption. The Polycom PVX solution is an easy way to communicate face-to-face from your office, from your home, or on the road. It brings unprecedented video technology to your desktop PC, offering SIP support, H.239 content sharing, content sharing in H.264, and universal plug-and-play for simple installation or use in homes and small offices. 5151-22710-001 Features:, PVX v8.0 PC Conferencing Application, Crisp, Sharp High Resolution Video w/ H.264 Technology, 14 kHz Audio, Delivers VGA Resolution, Secure Communications, & Polycom People Content&trade, Sizable & Detachable Video Windows for Personal Desktop Layout, Intelligent Call Directory w/ Search Capability to Quickly Locate & Call Other End Users, Supports Voice-Only Calls to & From VoIP Endpoints, Multiple Location Profiles to Simplify Network Connectivity, Continually Monitors System & Network for Errors & Alerts End User of Status Changes, Multiple Monitor Support to Add Richness to Conferencing & PC Collaboration, Web User Interface Enables Remote Management & Monitoring from Web Browser, Picture-In-Picture (PIP), Video-Only Mode w/ Toolbar Operation, Brightness Control, Call Transfer, Call Forwarding, Multi-Language Support

Polycom 5151-22710-001 Features*Provides the highest quality video and audio experience in the industry

DVD-quality video resolutions
14 kHz audio
Only PC application delivering VGA resolution, secure communications, and People+Content
Premium performance and advanced features complement larger room systems

Dit is een nieuw product in ongeopende verpakking !!

€

49,95 incl. 21% BTW