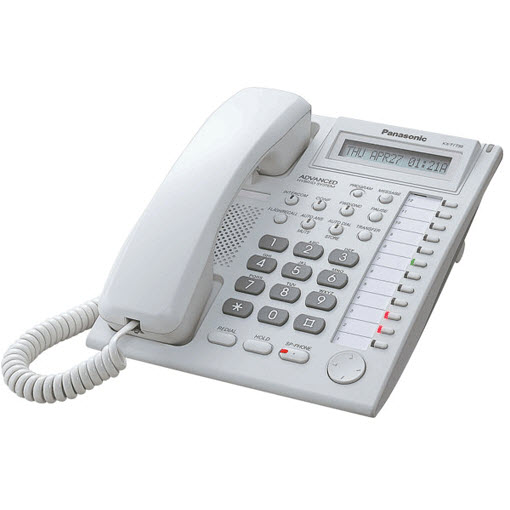 Panasonic KX-T7730 systeemtoestel wit
The KX-T7730 comes from a modern line of executive handset for Panasonic KX-T phone systems. A hands free digital system phone, the KXT7730 has 12 feature keys, a 16 digit alpha-numeric LCD display and indispensable agent call handling functions. The telephone is designed to provide the system with a data history of numbers dialled, day, date, time and duration of calls.
Panasonic KXT7730 Analogue Proprietary Keyphone is an executive handset for theKXTE308 and KXTE824 systems, incorporating every keyphone functionality, including a 16 digit LCD display providing the user with useful information such as the number dialled, day, date, time and the duration of each call made. The LCD also gives the user easy access to advanced system programming.
Uitverkocht
Gerelateerde producten
Panasonic KX-T7630 Systeemtelefoon zwart

The Panasonic KX-T7630 is a digital proprietary telephone with 24 buttons, and 3-line display for the Panasonic KXTDA phone systems. This fully duplex speakerphone ensures that the conversation will flow both ways without clipping. The 24-line keys can be programmed to the users preference and can show other extensions on the Panasonic telephone system.

Features:

Corded Phone
Caller ID
Wall Mountable
Speakerphone
3 Line Adjustable Display
Dual Color LED Status Lights
Up To 8-Way Conferencing
USB Port
Speed Dial
Call Forwarding
20 Ringtones / 10 Musical Ringers
Intercom
Call Transfer
Paging Key
Auto Answer
Auto Redial
Hold
Pause
Flash
Navigator Key
Do Not Disturb
Headset Jack
Multi-Language Menus
Off-Hook Voice Announce
Auto Dial
Speaker
24 Flexible Outside (CO) Line Buttons
eXtra Device Port (XDP)
Multi-Angle Tilt Body
Background Music (BGM)

Compatibility
Compatible with Panasonic KX-TDA50G, KX-TDA100, KX-TDA200, KX-TDA600, KX-TDE100, KX-TDE200, KX-TDE600, KX-NCP500, KX-NCP1000 Business Phone Systems

Refurbished

€

47,95 incl. 21% BTW