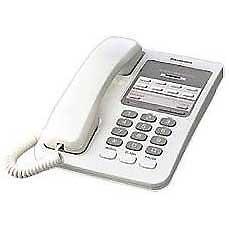 Panasonic KX-T7310 Telefoon zwart
The Panasonic KXT7310 SLT E Series Phone is a budget single line digital telephone compatible with Panasonic Hybrid KXT systems. With 8 programmable line buttons, this is a sturdy, reliable device for your PBX private exchange.
The KXT7310 SLT is hearing-aid compatible and wall mountable.
Product Features
10 Direct Dial Buttons
Hearing Aid Compatible
Wall Mountable
Genoemde prijs is exclusief btw en verzenden !!
Als op de foto maar zwarte uitvoering !!
Uitverkocht
Gerelateerde producten
Panasonic KX-T7541 KX-T7541CE Keymodule DSS Console White Nieuw !

DSS Console met 48 toetsen

Anwer & Release toets, welke de eerst binnenkomende netlijn aanneemt en verbreekt.

Elke toets programmeerbaar als:
– netlijn of
– toestelnummer of
– verkort kiesnummer of
– functie toegang

Additional Keypad Console
– 48 Direct Station Selection (DSS ) Keys
– Monitor
– 48 Busy Lamp Field (BLF ) Keys
– Answer Key
– Release Key

White

Dit is een nieuw product !!

€

108,85 incl. 21% BTW