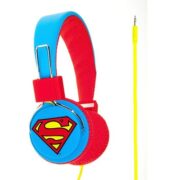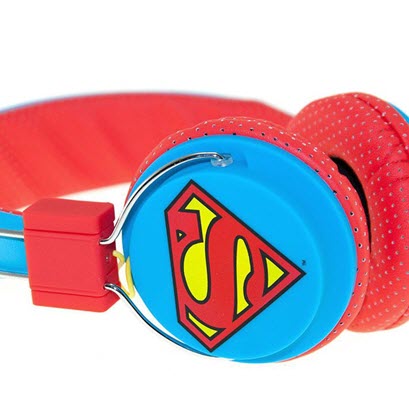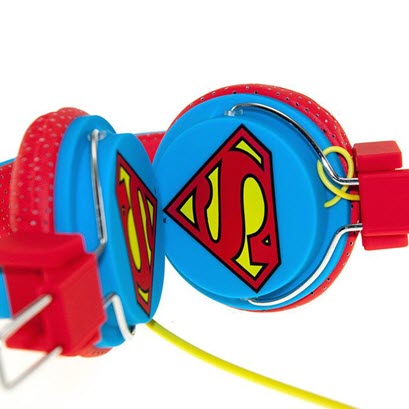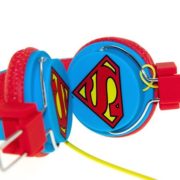 OTL Superman Man of Steel DC0292 premium headphones
Style #: DC0292
Folding stereo headphones packaged in a presentation box.
An exclusive pair of superman headphones featuring the bold superman icon. A combination of fantastic quality and value offering iconic style with great quality audio.
Specification:
Impedance: 32 ohms at 1 kHz
Frequency Response: 20-20,000 Hz
Sensitivity: 100 dB ± 3 dB
Cable Jack: 3.5 mm
Cable Length: Approx. 120cm
Compatible with all devices using a 3.5 mm jack
Dit is een nieuw product !!
7 op voorraad
Gerelateerde producten
OTL One Direction 1D0269 Premium Headphones red

• Hoofdtelefoon met exclusieve handtekeningen en graphics One Direction
• Geschikt voor kinderen van 8 jaar en ouder, wordt gekenmerkt door hoge kwaliteit materialen en geluid
• Compatibel met alle MP3-spelers, smartphones, tablet of een ander apparaat met een 3,5 mm voor hoofdtelefoon aansluiting
• Verstelbare hoofdband en zachte pads passen perfect bij de oren van uw kind
• Waarschuwing: niet geschikt voor kinderen jonger dan 3 jaar. Te gebruiken onder toezicht van volwassenen
• Kleur: rood

Technische specificaties
• Impedantie: 32 ohm bij 1 kHz
• Frequentierespons: 20-20.000 Hz
• Gevoeligheid: 100 dB ± 3 dB
• Jack Cable: 3,5 mm
• Lengte kabel: ca. 120 cm
• Compatibel met alle apparaten met een 3,5 mm-aansluiting

Inhoud van de verpakking
• One Direction Headphone red

Algemeen

Merk : OTL
Leverancier code : 1D0269
Audio transmissie : via kabel
Ingebouwde microfoon : geen
kleur : rood

Technische kenmerken

Hoofdtelefoonconnectoren : 1 x 3,5 mm Jack
Audio impedantie : 32 ohm op 1 kHz
Gevoeligheid (dB) : 100 dB ± 3 dB
Frequentie Reactie (Hz) : 20-20.000 Hz
Afzonderlijke volumes per kanaal : ja

Fysieke kenmerken

Gewicht zonder verpakking : 326 gram

Inhoud van het pakket

One Direction Headphone rood

Dit is een nieuw product !!

€

17.95 incl. 21% BTW