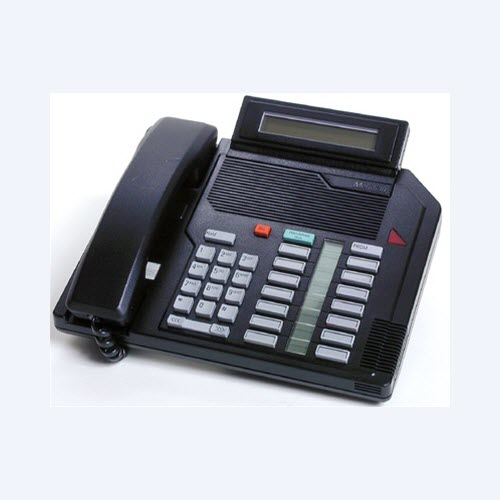 Nortel Meridian M5316 Centrex Handsfree Display Phone black
The Meridian M5316 is one of the most sought after phones on the market. This business telephone was designed for the working professional that does a vast majority of their business over the phone. Here are some of the reasons why this phone is so fantastic.
The phone is a single line set with multi line functionality. It comes with 13 programmable line / feature keys that will let you tailor the phone to suit your needs. The program key on this model will let you customize some local features on the phone, things like time and date.The phone was built with 3rd generation hands free capability as well on-hook dialing. On this design it allows you to engage in conference calls, while simultaneously performing other important tasks during the call. The on-hook dialing is outstanding for checking voice mails etc. This amazing phone comes with a 2 line by 24 character liquid crystal display. This makes it 1st rate when viewing inbound and out bound calls as well as line transfers. It also comes with a built in call timer to help monitor calls. As well has a built in indicator light to notify you of messages.
This business telephone comes in 3 bold colors ash, black and grey. Another unique feature is the part number NT4X42 which make for simplicity when looking up. The phone can also be used in combination of a few ways. Such as with the M522 Meridian Mate Expansion Module as a mini console or answering position.
The M5316 is the ideal set for busy professionals who conduct much of their business by phone. This set can also be used in combination with the M522 Meridian Mate Expansion Module as a mini-console or answering position.
Handsfree operation permits you to engage in a conference call while simultaneously performing others tasks. During the conference call, use the Mute key to confer confidentially with another person in the room.
Thirteen programmable line/feature keys let you tailor your set to suit your needs. The Program key lets you further customize local features on your set, such as time and date.
The M5316 gives you one-button access to the MDC features you use most, including Speed Call. The built-in Call Timer makes it easy to monitor calls. And the Speaker allows convenient on-hook dialing and access to voice mail.
The 2-line X 24-character liquid crystal display ensures easy access to call information, including date and time.
This model is also known as: NT4X42AA, NT4X42AAAM, NT4X42BA, NT4X42CA, NT4X42CA, NT4X42KA, NT4X42LB, NT4X42MC, NT4X42, NT4X, B0240405, B0240407, B0240406, B240405, B240407, B240406
Color : Black
Dit is een nieuw product !!
Uitverkocht
Extra informatie
Beoordelingen (0)