Winkelmand bekijken
"Nortel Norstar Meridian M7324 Phone NT8B42 black" is toegevoegd aan je winkelmand.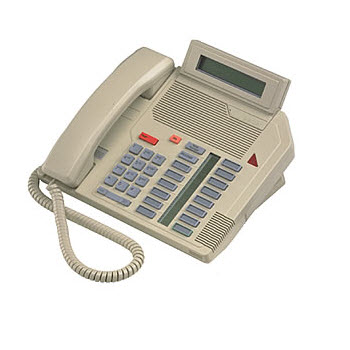 Nortel Meridian M5216 Digital Centrex Phone NT4x44 ash
This state of the art phone comes with a built in light indicator that will let you know of incoming
calls as well notify you of any waiting voice messages you may have. Some other marvelous
features are to the right side of the phone it has 14 programmable line or feature keys. You can
tailor these keys to suit any requirements your office needs. Each feature key comes with its
own liquid crystal display indicator to let you know the line is in use. In the middle of the phone
just left of the feature keys you have the hold as well the release keys. These keys are color
coded to make for easy distinction. Below those keys are your number keys for making out
bound calls as well interoffice line transfers. Along the bottom of the phone you have the volume
control bar. This bar will control the headset volume along with the built in speaker.
This fantastic model design is headset compatible. This phone was built to maximize the use of
the Meridian Digital Centrex features. It can support a maximum of 2 M522 Meridian Mate
expansion units. This will allow you to expand your answering position in a modular fashion. 1
other unique design to the phone is the part number NT4X44. This helps to make for a straight
forward location of the phone when looking to purchase. This phone comes in the color Ash.
The M5216 is headset compatible. (See Polaris Headsets in our phone headset section)
The 2-line X 24-character liquid crystal display can deliver call information such as call progress, queue status, and calling name and number. Agents or the attendant can use this data to greet callers and speed transactions.
Fourteen programmable line/feature keys let you tailor the set to fit your requirements. Assign additional directory numbers or special ACD features used by your organization.
The M5216 supports a maximum of two M522 Meridian Mate expansion units to let you expand your answering position in a modular fashion.
Dit is een nieuw product !!
1 op voorraad
Extra informatie
Beoordelingen (0)
Gerelateerde producten
Aastra Nortel Norstar T7208 T 7208 platinum business telefoon

This Norstar T7208 is an outstanding phone for any small office. The phone has an enhanced-level, multi-line telephone with a superb integrated LCD. The phone has some real cool features like 8 programmable memory buttons with a very nice LCD indicator. As well the phone also can support up to 6 lines of crystal clear communication. This phone was built for moderate call volume users, as well as your office professionals and technical specialists.

It comes with a very nice tilt-display that also has an integrated visual and message waiting indicator. It also has a built in headset jack for easy use. The phone also has an audio control center built into the phone. This magnificent phone can also be found with its manufactures unique part number NT8B26.

The phone comes in 2 great colors of charcoal as well as platinum. It is absolutely compatible with Norstar and Business Communication Manager systems. It is also compatible with all releases of CICS and MICS as well all the releases of Nortel BCM. It is even compatible with IP office an IP office quick version equipped with IP500 TCM8, IP500 digital station 16A, or IP500 digital station 30A.

Features

Supports up to 6 lines
8 programmable memory buttons with LCD indicator
Tilt-display with integrated Visual Ring/Message Waiting Indicator
Audio control center
Compatible with Norstar and Business Communication Manager systems
Color : platinum

Dit is een nieuw product !!

€

48.35 incl. 21% BTW