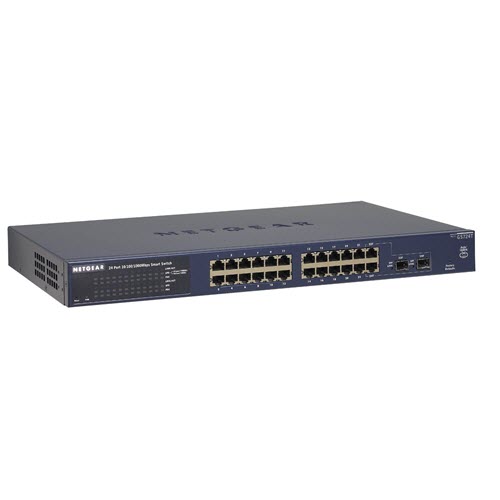 Netgear ProSafe GS724T 24-poorts Gigabit Switch + 2 SFP GBIC slots
De Netgear GS724T is een gigabit switch met maar liefst vierentwintig poorten om apparaten in het netwerk op te nemen. Met een switch verbind je dus meerdere geschikte apparaten met het bestaande netwerk. Gigabit staat voor de snelheid van de verbinding. Een gigabit verbinding haalt snelheden tot wel 1000 Mbps. Heb je nog een netwerk van 10 of 100 Mbps? Geen probleem. De Netgear switch detecteert zelf met welke snelheid de gegevens doorgegeven moeten worden, en past zichzelf automatisch aan. Deze Netgear netwerk switch is plug & play, je hoeft dus geen software te installeren.
Wat is een switch?
Een switch is in principe een kruispunt of verdeeldoos binnen het netwerk. Een switch deelt de aangesloten apparaten met elkaar om bestanden uit te wisselen, maar deelt zelf geen internetverbinding. Om een internetverbinding te delen met alle computers en andere netwerkapparaten is, naast een modem, een (draadloze) router vereist. Een router beschikt ook over switch-functionaliteiten, maar beschikt over een beperkt aantal aansluitingen. Een switch zet je bijvoorbeeld in als er geen aansluitingen meer vrij zijn op de router, maar je toch meer apparaten met internet wilt verbinden. Als je een router tussen het modem en de switch plaatst, deel je de internetverbinding met alle apparaten in het netwerk, dus ook met de aan de switch gekoppelde apparaten.
Product
Fabrikantcode : GS724T
Merk : Netgear
Algemeen
Managed switch : Ja
Smart of fully managed : Ja
LAN
Netwerkaansluiting : Ja
Ethernetsnelheid : Gigabit Ethernet (1000 Mbps)
Ethernetpoorten : 24
Functionaliteiten
Link aggregatie (LACP) : Ja
Power over Ethernet
PoE-ondersteuning : Nee
Fysieke eigenschappen
19 Inch-formaat (rackmount) : Ja
Materiaal : Metaal
Uitverkocht
Extra informatie
Beoordelingen (0)