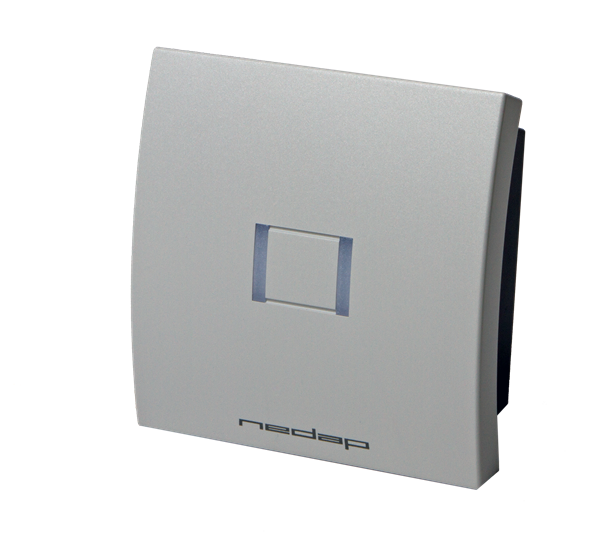 Nedap AEOS Convexs M80G Access control reader
Nedap AEOS Convexs M80G is a surface mount Mifare reader. It can be linked to external controllers using a Wiegand interface. Also, migration can be implemented in controlled phases, as the Convexs M80G is capable of handling several different card types simultaneously.
Make
Nedap AEOS
Manufacturer
Nedap Security Management
Category

Access Control

>

Access control readers

Model code
Convexs M80G
Reader Type
Mifare
IP Rating
IP52
Mount Type
Surface mount
Read Range mm
60 mm read range
Colour
Grey
Wiegand Interface
Yes
Electrical Specifications
Voltage: 12 ~ 30 VDC
Power Consumption: 70 mA
Physical Specifications
Dimensions mm: 80 x 80 x 32
Weight g: 100
Environmental Specifications
Operating Temp oC: -20 ~ +55 C (-4 ~ +131 F)
Operating Humidity %: 10 ~ 93
Dit is een nieuw product!!
2 op voorraad
Gerelateerde producten
Nedap Invexs 170 MK170B card reader 9834230

The Invexs 170 readers combine modern design with advanced functionality. Unique multiple card reading technology makes the readers capable of simultaneously reading different card technologies, which is extremely useful during migrations or when a company uses a mix of card technologies.

Modern design, optionally with touch keys or screen
Suitable for all commonly used access control systems and technologies
Multiple output protocols
For indoor use

Modern design
The modern, stylish look of the Invexs readers perfectly matches contemporary office design. The optional high-quality touch keys on the Invexs 170 keypad are software-controlled and light up automatically when a valid pass is presented.

"Multiple reader" technology
Invexs readers are capable of simultaneously reading Nedap, MIFARE and DESFire EV1 cards. Among many other advantages, this functionality makes smooth migration possible. Different cards can be stored in a mixed database, meaning that there is no need to change all the data overnight.

Configuration and programming
Invexs readers are highly versatile in terms of their functionality and output, which can be configured to Wiegand, the RS485 protocol (AEOS-coded or 'plain') or to XS RF modulation. Invexs readers are easy to configure and program. AEreco (AEOS REader COnfiguration) software, a special configuration tool for Invexs and other AEOS readers is used to generate the configuration file, which can then be deployed to the reader with a configuration card or using AEmon, a configuration program for AEOS AEpacks and software components.

Invexs range
In addition to the Invexs 170, the Invexs 190 range is also available from Nedap

Dimensions L x W x H: 171 x 75 x 25 mm
Weight Approx. 0.2 kg
Power consumption 12 VDC – 30 VDC, 70 mA @ 12 VDC, 35 mA @ 24 VDC
Environmental conditions Temperature range: Operation: 0 – 55 °C. Storage: -30 – 65 °C
Relative humidity: 10 – 93% (non-condensing)
Communication

– RS485 (encrypted AEOS or 'plain' protocol; user-definable)
– Wiegand Data 0 and Data 1 (depending on configuration)
– RF Modulator (120 kHz for AX1014 or AB350)

Inputs 3: open collector; buzzer and 2 LEDs
Detection range Nedap: approx. 15 cm, MIFARE: approx. 5 cm, DESfire: approx. 1 cm
Reader wiring

– RS485: 2 x 2 x 0.25 mm² shielded, max. 1000 m
– Wiegand: 4 x 0.25 mm² shielded, max. 150 m
– Optional: 3 x 0.25 mm² (LEDs, buzzer)

Dit is een nieuw product !!

€

129,95 incl. 21% BTW