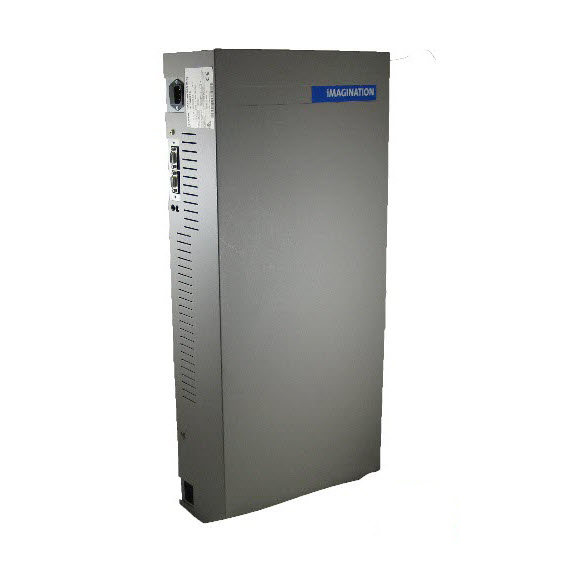 Mitel Imagination III 14 CCU telefooncentrale
Mitel iMAGINATION is the ideal communications system for Small to Medium sized businesses (SMEs). An extremely cost-effective solution, iMAGINATION brings the benefits of ISDN to the smallest of businesses, and supports growth from less than 10 to over 100 extensions.
Both Basic Rate and Primary Rate ISDN network connections are fully supported on Mitel iMAGINATION, with a range of ISDN supplementary services including Direct Dial-In and Calling Line Identity also supported. Importantly, and uniquely, ISDN "To The Desk" is provided as standard on Mitel iMAGINATION, meaning that ISDN business applications can be delivered throughout your business at no extra cost.
With the high quality support of Mitel's accredited Business Partners on your doorstep, you can be confident that your business's future in the digital age is assured.
So, do you actually need ISDN, and if so, is iMAGINATION the answer ? If any of the following apply to your business, then the answer is a resounding YES.
"Are you a small business that needs to be competitive with large companies?"
Why should your business be at a disadvantage to larger companies ? Mitel iMAGINATION will improve your competitive position and improve your financial performance. Call charges will be reduced as data is transferred up to ten times faster through ISDN than with analogue modems. Multiple voice, data and video calls can be handled simultaneously through iMAGINATION, with ISDN delivered seamlessly to every desk in your business.
"Do you need to improve your Customer Service?"
You can differentiate yourself from larger competitors by offering a higher level of personalised customer service via Mitel iMAGINATION. For example, divert all calls to your mobile phone when you're out of the office and you'll never miss a customer call. With iMAGINATION's Computer Telephony (CT) you'll fully integrate telephone calls with your PC-based customer records, so that you know exactly who's calling and why before you even answer their call. The positive impression you leave your customer will be measurable in the increased business they give you.
"Do you Rely on Communications to do Business?"
Any professional business in a small office (Accountants, Lawyers, Designers, Agencies) will benefit from the power and flexibility of the Mitel iMAGINATION. It gives you a powerful phone system that will help you work with your clients, whilst giving you the advantage of high-speed data applications in real time over ISDN – file transfers, screen sharing, and video-conferencing will all help you communicate more effectively with your clients.
"Are you a Health Care Provider?"
GPs, Dentists and local Health Centres can benefit from iMAGINATION's ISDN capability by offering a rapid and effective diagnostic service. High speed access to centralised hospital data (x-ray images for example), remote specialist consultation via ISDN video, and on-line screen-sharing to jointly view a customer's patient records are all possible via Mitel iMAGINATION. At night, emergency calls can be diverted to your mobile phone or home.
"Are you in the Retail Trade?"
Mitel iMAGINATION can dramatically improve sales and service in small retail locations, whilst saving time and money. Fast and cost-effective access to point-of-sale systems and
corporate data networks can significantly improve the efficiency of tasks such as stock management and credit approvals. ISDN Direct Dial-In (DDI) numbers can be used for special promotion or customer service calls, a "big business" application that even the smallest retail outlet can now enjoy with Mitel iMAGINATION.
"Do you use the Internet?"
The Internet is the world's greatest information resource, but it's popularity is beginning to have an effect. Waiting endless minutes for files to download from the web is perhaps one of the most frustrating aspects of modern day business life. With Mitel iMAGINATION's ISDN capability, graphical web pages will load rapidly and you can spend your time using, not waiting for, the information.
Mitel iMAGINATION's ISDN lets you connect PC-based desktop video-conferencing and provide "application sharing" on every desk, even between remote offices. This offers clear productivity benefits. For example, two colleagues could be working on a Business Plan spreadsheet, one based in London, one in Amsterdam. They don't need to meet to progress the plan, just bring up the spreadsheet on both of their PC screens, and, whilst talking to each other in a video-call, either of them can edit the business plan. No more time wasted at ineffective meetings. No more time wasted on the plane to London.
Mitel iMAGINATION Series
Height: 802mm
Width: 333mm
Depth: 125mm.
Approximate weight: 17kgs
Power: 220v ac +20%-15% (187-264 ac)
10 or 28 digital ports configurable as any mix of:
– ISDN basic rate trunks
– ISDN to the desk extensions
– Digital Millennium system-phones
Additional Options:
External Music On Hold Port
Integral Voice Mail / Auto Attendant
Internal Music On Hold
Windows PC Phone
Windows Call Management
ISDN Security Monitoring
Remote Service
2 op voorraad