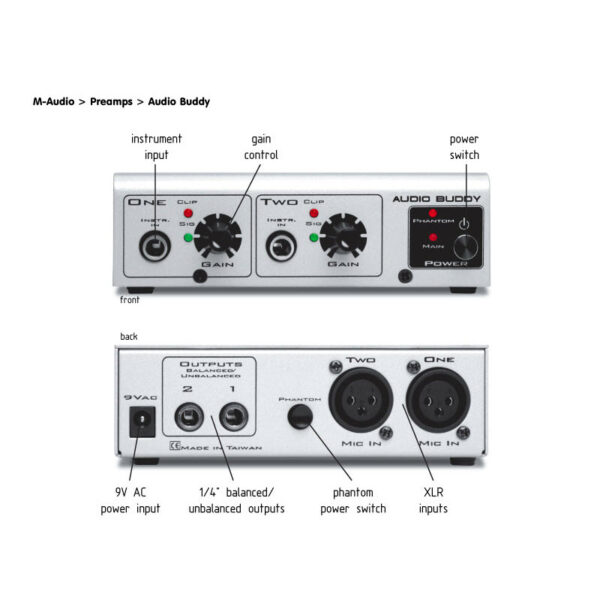 M-Audio Audio Buddy
If you're looking for a whole lot of preamp on a tight budget, you'll see where this popular product gets its name. Affordability and performance make the M-Audio Audio Buddy one of the most popular mic preamps in home recording today. You get professional microphone support along with line inputs impedance-matched for ideal performance with electric guitar and bass. Simply put, the Audio Buddy is a workhorse mic preamp that sounds great and won't hurt your budget.
Volledige features:
2 independent preamp channels, each featuring:
– mic input (balanced XLR) with phantom power switch and indicator
– high impedance instrument inputs (1/4″)
– gain control
– signal/clip LEDs
– professional balanced/unbalanced line output
phantom power
Specificaties:
frequency response: 5Hz-50kHz, +0, -3dB
mic gain: 60dB maximum
mic input impedance: 1kOhm
guitar gain: 40dB maximum
guitar input impedance: 100kOhms
size and weight: 5-1/2″ x 3-3/8″ x 1-3/4″; less than 1/2 lb.
Dit is een nieuw product !!
Uitverkocht
Extra informatie
Beoordelingen (0)
Gerelateerde producten
Mini DV world's smallest voice recorder (camcorder)

It has small contour design, which does UV spray finishing for the whole body. World's Smallest High-Resolution Mini DV Camera MD80 SOUND SENSOR. It is very fashionable and wearable and matches with all kinds of portable tools.

Features:

Weight: 97g
Size: 5.6 x 2.1 x 1.9cm
Uitra-small size of alloy airframe integration design, a variety of occasions to facilitate easy recording / monitoring.
Recorded the impact of voice-activated trigger function to facilitate the deployment of video, a longer time, you want the recorded images.
With PC camera function. the network relax to enjoy life.
AVI format video recording, broadcast Convenience PC, to easily upload video sites.
illumination, 2 million high-defintion camera
High-speed dynamic video, instant response to light environment.
Video output: 720 x 480 px 30m frame/second.
Built- in lithium battery for 2 hours continuous use, voice-activated video can use more time.
Support USB1.1 and USB2.0.
Operating System: Windows 2000 / XP / Vista
Maximum support expansion cards 8G ( TF Card NOT Included ) .
Mini USB charging data cable to connect computer and video upload download transfer function.
Full to the folder with the use of small gimbaled to the whole point of recording / monitoring function.
Easy installation, suitable carrier materials, the installation of the use of complex scenes.

Package Content:

1 x Mini DV ( without memory card )
1 x USB Cable
1 x Clip
2 x Bracket
1 x Silicon Case ( Free Gift )

Item specifics

Type: Mini
High Definition Support: 720P (HD)
Package: Yes
Memory Card Type: MicroSD / TF
Built-in Memory Size: Non
Camera Shape: Lighter

Dit is een nieuw product !!

€

24,95 incl. 21% BTW