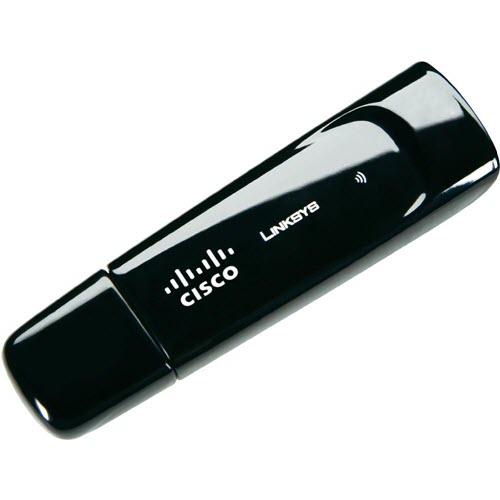 Linksys WUSB100 Wireless-N USB NETWORK WIFI Adapter
Breidt uw laptop of desktop uit met een krachtige draadloze netwerkadapter. De Linksys WUSB100-EU steekt u eenvoudigweg in een usb-poort en u beschikt over Wireless B/G/N protocols. Blijf in beweging met uw laptop, of communiceer met alle mogelijke apparaten in huis, zonder te slepen met onhandige kabels. De WUSB100-EU versleuteld uw data aan de hand van WiFi Protected Access (WPA2) met 256 bit-encryptie. Zo weet u zeker dat digitale luistervinken uw data niet opgevangen en ontcijferen.
Meer bewegingsvrijheid met RangePlus
Geniet van nog meer bewegingsvrijheid dankzij RangePlus-technologie. Het signaal van de Linksys WUSB100-EU reikt nog verder door slim gebruik te maken van reflectie, iets wat bij andere adapters juist zorgt voor slechter bereik. RangePlus zorgt voor betere verbinding via 802.11b/g/n. Indien u contact maakt met een andere RangePlus-adapter wordt de bruikbare bandbreedte bijna verdubbeld.
Specificaties
Product
Fabrikantcode : WUSB100-EU
Merk : Linksys
Algemeen
Merk : Linksys
Geschikt voor : Computer & laptop
Geschikt voor : Windows
Draadloos LAN
Wifi-standaard : Wireless G
Wifi-snelheid 2,4 GHz : 54 Mbit/s
Wifi-banden : Single-band (2.4 GHz)
Aantal wifi-antennes : 2
Verwisselbare externe antennes :Nee
Beveiliging
WLAN-beveiliging : WPA2, WPA, WEP
Fysieke eigenschappen
Kleur : Zwart
Breedte : 1 cm
Diepte : 9,8 cm
Hoogte : 2,8 cm
Dit is een nieuw product !!
4 op voorraad
Extra informatie
Beoordelingen (0)
Gerelateerde producten
D-Link DFE-530TX+10/100 PCI Fast Ethernet Desktop Adapter

10/100Mbps PCI Card for PC
D-Link's DFE-530TX Fast Ethernet adapter is a high-performance Installable in a Pentium or Pentium Pro PC equipped with PCI expansion slots, this adapter turns a desktop into a high bandwidth graphic/multimedia workstation or a power server running at full-duplex speed.

Powerful Performance
The adapter operates in the 32-bit Bus Master mode, delivering throughputs at multi-megabits per second with little stress on the Ethernet or 100BASE-TX Fast Ethernet completely without any host's CPU. Supporting PCI clock speeds independently of the network clock, it transfers data directly to/from the host's memory, by-passing the CPU to alleviate the host's workload.

Easy Migration
The adapter allows users to migrate from Ethernet to Fast Ethernet in easy steps. 10BASE-T users can upgrade to 100BASE-TX anytime without changing driver software or network cables.

Network Security
Network administrators can install optional boot ROMs on the adapters to implement network security. Diskless workstations equipped with these ROMs can remote boot from NetWare or Windows NT servers and access authorized data.

Auto-sensing 10/100Mbps Interface
The adapter's single connector connects to either 10BASE-T Ethernet or 100BASE-TX Fast Ethernet completely without any need to set configuration. It detects the connected hub's or switch's capability and auto-negotiates to use the highest available speed.

Full Duplex Support
Full/half duplex operation is auto-detected in both 10BASE-T Ethernet to Fast Ethernet 100BASE-TX modes. When connected to a switch in full duplex, the network speed can be increased to 200Mbps, making the adapter an ideal NIC for high-speed server deployment.

Comprehensive Driver Support
The adapter supports all major network operating systems, including NetWare, Windows and Linux.

Specs

10/100Mbps NWay interface
Full duplex supported for both 10BASE-T, 100BASE-TX
32-bit PCI bus master operation
Remote boot supported
Low Ethernet command processing overhead
Easy-to-view diagnostic LEDs
Single shielded RJ-45 connector
Simply Plug and Play
UTP and STP supported
Complete driver support
Support IEEE 802.1x Port-based Network Access Control (MD5 only)
low-profile bracket included in the box
2-year warranty

Dit is een nieuw product !!

€

8.95 incl. 21% BTW