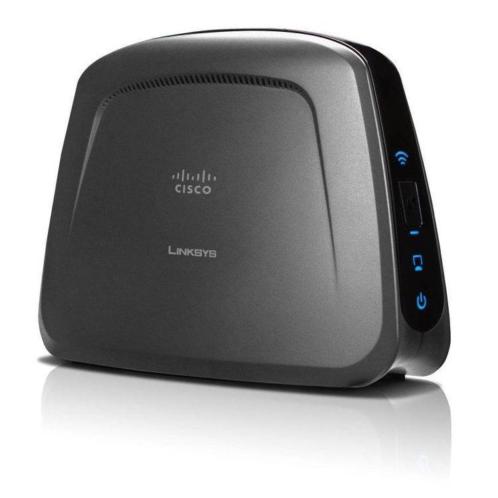 Linksys WLAN-N ethernet bridge WET610N
Highlights & details
Voor integratie van draadgebonden Ethernet apparatuur in het WLAN netwerk
Perfecte dekking door Wireless N en Dual-Band technologie
Ideaal voor Ethernet-TV's, digitale videorecorders, set-top boxen of computers
Beschrijving
Wireless-N Ethernet Bridge met Dual-Band (WET610N) geeft bekabelde Ethernet apparatuur onbeperkte Wireless-N netwerkverbinding. De WET610N geeft Ethernet apparatuur High-Speed Wireless-N en zorgt daarmee voor een snellere datacommunicatie dan bij conventionele Wireless-G-, -B of -A apparatuur. Wireless-N Ethernet Bridge van Linksys kan op elke Ethernet compatibele apparaat worden aangesloten zorgt op die manier voor betere draadloze gaming en HD videostreaming. Dit product is ook uitstekend geschikt voor gezamenlijk gebruik van muziek, foto's, films en andere bestanden op het huisnetwerk. Wireless-N Ethernet Bridge met Dual-Band garandeert naast de hogere prestaties voor een aanzienlijk betere gebruikerservaring doordat Ethernet compatibele apparatuur zoals televisies, digitale media-adapters, videorecorders, set-top boxen, netwerkopslag en game-consoles optioneel via twee Wireless-N netwerkfrequenties in het huisnetwerk kunnen worden opgenomen. (Dual-Band) Dit betekent naast een groter bereik en een hogere snelheid, nog meer entertainmentgenot, vooral omdat de gebruiker kan kiezen tussen de frequentiebanden 2,4 GHz en 5 GHz. De mogelijkheid om uit meerdere kanalen te kunnen kiezen, vermindert het aantal mogelijke storingen door andere apparatuur. Om de prioriteiten in het netwerkverkeer nog efficiënter te kunnen beheren, biedt de WET610N door uitgebreide Digital Signal Processing (DSP) en Quality of Service (QoS) een aanzienlijk betrouwbaarder en kwalitatief betere mediastreaming.
Uitvoering
Snelle en eenvoudige set-up met EasyLink Advisor
LED indicatoren op de voorzijde van de router geven duidelijk inzicht in de aansluiting en de werking van de aangesloten apparatuur.
Werkt zonder stuurprogramma onder Windows, Macintosh, Linux en game-consoles
Compatibel met Wireless-G, -A en -B
WPS-toets voor eenvoudige encryptie met één druk op de knop
Aantal antennes: 3
Auto-Uplink (Auto MDI/MDI-X), Wi-Fi Protected Set-up (WPS)
Dual-band: 2,4 GHz of 5 GHz
Encryptie: 64-Bit-WEP, 128-Bit-WEP, WPA, WPA2
WPS-toets voor eenvoudige encryptie met één druk op de knop
Dit is een nieuw product !!
1 op voorraad
Extra informatie
Beoordelingen (0)