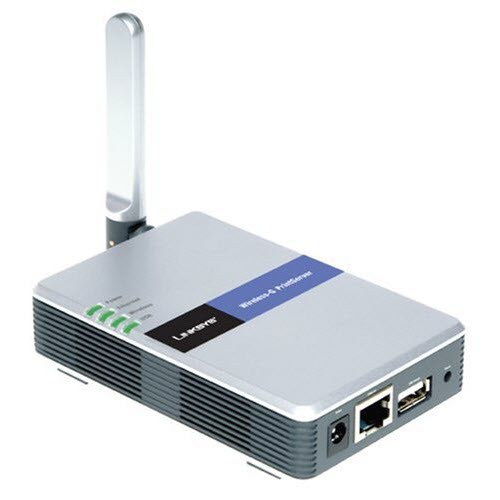 Linksys Wireless-G PrintServer WPS54G USB LAN
De Linksys Wireless-G PrintServer geeft u de mogelijkheid een USB printer direct aan te sluiten op uw netwerk. Hierdoor heeft u geen apparte pc meer nodig, die altijd aan moest staan, om uw printer delen. Hierdoor kunt u uw PC beter gebruiken voor andere taken.
Sluit de PrintServer direct aan op uw network door middel van een 10/100 Ethernet kabel of draadloos over 54Mbps Wireless-G (802.11g). De draadloze optie geeft u de mogelijkheid uw printer overal neer te zetten, zonder kabels te gebruiken. Hoe de PrintServer ook aangesloten is op het netwerk, zowel uw draadloze als bedrade PC's kunnen gebruik maken van de printer.
Productspecificaties
Aansluitingen
Geïntegreerde opties
Netwerkbeveiliging WEP, WEP
Productspecificaties
Systeemvereisten
Systeemeisen
300 MHz or Faster Processor
128 MB of RAM
CD-ROM Drive
Printer with USB 1.1 or USB 2.0 Port (Multi-function printers are not compatible)
Windows 98SE, Me, 2000 or XP
Netwerk
Draadloze netwerkverbinding G-protocol
Productinformatie
Artikelnummer WPS54G-EU
Release datum 2006
EAN 4260039342885
Dit is een nieuw product !!
1 op voorraad
Gerelateerde producten
TP-Link TL-PS310U USB 2.0 print- en opslagserver

Hoge compatibiliteit: Compatibel met de meeste USB-apparaten die op de markt zijn

Eenvoudig in gebruik: eenvoudige configuratie via een installatiewizard met slechts enkele muisklikken

Uitbreidbare functionaliteit: deel maximaal 4 USB-apparaten door ze aan te sluiten op een USB-hub

Waar is dit product voor?

De TP-LNK opslag- en afdrukserver TL-PS310U is de ideale apparatuur voor het delen van USB-apparaten in het thuis- of kantoornetwerk. Het is compatibel met de meeste printers en multifunctionele apparaten op de markt. Bovendien kunt u deze delen en beheren vanaf elke computer die op het netwerk is aangesloten. U kunt ook maximaal vier USB-apparaten aansluiten, zoals scanners, flashstations, luidsprekers en webcamera's als er een USB-hub op de server is aangesloten. Al deze apparaten zijn toegankelijk via het netwerk of zelfs draadloos wanneer de server is verbonden met een draadloze roerder.

Uitstekende compatibiliteit

De TL-PS310U is compatibel met de meeste multifunctionele apparaten en andere USB-apparaten die op de markt zijn. De TL-PS310U heeft een hoge mate van compatibiliteit na te zijn getest met meer dan 200 verschillende printermodellen. De TL-PS310U is een uitstekende keuze om te voldoen aan de behoeften van uw netwerk, zowel thuis als op kantoor.

Eenvoudige configuratie en grotere efficiëntie

Dankzij de volledig vernieuwde interface kunt u de printserver op een veel eenvoudigere en meer intuïtieve manier beheren. U kunt de TL-PE eenvoudig beheren en configureren, inschakelen en vergeten. Met de automatische verbindingsfunctie in het configuratiehulpprogramma hoeft u alleen de optie "Automatisch verbinden voor afdrukken" in te schakelen (maakt automatisch verbinding met afdrukken), zodat de TL-PS310U verantwoordelijk is voor het zelfstandig uitvoeren van de afdruktaak. Vervolgens maakt het automatisch verbinding met de printer en verwerkt het alle openstaande afdruktaken terwijl u rustig koffie drinkt.

Ondersteunt o.a. WINDOWS 7

De TL-PS310U werkt perfect met o.a. WINDOWS 7 dankzij de nieuwe firmwareversie en het configuratiehulpprogramma. U kunt het meegeleverde hulpprogramma gebruiken om eenvoudig printers en andere USB-apparaten te beheren terwijl u in WINDOWS 7 werkt.

FUNCTIES VAN DE HARDWARE

interface

USB 2.0- 




poort RJ-45 Snelle Ethernet-poort

Stroomverbruik

5V DC, 2A

LED-indicator

10 Mbps, 100 Mbps, USB

afmeting

56 x 52 x 23 mm

SOFTWARE-FUNCTIES

beheer

Beheer via internet

protocollen

TCP / IP, (externe virtuele USB), LPR / LPD

Geavanceerde functies

DHCP-client, POST (Power On Self Test, zelftestvermogen), 




Firmware-upgradebaar, hulpprogramma voor Windows

ANDEREN

Inhoud van de verpakking

Print Server 




Ethernet-kabel (RJ45), 




hulpprogramma-cd 




Beknopte installatiehandleiding 




Stroomtoevoer

Systeemvereisten

Windows 7 / Vista / XP / 2000

Omgevingsfactoren

Temperatuur: 0 ℃ -50 ℃ (32 ℉ ~ 122 ℉) 




Opslag: -5 ℃ -65 ℃ (23 ℉ ~ 139 ℉) 




Vochtigheid: 0% -70% niet – condenserend 




vochtigheid Opslag: 0% ~ 80% niet-condenserend

Dit is een nieuw product !!

€

129,95 incl. 21% BTW