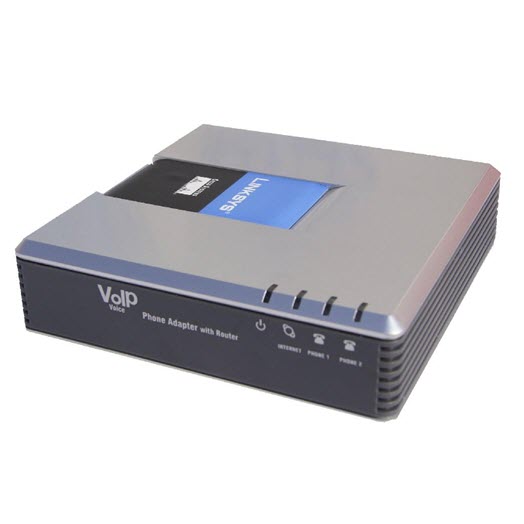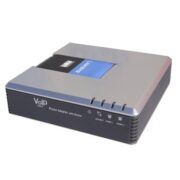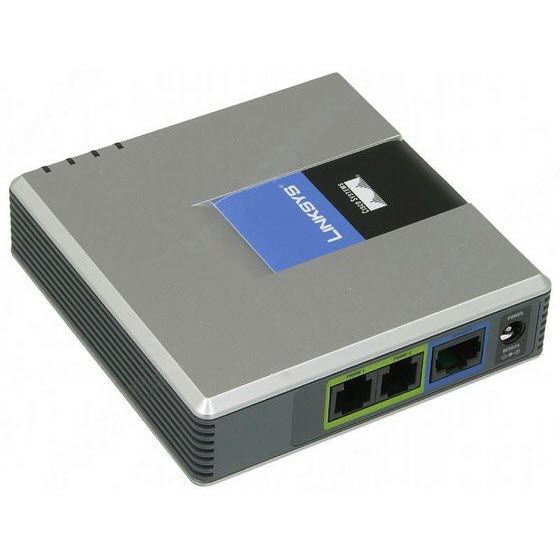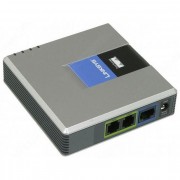 Linksys PAP2T voip gateway
The Linksys Internet Phone Adapter enables high-quality feature-rich VoIP service through your broadband Internet connection . Just Plug it into your home or office Router or Gateway and use the two standard telephone ports to connect analog phones or use one of the ports for a fax machine . Each phone port operates independently , with separate phone service and phone numbers , like having two telephone lines . You'll get clear reception and a reliable fax connection , even while using the Internet at the same time .
With Internet telephony , along with low domestic and international phone rates , an impressive array of special telephone features are avialable . Choose your preferred free local dialing area code , regardless of where you live . Or add a virtual telephone number in any area code , forwarded to your Internet phone , You can even add a tollferr number . The Linksys Internet Phone Adapter is compatible with these and of the other special telephone features that are available from your Internet telephony service provider , such as Caller ID , Call Waiting , Voicemail ,Call Forwarding , Distinctive Ring ,and much more .
Data Networking
MAC Address (IEEE 802.3)
IPv4-Internet Protocol v4 (RFC 791 ) upgrateale to v6 (RFC 1883)
ARP-AddressResolution Protocol
DNS-A Record (RFC 1706) , SRV Record (RFC 2782)
DHCP Client-Dynamic Host Configuration Protocol (RFC 2131)
ICMP-Internet Control Message Protocol (RFC 792)
TCP-Transmission Control Protocol (RFC 793)
UDP-User Datagram Protocol (RFC 768)
RTP-Real Time Protocol (RFC 1889)
Diffserv (RFC 2475) , Type of Service-TOS (RFC 791/1394)
SNTP-Simple Network time protocol (RFC 2030)
Voice Gateway
SIPv2 : Session Initiation Protocol v2 (RFC 3261 , 3262 , 3263 , 3264)
SIP Proxy Redundancy-Dynamic via DNS SRV , A Records
Re-registration with Primary SIP Proxy Server
SIP Support in network Address Translation Networks-NAT (incl. STUN)
Secure (Encrypted) Calling via Pre-Standard Implementation of Secure RTP
Codec Name Assignment
Voice Algorithms
G.711 (A-law and u-law)
G.726 (16 / 24 /32 /40 kbps)
G.729A
G.723.1 (6.3 kbps , 5.3 kbps)
Dynamic Payload
Adjustment Audio Frames per Packet
Fax Capability
Fax Tone Detection and Pass-through (Using .711)
DTMF : In-band & Out-of-band (RFC 2833) (SIP Info)
Flexible Dial Plan Support with Interdigit Timers and IP Dialing
Call Progress Tone Generation
Jitter Buffer-Adaptive
Frame Loss Concealment
Full Duplex Audio
Echo Cancellation (G.165 /G.168)
VAD-Voice Activity Detection with Silence Suppression
Attenuation / Gain Silence Suppression
Flash Hook Timer
MWI-Message Waiting Indicator Tone
VMWI-Visual Message Waiting Indicator via FSK
Polarity Control
Hook Flash Event Signaling
Caller ID Generation (Name & Number)-Bellcore , DTMF ,ETSI
Music on Hold Client
Streaming Audio Server-up to 10 sessions
Provisioning , Administration & Maintenance :
Web Browser Administration & Configuration via Integrated Web Server
Telephone Key Pad Configuration with Interactive Voice Prompts
Automted Provisioning & Update Availability via SIP Notify
Non-intrusive , In-Service Upgrades
Report Generation & Event Logging
Stats in BYE Message
Syslog & Debug Server Records-Per Line Configurable
3 op voorraad
Extra informatie
Beoordelingen (0)