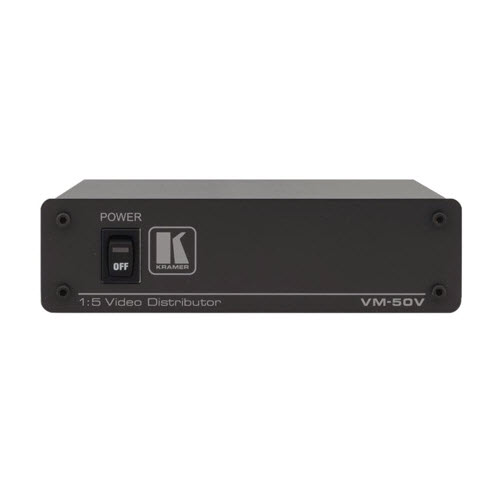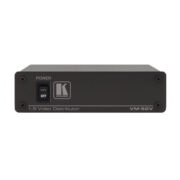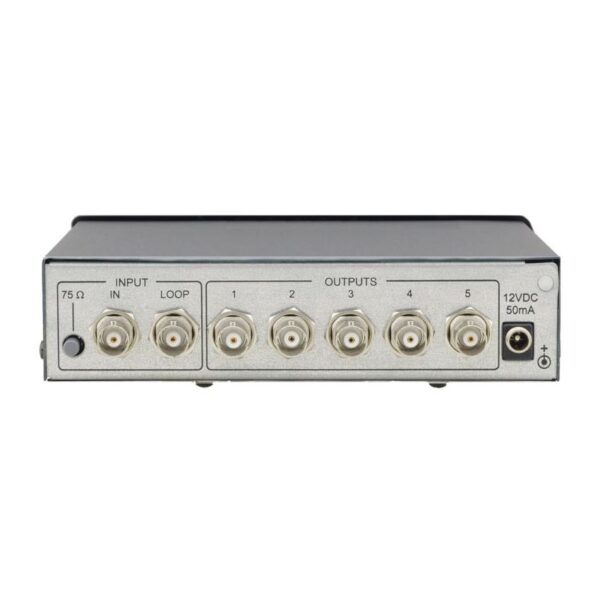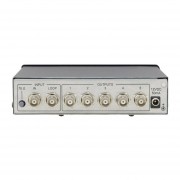 Kramer Electronics VM-50V Distribution Amplifier
The Kramer VM-50V is a high-performance distribution amplifier for composite or SDI signals. It takes one input, provides correct buffering and isolation, and distributes the signal to five identical outputs.
Looping Input.

 

High Bandwidth – 480MHz (−3dB).
Selectable Input Signal Termination.

 

Desktop Size –

Compact size. 2 units can be rack mounted side-by-side in a 1U rack space with the optional RK-1 adapter.
1 op voorraad
Extra informatie
Beoordelingen (0)
Gerelateerde producten
Audio Authority 1394A HDMI splitter versterker

Model 1394A distributes HDMI audio and video signals from one source to four HDMI displays. Audio Authority 1390-series HDMI Distribution Amplifiers use high quality Silicon Image HDMI Chipsets, capable of delivering 1080p video at refresh rates up to 60 Hz, and color bit depths up to 36 bits. Bitstream audio is also supported – including LPCM 7.1 channel uncompressed audio, Dolby Digital TrueHD (7.1), and DTS HD: Master Audio (7.1). Legacy codecs such as Dolby Digital and DTS core are also supported.
Supports 1080p/60 and 1080p/24
36 bit Deep Color (sum of all channels)
Dolby TrueHD and Dolby Digital Plus (bitstream throughput)
DTS HD and DTS HD: Master Audio (bitstream throughput)
LPCM Uncompressed Audio (7.1 channels)
Lip-sync compensation

Key Features

Fully HDCP compliant
Supports HDTV, EDTV, and SDTV resolutions
1 input, 4 outputs (HDMI)
HDMI licensed and certified
Compatible with today's 120 Hz and 240 Hz high definition televisions
All metal construction

Video/Audio Inputs/Outputs:
HDMI (version 1.3): 1/4

Video Parameters

Video Formats: 480i/p, 576i/p, 720p, 1080i/p, up to 1920×1200
Color Processing: 36 bit Deep Color (12 bits per TMDS color channel)
Internal signal equalization circuit

Audio Parameters

Audio Processing: Lossless and uncompressed audio formats, including Dolby TrueHD and DTS-HD: Master Audio, LPCM 7.1 channel
Bandwidth: 20Hz to 20KHz
Multi-channel Digital: Yes
Frequency Response: 10-50KHz

Miscellaneous

Dimensions (HxWxD, inches):2 x 8 5/8 x 5 1/4
Shipping Weight: 3.7 lbs.
Product Weight: 1.88 lbs.
Data Rate: 2.25Gbps (single link)
Signal Processing: Compensated, clock phase adjusted
Jitter Processing: Reconstituted signal; jitter free
TMDS Clock Speed: 225MHz
Maximum Cable Length: Input – 20m (66 ft.) @ 1080p/8 bit; Output – 15m (49 ft.) @ 1080p/8 bit
Agency Approvals: FCC, CE, RoHS
DC Input Connector: locking type, 5VDC

In the Box

€

109,95 incl. 21% BTW