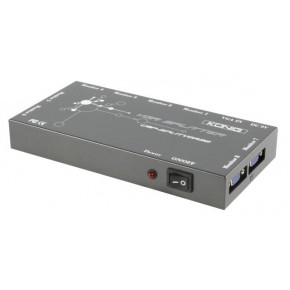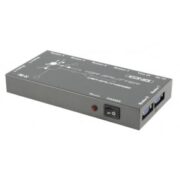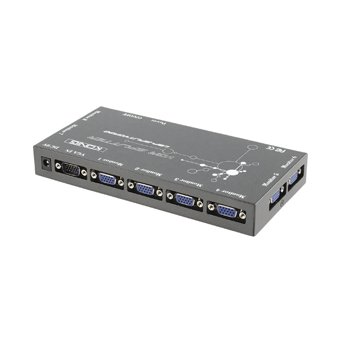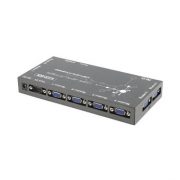 König CMP-SPLITVGA30 8-poorts professionele VGA splitter
Met deze professionele VGA splitter is het mogelijk om beelden van één enkele VGA bron tegelijk weer te geven op 8 VGA monitoren of projectors.
Ideaal om tijdens presentaties of demonstraties er voor te zorgen dat iedereen het scherm goed kan zijn.
Door de hoge kwaliteit van de verdeler zal bij het splitsen geen signaalverlies optreden.
Uitermate geschikt voor presentaties en video walls en volledig compatibel met analoge VGA specificaties.
Opmerking: HQSS VGA kabels zijn te breed om naast elkaar geplaatst te worden bij deze splitter.
Extra informatie
• Video ingang aansluiting: 1 x HDB-15 male
• Video uitgang aansluiting: 8 x HDB-15 female
• Kabel lengte (apparaat naar monitor): 50 meter / 165 feet (maximum)
• Ondersteund DDC en DDC2 op poort 1
• Signaal type: VGA, SVGA, XGA, multi sync
• Maximum resolutie: 1,920 x 1,440
• Bandbreedte: 250MHz
• Ideaal voor video weergave: demonstraties, beveiliging, educatieve omgevingen.
• Cascade schakeling mogelijk
• Behuizing: metal
• DC voeding adapter: 9V
Specificaties
Productcode CMP-SPLITVGA30
EAN 5412810123988
Kleur Zwart
Soort Splitter
Type VGA
Ingangen 1x VGA Male
Uitgangen 8x VGA
Bijgesloten items Geen
Bediening Automatisch
Merk König
Behuizing Metaal
HDCP ondersteuning Nee
Doorlusbaar Ja
1 op voorraad
Extra informatie
Beoordelingen (0)