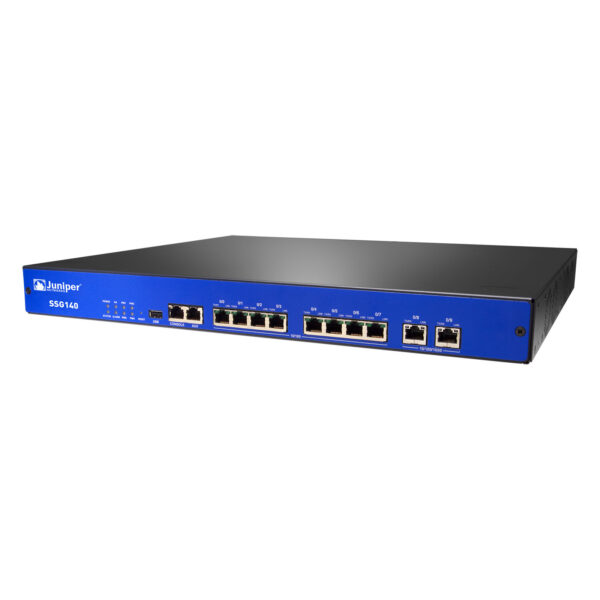 Juniper SSG-140-sb SSG140 Secure Services Gateway
Uitverkocht
Beschrijving
Extra informatie
Productbeschrijving
SSG140 Secure Services Gateway is a purpose-built, modular VPN security platform for branch offices and small to medium sized standalone businesses that want to stop internal and external attacks, prevent unauthorized access, and achieve regulatory compliance.
It provides protection against worms, viruses, trojans, spam, and emerging malware, delivered by proven Unified Threat Management (UTM) security features that are backed by best-in-class partners. The SSG140 provides security zones, virtual routers, and VLANs that allow administrators to divide the network into distinct, secure domains with their own unique security policies.
The SSG140 is a modular platform which delivers more than 350 Mbps of firewall traffic and 100 Mbps of IPsec VPN for midsize branch offices, regional offices, and enterprises.
Features
Purpose-Built design provides high-performance WAN connectivity and security that protects from internal, application-level, and content-based attacks.
Comprehensive UTM includes stateful firewall, IPsec VPN, intrusion prevention system (IPS), anti-spam, Web filtering, antivirus with anti-spyware, anti-phishing and anti-adware.
Combined Firewall and Routing reduces IT expenditures.
Rapid Deployment includes streamlined WAN deployments to control OpEx.
GUI Management provides centralized management system.
Policy-Based Management allows centralized, end-to-end life cycle management.
Product Specs