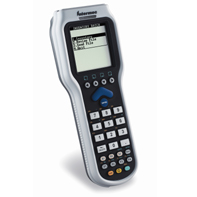 Intermec CK1 handscanner
Features
Lightweight, ergonomic design allows for single-handed operation
Choices of integrated barcode laser or linear imager scanner
Large 160×160 display for flexibility in application design
Customize with a flexible rapid development tool
Linux(R)-based operating system
Powerful 67MHz processor to support large look-up tables or data storage
Choice of data communication tools
Companies of all sizes can now realize the benefits of automatic data collection with the Intermec CK1, a powerful and flexible batch data collection terminal for retail, light industrial, and medical/pharmaceutical applications requiring small-sized ergonomics at an economical price.
With choices of simplified programming tools or pre-loaded applications, linear imager or barcode scanner, along with large memory and a crisp display, Intermec's CK1 can benefit the bottom line through increased employee productivity and inventory accuracy.
The Intermec CK1 offers features and functionality found in terminals much larger and more costly. With an ergonomic keyboard and a pocket-sized form factor, the Intermec CK1 allows for easy single-handed operation when it is demanded. An optional removable pistol grip is available for scan intensive applications.
The Intermec CK1 has a choice of bar code input options: an integrated laser scanner, or a highly responsive linear imager, offering safe user interaction and aggressive decoding performance. The large, scratch resistant 160×160 pixel display with backlight provides user-friendly navigation in all lighting conditions, as well as flexibility in application design. Continuing the Intermec legacy of rugged construction, the Intermec CK1 withstands multiple 1.2 meter (4 feet) drops to a hard surface.
Users will appreciate the simplicity of pre-written batch applications, powerful rapid application development tools or extensive SDK for flexible application choices offered by the Intermec CK1. It combines a Linux based operating system and Linux programming tools to provide a powerful and flexible open source platform for rich end-user applications with multi-tasking capabilities. Use Intermec CK1 right out of the box with pre-written programs for various applications, or for powerful and rapid application development, a Windows (R) based rapid development tool can be purchased that requires no programming experience.
Intermec's CK1 has a powerful ARM 7, 67MHz processor with 16MB Flash to support large lookup tables or data storage. A replaceable Lithium-Ion battery supports extended rigorous use and a fast 3-hour recharge.
Battery not included.
Numerous docking options are available including a single-slot RS232 or modem dock and a multi-slot USB charging dock.
Inclusief Dock
Dit produkt is gebruikt maar in prima staat !!
Genoemde prijs is excl. btw en verzending !!
12 op voorraad
Gerelateerde producten
Datafox PZE Master IV 2.1 terminal

De Datafox PZE Master is speciaal ontwikkeld voor tijdsregistratie, orderregistratie en toegangscontrole doeleinden. Alle relevante data kunnen met de nieuwste techniek worden verzameld en verwerkt worden in uw branche oplossing. Overzichten, calculaties en andere evaluaties kunnen zeer nauwkeurig worden toegepast. Processen kunnen tevens zeer nauwkeurig worden gevolgd en aangestuurd. Dit bespaart tijd en zorgt voor de noodzakelijke datakwaliteit en actualiteit. Er zijn minder vragen vanaf de werkvloer, de medewerkers kunnen zelf hun vakantie, plus/ min en compensatie-uren etc. op het apparaat oproepen.

Techniek op maat!

De Datafox PZE Master is gebaseerd op het Datafox Embedded systeem, welke is uitgerust met de modernste techniek, die benodigd is voor datacollectie en natuurlijk ook voor gegevensoverdracht. Het apparaat is verkrijgbaar met RFID, barcode, vingerafdruk, GPS, GSM, GPRS, Bluetooth, USB … Daarmee voldoet het apparaat aan alle eisen om flexibel te worden ingezet. Niet alleen voor tijdsregistratie, maar voor veel meer toepassingen kan de PZE Master worden gebruikt. Dit is echt een meerwaarde. De krachtige tools Datafox Studio en de DLL maken een snelle en makkelijke integratie mogelijk in elke IT-oplossing, zonder enige programmeerkennis. Door de schaalbaarheid van het apparaat blijven een groot aantal opties beschikbaar. U betaalt alleen wat u werkelijk gebruikt.

Systeemtechniek

Setup programma
Instellen van het apparaat voor datacollectie

Communicatie -DLL

Directe communicatie via een DLL tussen apparaat en software is mogelijk. Dit is de beste type aansluiting voor softwarefabrikanten (OEM's). Communicatie via de DLL is bidirectioneel en is zowel online als offline beschikbaar.

Datafox-Talk

Interface programma voor data-uitwisseling via bestanden of databases. Deze oplossing is ideaal voor eindgebruikers of resellers van software oplossingen, die de combinatie met Datafox hardware willen gebruiken, zonder een interface te hoeven ontwikkelen.

Communicatie

Ondersteunde opties

+ RS232
+ RS485
+ USB-koppeling
+ TCP/IP
+ W-LAN
+ Bluetooth
+ USB-Stick
+ GSM
+ GPRS
+ Analoog modem
– extern

Gedetailleerde informatie

Geintegreerde transponderlezer

+ Unique / EM4102
+ Hitag1
+ Hitag2
+ HitagS
+ Titan / EM4450 (Hewi)
+ Mifare-Classic
+ Mifare-Desfire
+ Legic
+ i-Button
+ SimonsVoss
+ NEDAP

Biometrie

+ Geintegreerde vingerafdruklezer

Barcodelezer

+ Externe Barcodelezer- Geintegreerde Barcodelezer

Magneetkaartlezer

+ Externe Magneetkaartlezer

Toegangscontrole

+ Toegangscontrole voor 8 deuren

Transponderlezer extern voor toegangscontrole

+ Unique
+ Hitag1
+ Hitag2
+ HitagS
+ Titan / EM4450 (Hewi)
+ Mifare-Classic
+ Mifare-Desfire
+ Legic

Telemetrie

+ GPS-localisering
Meer informatie over GPS-localisering vind u in de handleidng bij hoofdstuk 3.2.6 GPS-Ortung"

I/O-verwerking

+ 6 digitale ingangen geintegreerd
+ 2 analoge ingangen geintegreerd
+ 2 Relais geintegreerd

€

159,95 incl. 21% BTW