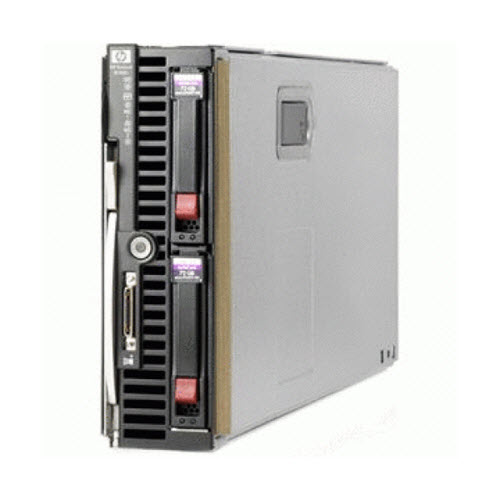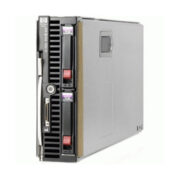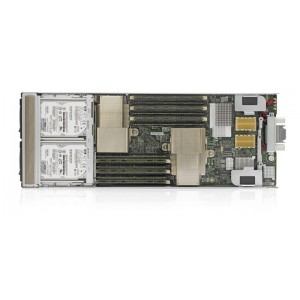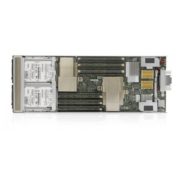 HP ProLiant BL460c E5430 2.66GHz Quad Core 24GB Blade Server
HP Proliant BL460c G1 | Intel Xeon E5430 2.66GHz 12MB Quad Core Processor | 20GB geheugen | E200i/64MB Controller | 2 slot Hot Plug SFF SAS/SATA | Blade Server
HP biedt krachtige, betrouwbare bladeservers met dezelfde eigenschappen als de bekroonde HP rack- en towerservers. De BL460c G1 met twee processoren heeft de kenmerken van standaard 1U rackservers en biedt energie-efficiënte computerkracht, een hoge dichtheid plus uitbreidbaar geheugen en I/O voor maximale prestaties. Met een uitgekiende architectuur, multi-core Intel ® Xeon processoren met uitgebreid cache, volledig gebufferd DDR2 geheugen, optionele Serial Attached SAS of SATA vaste schijven, ondersteuning voor multifunctionele NIC's en diverse I/O-kaarten is de BL460c G1 een hoogpresterend systeem dat ideaal is voor tal van scale-out applicaties. In een compacte behuizing herbergt de BL460c G1 meer hoge-beschikbaarheidskenmerken, zoals optionele hot-plug vaste schijven, mirrored geheugen, geheugen-interleaving, geïntegreerde RAID-capaciteit en verbeterd remote Lights-Out beheer.
Kenmerken
Geconcentreerde computerkracht: Multi-core Intel® Xeon® processoren met volledig gebufferd DDR2-geheugen en seriële I/O-technologie leveren geconcentreerde computerkracht en een grotere systeemschaalbaarheid; Tot twee Intel® Xeon® 5400, 5300, 5200 serie processoren met toonaangevende systeemprestaties en virtualisatietechnologie; Nieuwe Intel Xeon 5200 serie processen met mogelijkheden voor groter cache en lager Watt verhogen de prestaties van bestaande x86/64 virtualisatie-oplossingen; Tot 64 GB ECC 667-MHz geregistreerd volledig gebufferd geheugen om systeemknelpunten te elimineren; HP Smart Array E200i opslagcontroller voor hardware RAID 0 en 1 (optioneel batterijgestuurd schrijfcache); Twee geïntegreerde multifunctionele Gigabit NIC's met TOE- en iSCSI-ondersteuning; Tot twee compacte, hoogpresterende hot-plug serial attached SCSI (SAS) schijven of voordeliger serial ATA (SATA) schijven naar keuze; Gelijktijdige ondersteuning voor diverse I/O mezzanine-kaarten
– Veelzijdige implementatiemogelijkheden in een efficiënte, compacte form factor: Geïntegreerde technologie en twee mezzanine-slots bieden implementatiemogelijkheden in een efficiënte, compacte form factor; De virtuele aanwezigheid van integrated Lights-Out (iLO) technologie biedt een veilige remote console en remote besturing; Optionele snelle grafische remote console en virtuele mediafunctionaliteit breiden de mogelijkheden verder uit; Hoogwaardig Smart Array* en multifunctionele Gigabit NIC's maximaliseren de I/O-prestaties * In voorgeconfigureerde BTO SKU's; Twee mezzanine I/O-slots en twee SAS of SATA inbouwplaatsen* bieden veelzijdige configuratie- en implementatiemogelijkheden * In voorgeconfigureerde BTO SKU's
– Toonaangevende beheer- en configuratietools: Toonaangevende beheer- en configuratietools zorgen voor superieur remote beheer, een subliem levenscyclusbeheer, optimale benutting van resources en ze verlagen de totale gebruikskosten; U spaart waardevolle IT-resources en tijd uit door het beheer te centraliseren en te vereenvoudigen met Integrated Lights-Out 2 Standard Blade Edition en Insight Control Environment voor BladeSystem; HP Integrated Lights-Out 2 (iLO 2) Standard Blade Edition is de meest complete, high-performance remote out-of-band beheeroplossing in de industrie; U kunt nog meer doen met HP iLO 2 door te upgraden naar het iLO 2 Select Pack met Power Regulator rapportage, multi-server virtuele media via scripts en extra enterprisebeveiliging; HP Insight Control Environment voor BladeSystem is een geïntegreerde softwaresuite die provisioning en beheer van HP BladeSystem infrastructuren vergemakkelijkt.
Ports & interfaces
Aansluiting
SAS,SATA
Processor
CPU Aantal
1
CPU Cores
04C
CPU Merk
Intel
CPU Snelheid
2660
CPU Type
E5430
Storage
Opslag
0
Technische Details
Model
BL460c
Generatie
G01
Form Factor
SFF 2.5 inch
Geheugen
20480
Plug
Hot Plug
PSU Aantal
0
Exclusief harde schijven !!
4 op voorraad
Extra informatie
Beoordelingen (0)