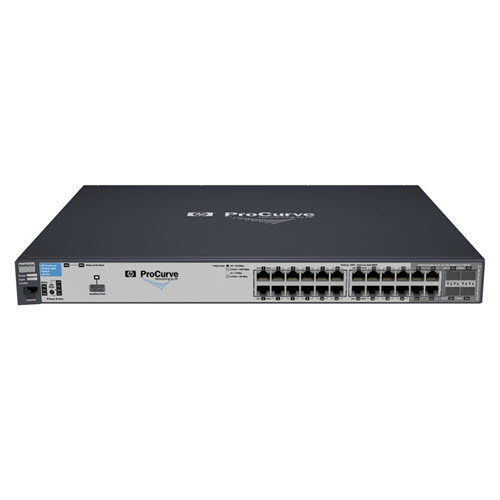 HP ProCurve Gigabit Switch 2910al-24G J9145A
The HP 2910 al Switch Series consists of four switches: the HP 2910-24G al and 2910-24G-PoE+ al Switches with 24 10/100/1000 ports, and the HP 2910-48G al and 2910-48G-PoE+ al Switches with 48 10/100/1000 ports. Each switch has four dual-personality ports for 10/100/1000 or mini-GBIC connectivity. In addition, the 2910 al Switch Series supports up to four optional 10 Gigabit Ethernet (CX4 and/or SFP+) ports, thereby offering the most flexible and easy-to-deploy uplinks in its class. Together with static and RIP IPv4 routing, robust security and management, enterprise-class features, free lifetime warranty, and free software updates, the 2910 series is a cost-effective, scalable solution for customers who are building high-performance networks. These switches can be deployed at enterprise edge and remote branch offices, converged networks, and data center top of rack.
Fully managed Layer 2 capabilities
24 ports 10/100/1000 Ethernet modellen
Twee mini-GBIC sloten voor fiber connectiviteit.
Kwaliteit van Service (QoS) brengt data naar apparaten gebaseerd op de prioriteit en type van verkeer.
HP beperkte levenslange garantie.
Uitverkocht
Extra informatie
Beoordelingen (0)