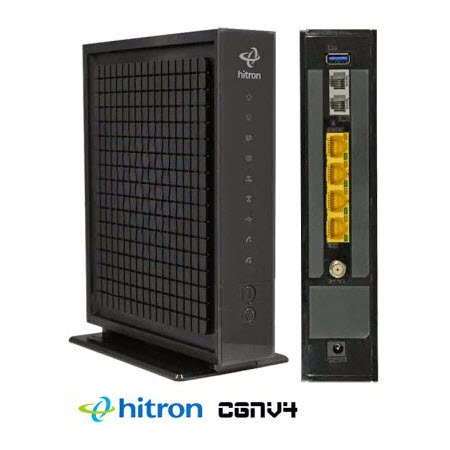 Hitron CGNV4 Cable Modem Wireless Router
The Hitron CGNV4 has the capacity to receive 1 Gbps over its EuroDOCSIS 3.0 interface with twenty-four bonded channels. The integrated IEEE802.11ac 3×3 dual band MIMO access point signicantly improves customer experience extending range and coverage with blazing speeds up to Giga speed.
The CGNV4 supports full IPv4 routing features, as well as, full support for IPv6 routing and firewall. Both DS-Lite and 6RD are available for various IPv6 deployments and transitions strategies.
Wi-Fi Protected Setup (WPS) is pre-configured and enabled by default. With WPS enabled the end-user can quickly setup a secure wireless network without the need to manually congure the security settings.
DOCSIS/EuroDOCSIS 3.0 compliant
Two USB 2.0 host ports, which can be used for network attached storage (NAS) functionality
IEEE802.11ac Wi-Fi Access Point with 3×3 dual band MIMO internal antennas
1. 16 SSIDs
2. Individual configuration for each SSID (security, bridging, routing, firewall and Wi-Fi parameters)
Integrated DLNA Media Server with support for video, audio and image serving
Extensive operator control via configuration file and SNMP
Well-defined LEDs clearly display device and network status
TR-69 and HNAP for easy setup and remote management
Enhanced management and stability for low total cost of ownership
2x FXS for telephony using SIP or MGCP
Uitverkocht
Extra informatie
Beoordelingen (0)
Gerelateerde producten
7inova 7R508 USB 150Mbps small mobile wifi router with WPS function

7inova 7R508 draagbare draadloze-N router werkt als een Mini WIFI signaal repeater, functies van AP, draadloze LAN-kaart, opdrachtgever alles in een met een snelheid tot 150 Mbps.Bovendien, door middel van haar gesteund WDS-functie kunnen gebruikers draadloze signaal in ruimere dekking uit te breiden.

7inova 7R508 draagbare draadloze-N router voldoet aan IEEE802.11n standaard, compliable met802.11b/g.7R508 is met extra klein formaat, ondersteunt USB Power opladen, geen behoefte aan externe voeding.is de perfecte match voor Apple iPhone en iPad, maar ook een goede helper voor mobiel werken;is het draagbare draadloze product op maat voor zakelijke personen.

Werken Modes
1.WAN naar WIFI (RT-modus)
2.WIFI naar LAN (CLIENT-modus)
3.LAN naar WIFI (AP-modus)
4.WIFI naar WIFI+LAN (Repeater+Brug)

Functies:
-Plug and play, is het handig om accesswireless en delen Internet
-Zorg voor een LAN/WAN-interface, automatisch overschakelen naar andere modi, breng Plug & Play ervaring, geen behoefte configuratie;
-WPS ondersteunt dat versleutelen door pers OneKey, niet nodig om wachtwoord in te stellen.
-Met geavanceerde functies van QOS beheer, MAC adresfiltering, webpagina filtering en NAT adresschakelaar;
-Automatische draadloze hotspots scan, Multi-SSID detectie, WDS en relais;
-Flexibele verschillende energieniveaus manier zoals ACand opladen via USB, power adapter wordt willekeurig geconfigureerd met thisdevice (5V/500MA)
-Eenvoudig op te laden, ondersteunt USB-voeding (adapter Spec:5V/500mA);

Technische specificaties:

Accessoires:
-1x 1m Ethernet-kabel met RJ45 connector
-1x USB2.0kabel
-1x String

Dit is een nieuw product !!

€

17,95 incl. 21% BTW