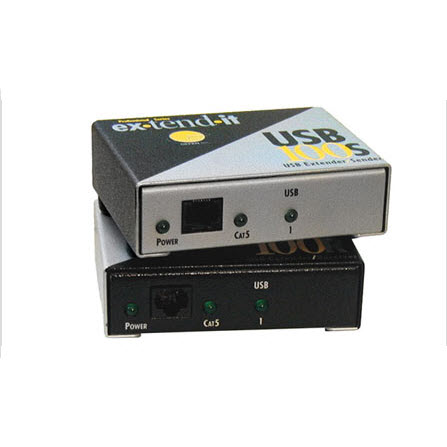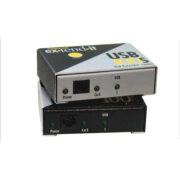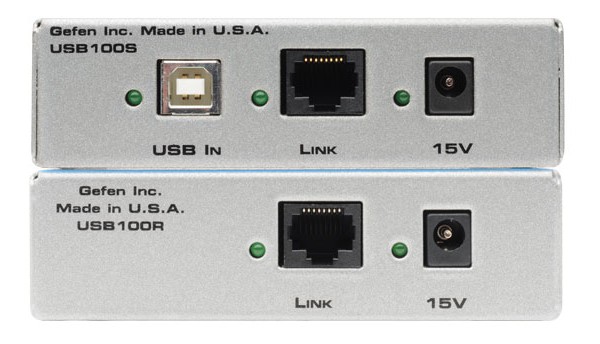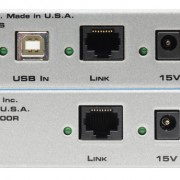 Gefen USB-100 USB 1.1 Extender Sender and Receiver
The USB•100 extends any USB device, including a keyboard/mouse connection, up to 330 feet from the computer, eliminating the 17.5 feet distance limitation of USB. Both the USB•100 sender and receiver units use "Extreme USB" technology by Icron Systems Inc.
How it Works
The USB•100 sender unit is connected to the computer with a supplied USB cable. The receiver unit is connected to the extended peripheral. A CAT-5 cable links the sender to the receiver.
FEATURES:
Extends any USB device up to 330 feet away from computer
CAT-5 cable used for extension
Saves space on your desktop
Increases productivity
Plug and play – installs in minutes
For any computers with USB connection
Extends any USB hub with multiple USB outputs
No power supply required at the receiving end
Supports full 12.5 Mbs USB standard bandwidth
TECHNICAL SPECIFICATIONS:
USB Speed: 12.5 Mbs
Link Connector: RJ-45
Host cable (USB): Type A/B
USB Connectors: 4Pin USB type A
Power Supply: External 15 VADC
Dimensions: 4.75″W x 1.75″ H x 5″D
Shipping Weight: 5 lbs
Package Includes:
USB•100S Send Unit
USB•100R Receive Unit
One 6ft A to B USB cable
One 15v Power Supply
2 op voorraad
Extra informatie
Beoordelingen (0)