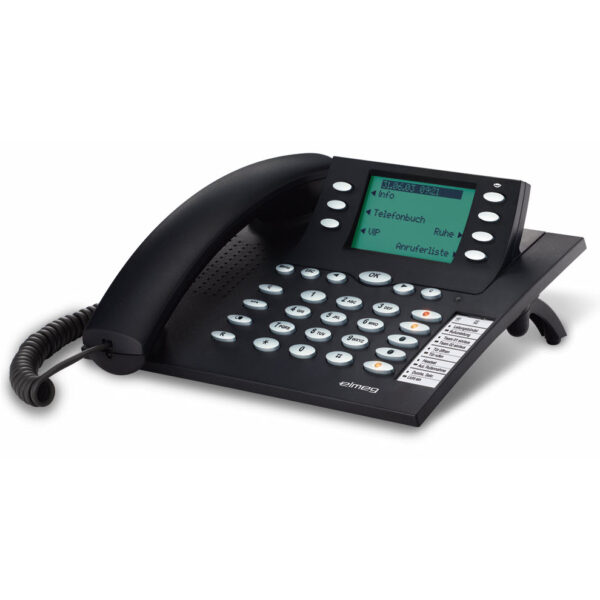 Elmeg CS410 systeemtelefoon
ISDN System telephone for the professional user
The advanced CS410 ISDN system telephone provides comprehensive system functionality when used with elmeg telephone systems. Keypad extensions and answering machines are optional.
Product description
The system telephone that fulfills your every wish:
Optimally matched to the modular elmeg PABX systems, the elmeg CS410 / CS410-U offers you a variety of professional functions, and its modular architecture lets you expand its performance at any time: An optional Answering machine module also provides up to 48 minutes recording time and can be quickly and easily integrated into your telephone.
Professional PC ports: Easy installation via USB provides you with CTI functions and Internet access, as well as data communications, for example for configuring the PABX system. Jacks for audio-in/audio-out permit easy configuration and use of announcements, ringing tones, intercom calls or editing of calls at your PC*; and, together with the answering machine module, saving of messages or importing of voice announcements. All audio functions can also be activated individually.
You can cascade up to three T400 key expansion modules* to the elmeg CS410 giving you up to a total of 65 programmable function keys, for example with 130 directly accessible direct dial numbers.
More convenient functions for the internal telephone directory: Your personal memory can hold up to 250 entries with name and additional individual contact information. You can freely edit this information and have it displayed for incoming calls The elmeg CS410 also provides alphanumeric access to the central PABX system telephone directory, with up to 1000 entries.
Optimum support of different models of headsets* for all your needs: A separate jack and extensive, individually configurable functions make calling fun. Support of special functions such as direct control of cordless DECT headsets (without mechanical hook switch), or control of the LED busy signal indicator (e.g. with Plantronics "Firefly", or Silicomp "Orbit NC") is provided straight from the factory.
Greatest user convenience is guaranteed by the 7-line illuminated graphic display, 7 softkeys for user prompting and 5 freely programmable function keys (2 levels) with two-color LEDs.
As the elmeg CS410-U variant, the elmeg CS410 is well-suited for direct Up0 connection without converters, including an S0 output for further ISDN terminal devices (with elmeg CS410 using optional plug-in module or wall-mounted converter).
elmeg CS410
ISDN System telephone for the professional user
Graphical, illuminated, 7-line display
5 free programmable keys with 2-colour LEDs
7 softkeys and 10 function keys
Separate headset jack for DSHG headsets
Extension by an optional Answering machine module
Cascading of up to three T400 key expansion modules
Variant CS410-U for the int. Up0 connection (2-wire ISDN)
Refurbished
1 op voorraad