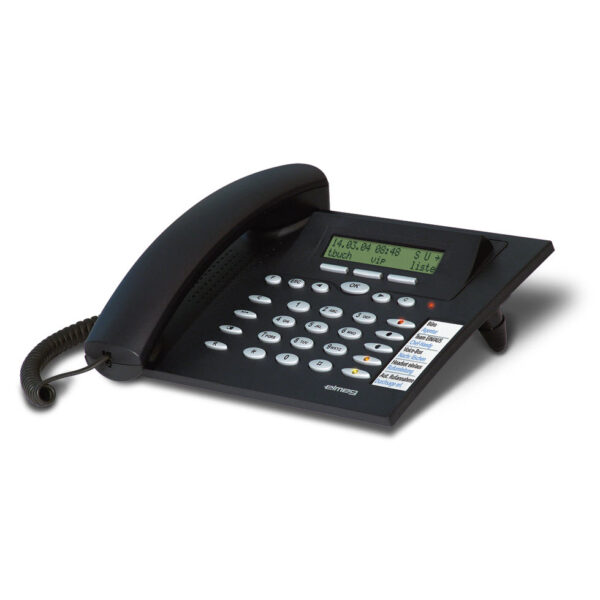 ELMEG CS290 CS 290 ISDN-telefoon zwart
ELMEG has set a new price-to-performance standard for ISDN telephones with the elmeg CS290. At a price barely above that of a standard ISDN telephone, the CS290 system phone features professional and easy to use functions.
The completely redesigned CS290 will convince you with its elegant and ergonomic design: the menu, controlled via three softkeys, and the alphanumeric display make operation child"s play. Five programmable keys supported by LEDs, two of which are bi-color LEDs, display the status of major functions at all times for the user. These keys can be used, just like those on the "big" elmeg system telephones, as line buttons, to activate and deactivate call forwarding, headset and team functions, to operate an external voice mail system or to set the MSNs.
Technische informatie
TELEFOONFUNCTIES
ISDN D-kanaalprotocollen COMMON-ISDN-API (CAPI)
Digitale technologie ISDN
Hoeveelheid programmeerbare knoppen 5
Kiezertype Toetsenbord
Bellokatie Basis
Indicators Visuele aanduidingslamp
Automatisch herkiezen Ingebouwd
Short Messaging Service (SMS) Ingebouwd
Geschikt voor telefonisch vergaderen 3-weg
Volumeregeling Ja
Telefoonboekcapaciteit Direct call (baby call)
Belbesturing Ja
Menubediening Ingebouwd
ISDN-FUNCTIES
Bel- en kiesfuncties CLIR (Calling Line Identification Restriction), COLR (Connected Line Identification Restriction), CCBS (Completion of Calls to Busy Subscriber), ECT (Explicit Call Transfer), MSN (Multiple Subscribers Numbers), COLP (Connected Line Identification Presentation), CFB (Call Forwarding Busy), CLIP (Calling Line Identification Presentation), CFU (Call Forwarding Unconditional), CFNR (Call Forwarding No Reply), UUS (User to User Signaling)
TELEFOONGEHEUGEN
Type antwoordsysteem 10 numbers
WEERGAVE
Hoeveelheid tekens 24
Lokatie weergeven Basis
Type LCD-display – monochroom
Hoeveelheid lijnen 2
AFMETINGEN & GEWICHT (BASIS)
Diepte 17.6 cm
Breedte 25.7 cm
Hoogte 8 cm
DIVERSEN
Verbindingen 1 x hoofdtelefoonaansluiting
8 op voorraad