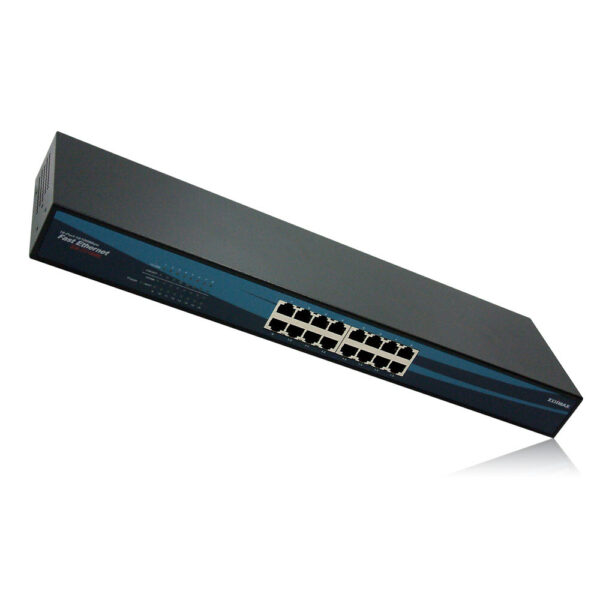 Edimax ES-3116RL 16 Ports Switch
De Edimax 16-poorts fast ethernet switch biedt u de krachtigste oplossing voor netwerken met grote snelheid. U kunt fast ethernet switching overal inzetten waar u dat nodig hebt, van de backbone tot aan individuele desktop-pc's. Deze switch komt tegemoet aan de behoefte aan producten van zeer goede kwaliteit voor een betaalbare prijs – zodat ook organisaties die erg op de financi?n moeten letten naar een hoger niveau van netwerken kunnen overstappen.
Hij ondersteunt 10/100Mbps autonegotiation op alle poorten, voor een naadloze overgang naar 100Mbps-aansluitingen zonder tijdverslindende uitstapjes naar de serverkast, elke keer dat eindstations naar fast ethernet geupgradet worden. Alle poorten nemen automatisch half- of full-duplexaansluitingen waar voor het uitvoeren van high-speed server of switch-to-switch configuraties. De gecombineerde bandbreedte van deze switch kan oplopen tot 3 Gbps.
Deze switch is het meest geschikt voor de volgende toepassingen:
1 Hij kan vlak bij het centrum van het netwerk geplaatst worden om bottlenecks op te heffen en de algemene throughput van het netwerk te verbeteren.
2 Hij kan de reikwijdte uitbreiden van een netwerk, dat het maximaal aan te sluiten aantal hubs al heeft bereikt.
3 Bij gebruik als desktopmachine levert hij de hoogst mogelijke prestatie in het verbinden van gebruikers met uw netwerk.
Het formaat van deze 16-poorts switch is 19″" Rackmount. Hij is bedoeld voor werkgroepen, afdelingen of backbones van middelgrote tot grote ondernemingen."
Productspecificaties
Aansluitingen
Draadloze verbinding Nee
Ethernet poorten 16
Productspecificaties
Type switch Netwerkswitch
Verpakking Box
Systeemvereisten
Systeemeisen compatibele besturingssystemen
Productinformatie
Artikelnummer ES-3116RL
EAN 4710700920039
1 op voorraad
Extra informatie
Beoordelingen (0)