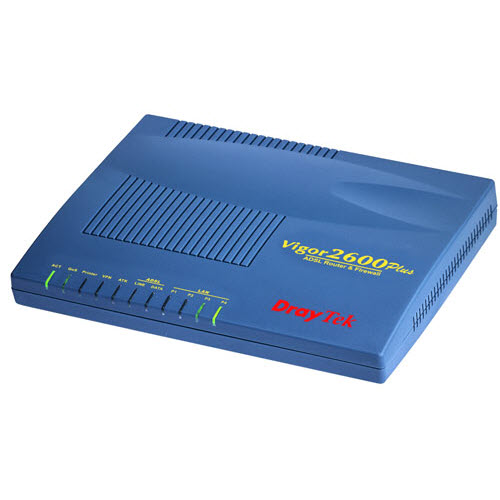 DrayTek Vigor 2600 Plus ADSL Router&Firewall
The Vigor2600plus is DrayTek's flagship router – a combined ADSL router for Internet access,
firewall, VPN device and Ethernet switch. The Vigor2600plus includes new features such as VLAN,
QoS, Content filtering, enhanced VPN capacity and a USB printer port.
Specification
Combination ADSL modem, router, VPN Device, Firewall with printer port
ADSL Interface compliant with :
ADSL & RADSL
ATM Protocols : G.DMT, AAL5, ATM UNI3.1/4.0 PVC, up to 8PVCs, MPoA (RFC1483/2684), OAM F4/F5 Loopback (ITU-T I.610), ILMI.
Auto-Rate Negotiation (512Kb/s-8Mb/s Downstream). RADSL compatible.
Comprehensive Routing Facilities including :
Internet Protocols : PPP (RFC 1661), PPPoE (RFC 2516), PPPoA (RFC2364), IPoA (RFC1577/RFC2225)
LAN Protocols : ARP, Proxy ARP, IP, ICMP, IGMP, UDP, TCP
Authentication Protocols : PAP, CHAP, MS-CHAP
Dynamic Routing with support for RIP-1, RIP-2 and RRP (RFC2338)
Static Routing (manually configurable)
DNS Proxy & Cache
Four-Port 10/100BaseT autosensing Ethernet switch with manual speed over-ride (expandable)
Selectable QoS Assurance – Reserve bandwidth for specific services.
Virtual LAN (VLAN) Facility – Enables you to segment the Ethernet ports to provide common or exclusive Ethernet access to the other segments (see earlier).
Ethernet port throttling.
Each of the four 10/100BaseT Ethernet ports can be limited to a maximum throughput (RX and RX selectable). e.g. Port 1 could be set to provide max 256Kb/s to prevent individual users, or LAN branches (segments) from consuming too much of your broadband bandwidth.
Printer Port
built-in USB port. Compatible with most standard printers with a USB port and any Windows 98SE, ME, 2000 or XP client PC.
Internet Firewall facilities featuring :
Automatic Keep-state facility for tracking packets and denying unsolicitied incoming data
Selectable DoS/DDoS protection
IP Address anti-spoofing
User-configurable packet-filtering
NAT/PAT with Port Forwarding/Redirection & DMZ
Multi-NAT facility – enables a one-to-one mapping of public to private IP addresses, with individual DMZ and port-formwarding.
Internet Content Filtering features selectable :
URL (web-site) blocking by user-defined keyword. e.g. enter "fredbloggs" into the blocking list and users will be unable to access
Prevent accessing of web sites by using their direct IP address (thus URLs only)
Blocking automatic download of Java applets and ActiveX controls
Blocking of web site cookies
Block http downloads of file types :
Binary Executable : .EXE / .BAT / .SCR / .PIF
Compressed : .ZIP / .SIT / .ARC / .CAB/. ARJ / .RAR
Multimedia : .MOV / .MP3 / .MPEG / .MPG / .WMV / .WAV / .RAM / .RA / .RM / .AVI / .AU
Time Schedules for enabling/disabling the restrictions and regular Internet access
VPN facilities :
High performance VPN supports up to 16 simulteneous VPN tunnels.
Dial-in or dial-out, LAN-to-LAN or Teleworker-to-LAN
Protocol support for PPTP, L2TP, IPSec
MD-5 & SHA-1 Authentication
Encryption : MPPE, DES/3DES & AES
PFS (Perfect Forward Secrecy) – Adds additional key protection
Pre-shared/IKE keying
IKE Phase 1 Agressive/Standard Modes & Phase 2 Selectable lifetimes
Radius Support for dial-in teleworker profiles
Compatible with other leading 3rd party vendor VPN devices
Microsoft uPnP Compliant – The uPnP protocol enables router control and enhanced access for uPnP enabled multimedia applications, such as MSN Messenger etc.
SNMP & Syslog control/logging/monitoring
Dynamic DNS Posting, compatible with popular services
Support for non-NAT public subnets (multiple public IP addresses)
LAN Side IP address range and built-in DHCP server/relay is fully configurable with pre-settable DHCP allocations if required
RIP & Static Routing configurable
VPN Passthrough for VPN client/server running behind the router
Easy configuration and monitoring from web-interface and comprehensive diagnostic tools
1 op voorraad