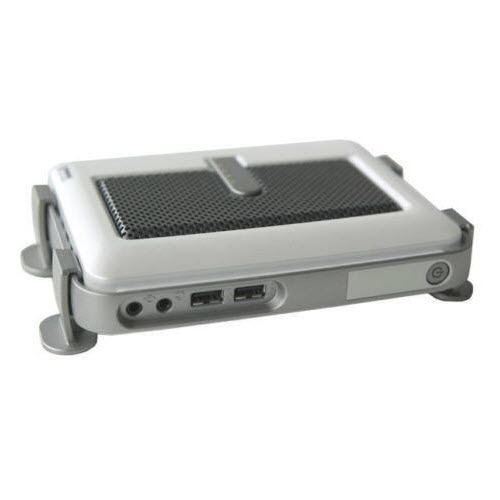 Dell Wyse 902113-02L Win.CE S30 Thin Client (64F/128R) Nieuw !
1 op voorraad
Beschrijving
Extra informatie
Productbeschrijving
DeWyse® Winterm™ S30 is gebaseerd op Windows® CE.NET, heeft een compact en innovatief design met high-speed I/O en een doordacht montage systeem dat ideaal is voor plaatsing aan muur, bureau of LCD monitor. Uitgerust met AMD Geode GX processor, biedt de Winterm S30 een uitstekende performance met laag stroomverbruik en weinig warmte productie. 64MB Flash/128MB RAM, ICA, RDP, TeemTalk, IE, Media Player 1 seriële en 2x 2 USB poorten, RJ-45 tot 32-bit color tot 1600×1200 pixels AMD Geode GX processor PS/2 wheel mouse incl. Wyse Rapport management software monorail montage systeem AMD Geode GX 366MHz Memory : 64MB Flash/128MB RAM Network : 10/100 Base-T Fast Ethernet twisted pair (RJ-45) I/O :
VGA-type video output
Enhanced USB keyboard with PS/2 mouse port and Windows keys
PS/2 mouse included
One serial port
Four USB 2.0 ports (2 on front, 2 on back)
Dimensions :
Height: 1.38″ (34mm)
Width: 6.94″ (177mm)
Depth: 4.75″ (121mm)
Shipping Weight: 6 lbs. (2.7kg)
Display :
16 bpp color: up to 1600×1200@85Hz
32 bpp color: up to 1680×1050@60Hz
Audio :
Output: 1/8-inch mini jack, full 16 bit stereo, 48KHz sample rate
Input: 1/8-inch mini jack, 8 bit microphone
Mountings :
Horizontal feet (optional vertical stand)
Optional VESA mounting bracket
Built-in Kensington security slot (cable sold separately)
Power
Worldwide auto-sensing 100-240 VAC, 50/60 Hz
Average power usage with device connected to 1 keyboard with 1 PS/2 mouse and 1 monitor: 6.6 Watts
includes power adapter
Dit is een nieuw product in geopende doos !!