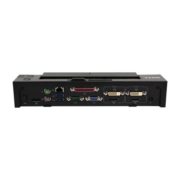 Dell PR02X PRO2X E-Port Plus II Docking Station voor Latitude E-serie notebooks
The E-Port Plus Port Replicator with USB 3.0 from Dell™ offers dual digital monitor capabilities along with legacy ports. This docking station includes a latest USB 3.0 technology enabled by Intel in Ivy Bridge. It has replaced the 2 USB 2.0 connectors with the USB 3.0. Plus, the Display Port 1.2 adds the ability to daisy chain displays (4 displays via 1 connector). Also it offers an adaptor complexity reduction. It has non-compromise station designed for enhanced usability at desk.
Highlights
Gets innovative with quick USB 3.0 technology enabled by Intel in Ivy Bridge
Adds the ability to daisy chain displays
Offers Adaptor complexity reduction
Compatibility
Dell Certified Parts undergo rigorous testing by qualified engineers to ensure compatibility and reliability in your Dell system
Dell's sustaining qualification process allows for testing and certifying the newest in technology on your Dell system
Quality
Dell uses only OEM grade quality components
Connections
Black
Display / video – DisplayPort – 20 pin DisplayPort
SuperSpeed USB 3.0 – 9 pin USB Type A
eSATA / USB 2.0 – 11 pin USB/eSATA
Network – Ethernet – RJ-45
Audio – output
Microphone
Levering zonder adapter. De Dell 130W adapter is wel verkrijgbaar !
Refurbished
26 op voorraad
Extra informatie
Beoordelingen (0)
Gerelateerde producten
HP Dockingstation HSTNN-IX01

HP Dockingstation HSTNN-IX01 (444706-1)
Snel aangesloten op uw randapparatuur
Met behulp van dit HP Docking Station is het eenvoudig om uw laptop aan te sluiten op uw randapparatuur en bedrade netwerk.
Het Docking Station beschikt over voldoende USB poorten voor al uw accessoires.
Zo kunt u meteen gebruik maken van een printer zonder eerst weer de USB kabel in te moeten pluggen.
Geleverd zonder adapter, hiervoor kunt u de adapter van uw laptop gebruiken.

Aansluitingen

Parallelle poort(en) 1
PS/2 poort(en) 2
Aansluiting docking connector
Seriële poort(en) 1
USB 2.0 poort(en) 4
Aantal Ethernet LAN (RJ-45)-poorten 1
Luidspreker/ koptelefoon/ line-out uitgang 1
Microfoon, line-in ingang
TV aansluiting S-Video
DVI poort
VGA (D-Sub)poort(en) 1
RJ-11 ports quantity 1

Geschikt voor:
HP Business notebook 6710b, HP Business notebook 6730b, HP EliteBook 8530w, HP Business notebook 8510w, HP Business notebook 8530w EliteBook, HP Business notebook 8530w EliteBook, HP Business notebook 6910p, HP Business notebook 8510p, HP Business notebook 8710p, HP Business notebook 8730w EliteBook, HP Business notebook 8730w EliteBook, HP Business notebook 8710w, HP EliteBook 6930p, HP Business notebook NC6400, HP Business notebook 6715b, HP EliteBook 8530p, Compaq Business Notebook 6730b, HP Business notebook 2230s, HP Business notebook 8530p EliteBook, HP Business notebook 8530p EliteBook, HP Business notebook 6735b, HP Business notebook 6510b, HP Business notebook 6530b, Compaq Business Notebook 6910p, Compaq Business Notebook nc8230, Compaq Business Notebook 6510B, Compaq Business Notebook 6530b, HP 6720t Mobile Thin Client, Compaq Business Notebook 6735b, HP Business notebook NC8320.

€

12,95 incl. 21% BTW