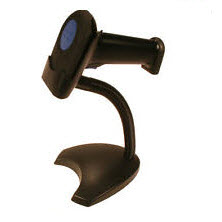 Datalogic Quickscan QS6500 Barcode Scanner RS232 Zwart
Datalogic QS6500
General Purpose Corded Handheld Laser Bar Code Reader
The QuickScan reader series is Datalogic Scanning's value line of general purpose handheld data collection products. The QS6500 linear imaging reader is the highest performing corded member of the QuickScan family. Designed for retail, office, healthcare and light industrial applications the QuickScan QS6500 reader offers excellent performance and durability at an affordable price.
The QS6500 features an excellent depth-of-field and snappy reading performance with speeds up to 450 reads/second. It easily reads the most common 1D bar codes while also offering the ability to read stacked codes like PDF417, Micro PDF and UPC/EAN stacked composite codes.
All of the most popular interfaces are supported in every unit including IBM, USB, KBW, and RS-232, and switching interfaces is as easy as changing cables. The QS6500's configuration program provides user-friendly features to visualize the reader's configuration, create and duplicate special configurations and access and easily manipulate advanced label editing options. Flash memory fallows for easy software upgrades of operating software and new symbologies or updates for existing symbologies are easily added
The QS6500 linear imager reader has the built-in ruggedness of solid-state electronics eliminating the moving parts, so that the reader provides years of worry-free operation. Rubber over mold at all contact points additionally protects the reader from shock caused by drops and abuse so that the enclosure wears better over time.
A hands-free stand for presentation style reading and mounting options are available to organize the workspace and to save valuable counter area when needed.
Dit produkt wordt geleverd inclusief houder, voeding en pci-seriële kaart.
Refurbished
Uitverkocht
Extra informatie
Beoordelingen (0)
Gerelateerde producten
Datafox PZE Master IV 2.1 terminal

De Datafox PZE Master is speciaal ontwikkeld voor tijdsregistratie, orderregistratie en toegangscontrole doeleinden. Alle relevante data kunnen met de nieuwste techniek worden verzameld en verwerkt worden in uw branche oplossing. Overzichten, calculaties en andere evaluaties kunnen zeer nauwkeurig worden toegepast. Processen kunnen tevens zeer nauwkeurig worden gevolgd en aangestuurd. Dit bespaart tijd en zorgt voor de noodzakelijke datakwaliteit en actualiteit. Er zijn minder vragen vanaf de werkvloer, de medewerkers kunnen zelf hun vakantie, plus/ min en compensatie-uren etc. op het apparaat oproepen.

Techniek op maat!

De Datafox PZE Master is gebaseerd op het Datafox Embedded systeem, welke is uitgerust met de modernste techniek, die benodigd is voor datacollectie en natuurlijk ook voor gegevensoverdracht. Het apparaat is verkrijgbaar met RFID, barcode, vingerafdruk, GPS, GSM, GPRS, Bluetooth, USB … Daarmee voldoet het apparaat aan alle eisen om flexibel te worden ingezet. Niet alleen voor tijdsregistratie, maar voor veel meer toepassingen kan de PZE Master worden gebruikt. Dit is echt een meerwaarde. De krachtige tools Datafox Studio en de DLL maken een snelle en makkelijke integratie mogelijk in elke IT-oplossing, zonder enige programmeerkennis. Door de schaalbaarheid van het apparaat blijven een groot aantal opties beschikbaar. U betaalt alleen wat u werkelijk gebruikt.

Systeemtechniek

Setup programma
Instellen van het apparaat voor datacollectie

Communicatie -DLL

Directe communicatie via een DLL tussen apparaat en software is mogelijk. Dit is de beste type aansluiting voor softwarefabrikanten (OEM's). Communicatie via de DLL is bidirectioneel en is zowel online als offline beschikbaar.

Datafox-Talk

Interface programma voor data-uitwisseling via bestanden of databases. Deze oplossing is ideaal voor eindgebruikers of resellers van software oplossingen, die de combinatie met Datafox hardware willen gebruiken, zonder een interface te hoeven ontwikkelen.

Communicatie

Ondersteunde opties

+ RS232
+ RS485
+ USB-koppeling
+ TCP/IP
+ W-LAN
+ Bluetooth
+ USB-Stick
+ GSM
+ GPRS
+ Analoog modem
– extern

Gedetailleerde informatie

Geintegreerde transponderlezer

+ Unique / EM4102
+ Hitag1
+ Hitag2
+ HitagS
+ Titan / EM4450 (Hewi)
+ Mifare-Classic
+ Mifare-Desfire
+ Legic
+ i-Button
+ SimonsVoss
+ NEDAP

Biometrie

+ Geintegreerde vingerafdruklezer

Barcodelezer

+ Externe Barcodelezer- Geintegreerde Barcodelezer

Magneetkaartlezer

+ Externe Magneetkaartlezer

Toegangscontrole

+ Toegangscontrole voor 8 deuren

Transponderlezer extern voor toegangscontrole

+ Unique
+ Hitag1
+ Hitag2
+ HitagS
+ Titan / EM4450 (Hewi)
+ Mifare-Classic
+ Mifare-Desfire
+ Legic

Telemetrie

+ GPS-localisering
Meer informatie over GPS-localisering vind u in de handleidng bij hoofdstuk 3.2.6 GPS-Ortung"

I/O-verwerking

+ 6 digitale ingangen geintegreerd
+ 2 analoge ingangen geintegreerd
+ 2 Relais geintegreerd

€

159,95 incl. 21% BTW