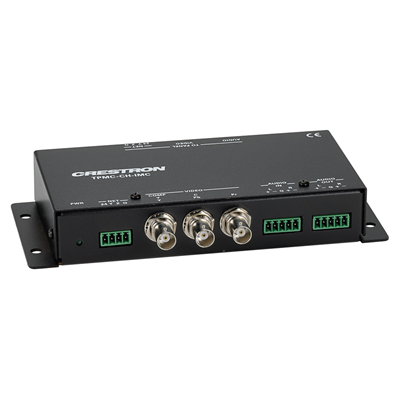 Crestron TPMC-CH-IMC Balanced AV Interface Module CAT5
The TPMC-CH-IMC is an audio/video interface module that is included as standard with many Isys touchpanels that utilize Crestron Home (CH) CAT5 AV connectivity*. The interface module can connect to the touchpanel using a "triamese" interface cable (included with tilt model touchpanels) or using CRESCAT-D cable (sold separately). Installed neatly out of view near the touchpanel, or mounted remotely in the central equipment cabinet, the TPMC-CH-IMC provides connections for Cresnet, bidirectional audio, and (1) video input signal. The balanced CAT5 AV outputs support cable runs up to 300 feet (observe distance limitations based upon power consumption for the touchpanel in use).
Additional interface modules may be purchased and installed to facilitate connectivity for a single movable touchpanel at multiple locations. The TPMC-CH-IMC can also be used as a CAT5 balanced AV interface for use with other Crestron CAT5 AV products.
*The TPMC-CH-IMC is not compatible with QuickMedia® or 10-pin RJ45 based systems.
Connectors
NET (1) 4-pin 3.5mm detachable terminal block;
Cresnet slave port, connects to Cresnet control network
VIDEO COMP/Y/Y, C/PB, PR (3) BNC female;
Provides (1) composite, S-Video, or component video input;
Input Impedance: 75 ohms;
Input Level: 1 Vp-p nominal, 1.5 Vp-p maximum;
Maximum DC Offset: 1.5 Volts
AUDIO IN (1) 5-pin 3.5mm detachable terminal block;
Balanced/unbalanced stereo line-level input;
Input Impedance: 20k ohm balanced, 10k ohm unbalanced;
Maximum Input Level: 4 Vrms balanced, 2 Vrms unbalanced
AUDIO OUT (1) 5-pin 3.5mm detachable terminal block;
Balanced stereo line-level output (unbuffered pass-thru from AUDIO TO PANEL)
AUDIO TO PANEL (1) 8-pin RJ45 female;
Bidirectional CAT5 balanced stereo audio port;
Output Impedance: 100 ohms balanced;
Maximum Output Level: 2 Vrms;
Input Impedance: Infinite (unbuffered pass-thru to AUDIO OUT)
VIDEO TO PANEL (1) 8-pin RJ45 female, CAT5 balanced video output port;
Output Impedance: 100 ohms balanced
NET TO PANEL (1) 4-pin 3.5mm detachable terminal block, pass-thru from NET port
LED Indicators
PWR (green) Indicates 24 Volts DC power supplied from Cresnet control network
Power Requirements
Cresnet Power Usage 2 Watts (0.08 Amps @ 24 Volts DC)
Environmental
Temperature 41° to 122°F (5° to 50°C)
Humidity 10% to 90% RH (non-condensing)
Enclosure
Black metal, surface mount box with (2) integral mounting flanges
Dimensions
Height 1.29 in (3.28 cm)
Width 7.30 in (18.54 cm)
Depth 3.95 in (10.03 cm)
Weight 9.7 oz (0.28 kg)
1 op voorraad
Extra informatie
Beoordelingen (0)