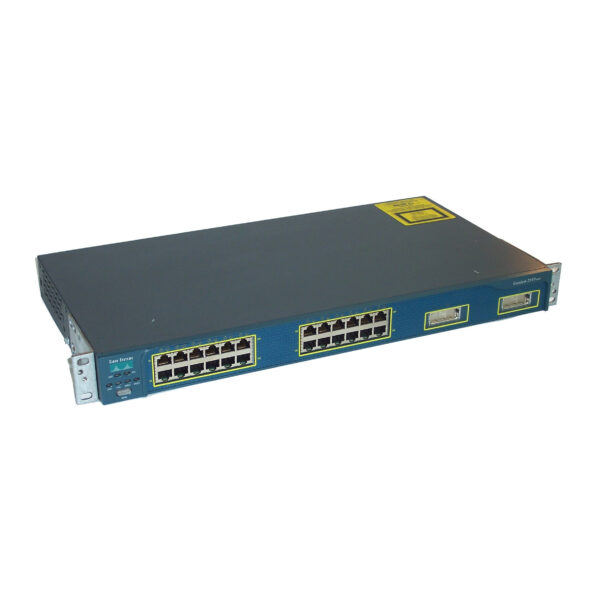 Cisco WS-C2950G-24-EI 24-poorts switch incl. 2x Gbic-slot
1 op voorraad
Beschrijving
Extra informatie
Productbeschrijving
Cisco Catalyst® 2950G-24 is a member of the Catalyst 2950 Series Intelligent Ethernet Switches, and is a fixed-configuration, stackable switch that provides wire-speed Fast Ethernet and Gigabit Ethernet connectivity for midsized networks and the metro access edge. The Catalyst 2950 Series is an affordable product line that brings intelligent services, such as enhanced security, high availability and advanced quality of service (QoS), tothe network edgewhile maintaining the simplicity of traditional LAN switching. When a Catalyst 2950 Switch is combined with a Catalyst 3550 Series Switch, the solution can enable IP routing from the edge to the core of the network.
Available for the Catalyst 2950 Series, the Cisco Network Assistant is a free centralized management application that simplifies the administration task of Cisco switches, routers, and wireless access point. Cisco Network Assistant offers user-friendly GUI interface to easily configure, troubleshoot, and enable and monitor the network.
24 10/100 ports and two fixed GBIC-based 1000BASE-X uplink ports
1 rack unit (RU) stackable switch
Delivers intelligent services to the network edge
Enhanced Software Image (EI) installed
Ideal for advanced desktop access layer connectivity and residential metro access
Ease of Use and Ease of Deployment
Cluster Management Suite (CMS) software for simplifying switch and switch cluster management through a web browser, such as Netscape Communicator or Microsoft Internet Explorer, from anywhere in your intranet
Switch clustering technology used with CMS for

Unified configuration, monitoring, authentication, and software upgrade of multiple switches (refer to the release notes for a list of eligible cluster members).
Automatic discovery of candidate switches and creation of clusters of up to 16 switches that can be managed through a single IP address.
Extended discovery of cluster candidates that are not directly connected to the command switch.

Hot Standby Router Protocol (HSRP) for command-switch redundancy. The redundant command switches used for HSRP must have compatible software releases.