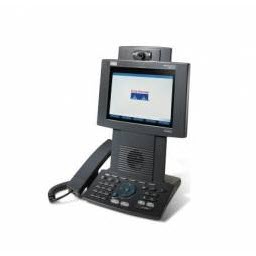 Cisco Unified IP Phone 7985 personal desktop video phone PAL
The Cisco® Unified IP Phone 7985 is a personal desktop video phone for the Cisco Unified Communications solution. Offering executives and managers a productivity-enhancing tool that makes instant, face-to-face communication possible from their offices, the Cisco Unified IP Phone 7985 has all the components to enable a video call-camera, LCD screen, speaker, keypad, and a handset-incorporated into one easy-to-use unit. Using the Cisco Unified IP Phone 7985, a video call is just a phone call.
The Cisco Unified IP Phone 7985 is a dynamic device designed to grow with your system capabilities. Call features such as call forwarding, transfer, conferencing, and hold are now available with video and are all initiated through the IP phone. Using Cisco Unified Communications Manager, IP telephony and IP video telephony are delivered to every employee using a unified dial plan and a common directory, over a single Cisco Unified Communications solution infrastructure.
Through software updates to the phone flash memory, features keep pace with changes. No manual configuration of the phone is required when the user changes location; the user simply picks up the phone and moves to the new location anywhere on the network. The Cisco Unified IP Phone 7985 provides many access methods according to user preference. In addition to the Messages, Directories, Settings, and Services buttons, the Cisco Unified IP Phone 7985 has five buttons to control display features.
1 op voorraad
Gerelateerde producten
Tandberg 3000MXP Codec TTC7-09 PAL HD TelePresence Video Conferencing System

Included:

1 x 

Tandberg 3000MXP Codec TTC7-09 PAL HD TelePresence Video Conferencing System

1 x Ethernet Cable

1 x AC Adapter

1 x VGA to DVI + Audio Cable

1 N Wave II Pal camera unit
remote
AT871R uniplat external microphone

Specification:

BANDWIDTH

H.320 up to 512 kbps
H.323 up to 2 Mbps
SIP up to 2 Mbps


FIREWALL TRAVERSAL

TANDBERG ExpresswayTM Technology, Auto NAT, H.460.18, H.460.19 Firewall Traversal


VIDEO STANDARDS

H.261, H.263, H.263+, H.263++ (Natural Video), H.264


VIDEO FEATURES

Native 16:9 Widescreen, Advanced Screen Layouts, Picture in Picture (PIP), Picture outside Picture & Large POP, Side by Side, PC Zoom, Intelligent Video Management, Simultaneous videoconference & local PC mode, Local Auto Layout


VIDEO INPUTS (5 INPUTS)

1 x 9 Pin DSUB:HD Main camera or S-video & control main camera
1 x MiniDin, S-video: auxiliary/document camera
1 x RCA/Phono, composite: document camera/aux
1 x RCA/Phono, composite: VCR
1 x DVI-I: PC
Input: 800 x 600 (@ 60, 72,75,85 hz), 1024 x 768(@ 60, 70, 75 hz), 1280 x 720 (HD720P) (@ 50, 60 Hz), 1280 x 1024 @ 60hz
Extended Display Identification Data (EDID)


VIDEO OUTPUTS (4 OUTPUTS)

1 x MiniDin, S-video: main monitor
1 x RCA/Phono, composite: main monitor or VCR
1 x RCA/Phono, composite: dual monitor or VCR
1 x DVI-I/XGA: main or second monitor


XGA OUTPUT

800 x 600 @ 75hz, 1024 x 768 @ 60 hz, 1280 x 768 (WXGA) @ 60 hz, 1280 x 720 (HD720p) @ 60Hz

VESA Monitor Power Management


VIDEO FORMAT

NTSC, PAL, VGA, SVGA, XGA, W-XGA, SXGA and HD720p


AUDIO STANDARDS

G.711, G.722, G.722.1, G.728
64 bit & 128 bit MPEG4
AAC-LD


AUDIO FEATURES

CD-Quality 20KHz Mono and Stereo, Telephone add-on via MultiSite, Two separate acoustic echo cancellers, Audio mixer, Automatic Gain Control (AGC), Automatic Noise Reduction, Audio level meters, VCR ducking, Packet loss management, Active lip synchronization, Digital Natural Audio Module (DNAM), 2*30 W output power, 2 integrated speakers, GSM interference audio feature


AUDIO INPUTS (4 INPUTS)

2 x microphone, 24V phantom powered, XLR connector
1 x RCA/Phono, Line Level: auxiliary (or VCR Stereo L)
1 x RCA/Phono, Line Level: VCR/DVD (Stereo R)


AUDIO OUTPUTS (2 OUTPUTS)

1 x RCA/Phono, S/PDIF (mono/stereo) or Analogue Line Level: main audio or Analogue Stereo L

1 x RCA/Phono, Line Level: VCR or Analogue Stereo R


FRAME RATES

30 frames per second @ 168 kbps and above 60 fields per second @ 336 kbps and above (Point-to-point)


DUAL STREAM

DuoVideo, H.239 dual stream, Dynamic bandwidth adjustment (H.323), Available on H.323, H.320 & SIP, Available in Multisite from any site, BFCP


NETWORK FEATURES

Auto H.320/H.323 dialing, SIP, Downspeeding, Programmable network profiles, Intelligent Call Management, Maximum call length timer, Automatic SPID and line number configuration, (National ISDN, GR-2941-CORE), SoftMux, H.331 Broadcast Mode, NATO standard KG194/KIV-7 encryptor support**, URI Dialing

In nette staat !!

€

239,95 incl. 21% BTW