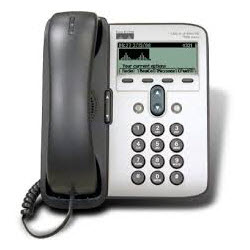 Cisco Unified IP Phone 7912G
48 op voorraad
Beschrijving
Extra informatie
Productbeschrijving
The Cisco Unified IP Phone 7912G provides core business features and addresses the communication needs of a cubicle worker who conducts low to medium telephone traffic. The Cisco Unified IP Phone 7912G offers four dynamic soft keys that guide a user through call features and functions. The graphic capability of the display provides a rich user experience by providing calling information and intuitive access to features. In addition, XML applications deliver impressive applications and network data to the Cisco Unified IP Phone 7912G display.
The Cisco Unified IP Phone 7912G supports an integrated Ethernet switch, providing LAN connectivity to a colocated PC. In addition, the Cisco Unified IP Phone 7912G supports inline power, which allows the phone to receive power over the LAN. This capability gives the network administrator centralized power control, translating into greater network availability. The combination of inline power and Ethernet switch support reduces cabling needs to a single wire to the desktop.
Figure 1. Cisco Unified IP Phone 7912G
CISCO UNIFIED IP PHONE 7912G FEATURES
The Cisco Unified IP Phone 7912G is designed to be easy to use with conveniently placed features.
• Pixel-based display—A pixel-based display provides intuitive access to calling features.
• Four soft keys dynamically present calling options to the user. The scroll toggle bar allows easy movement through the displayed information.
• "Menu" key—This key allows users to quickly access information such as call logs and phone settings.
– The user can retrieve voice-mail messages.
– The user can display missed calls, outgoing calls that have been placed, and incoming calls that have been received.
– The user can set various preferences such as ring types and display contrast.
• "Hold" key—This lighted key provides users a red visual indication that they have placed a call on hold.
• A volume-control toggle provides easy decibel-level adjustments of the handset and ringer.
• The handset is hearing-aid compatible (meets American Disabilities Act [ADA] requirements).
• A single-position foot stand provides optimum display viewing and comfortable use of buttons and keys. The foot stand can be removed to allow wall mounting via mounting holes located on the base of the phone.
• XML Applications can be delivered to the display.
The Cisco Unified IP Phone 7912G is designed to grow with system capabilities. Features will keep pace with new changes via software updates to the phone Flash memory. Examples of currently available features include:
• Support of a single line or directory number
• Calling name and number display
• Call waiting
• Call forward
• Call transfer
• Support of Extension Mobility
• Three-way calling (conference)
• On-hook dialing, predialing, and off-hook dialing
• Redial
• Call hold
• Call monitor (speaker only, no microphone)
• "Messages" soft key that allows access to voicemail messages
• Four speed dials configurable at the Cisco Unified CallManager
• Cisco Discovery Protocol
• Automatic IEEE 802.1Q (voice virtual LAN [VVLAN]) configuration
• IEEE 802.1Q /p VLAN tagging and traffic prioritization
• 802.1Q VLAN-based switching of traffic between the phone and access switch
• Differentiated Services Code Point (DSCP) tagging
• G.711a, G.711u, and G.729ab audiocompression coders-decoders (codecs)
• Integrated Ethernet switch
• 10/100BASE-T Ethernet connection through an RJ-45 interface for LAN connectivity
• Software upgrade supported using a Trivial File Transfer Protocol (TFTP) server
• Provisioning of network parameters through Dynamic Host Configuration Protocol (DHCP)
• Voice activity detection, silence suppression, comfort-noise generation, and error concealment
PROTOCOLS SUPPORTED
• Compatible with Cisco Unified CallManager Version 3.3(2) and later, using the Skinny Client Control Protocol (SCCP) protocol
• SIP (RFC 2543)
PHYSICAL SPECIFICATIONS
• Dimensions (H x W x D): 6.5 x 7 x 6 in. (20.3 x 17.67 x 15.2 cm)
• Height: 1.9 lb (0.9 kg)
POWER SUPPLY
• Inline power
• Power can also be supplied locally using an optional AC to 48-VDC power adapter (CP-PWR-CUBE-3=), which requires one of the following country-specific cords.
TEMPERATURE
• Operating temperature: 32 to 104°F (0 to 40°C)
• Relative humidity: 10 to 95% (noncondensing)
• Storage temperature: 14 to 140°F (-10 to 60°C)
CERTIFICATION
Regulatory Compliance
• CE Marking
• UL 60950
• CSA-C22.2 No. 60950
• EN 60950
• IEC 60950
• AS/NZS 3260
• TS 001
EMC
• FCC Part 15 (CFR 47) Class B
• ICES-003 Class B
• EN55022 Class B
• CISPR22 Class B
• AS/NZS 3548 Class B
• VCCI Class B
• EN55024
• EN50082-1
• EN 61000-3-2
• EN 61000-3-3
• EN 61000-6-1
Telecom
• FCC Part 68 (CFR 47) (HAC)
Exclusief adapter !!