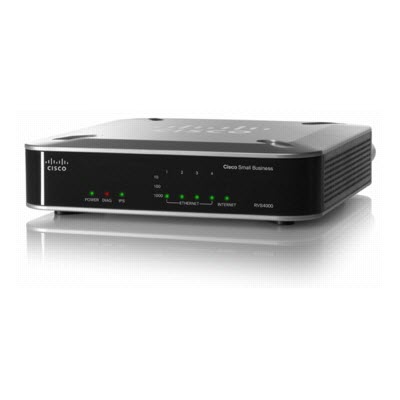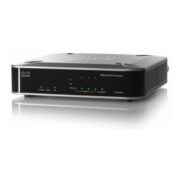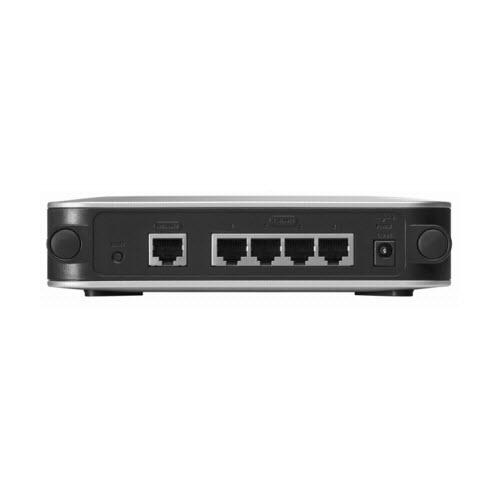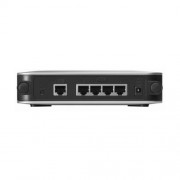 Cisco RVS4000 4-port Gigabit Security Router
The Cisco ® RVS4000 Gigabit Security Router delivers affordable, highly secure network access and switching capabilities at broadband speed to help enable employees of small businesses like yours safely connect to the resources they need to be productive (Figure 1). Strong security features include a proven firewall with intrusion prevention, virtual private network (VPN) capabilities, and an optional service that helps block malicious websites and control web access to protect your business. An integrated 4-port Gigabit Ethernet switch allows up to four devices to share high-speed connectivity in the office.
Features and Benefits
The Cisco RVS4000 Gigabit Security Router offers:
• High-speed connectivity: Gigabit Ethernet connections on both WAN and LAN ports help you take full advantage of your broadband connections, enabling your employees to send and receive large files quickly and easily.
• Proven Stateful Packet Inspection (SPI) firewall with Intrusion Prevention System (IPS): Unlike standard firewalls, which block incoming streams based only on the source or type of data, the intrusion prevention system scans deep, enabling it to detect and block most worms, Trojan horses, and denial-of-service attacks to help keep your business assets safe.
• VPN capabilities: IP Security (IPsec) VPN capabilities built into the RVS4000 enable your remote employees, whether working from home or on the road, to connect to your office network using nearly any VPN client to access files and transfer data as securely as if they were in the office.
• Optional Cisco ProtectLink Web security service: This optional hosted service adds another layer of protection to your network by blocking malicious websites and controlling web access, without the drain on your office PCs caused by traditional security solutions.
• Improved traffic flow and network management: Flexible, built-in support for up to four 802.1Q virtual LAN (VLAN) connections enable separation of network traffic to help improve traffic flow and overall network management while enabling the RVS4000 to interoperate with other VLAN-capable switches (Figure 2).
• Limited lifetime warranty.
Highlights
• Secure, high-speed network access for small businesses
• Gigabit Ethernet connections enable rapid transfer of large files
• Advanced security, including intrusion prevention, helps keep assets safe
• Full IPsec VPN capabilities for up to five remote connections
Uitverkocht