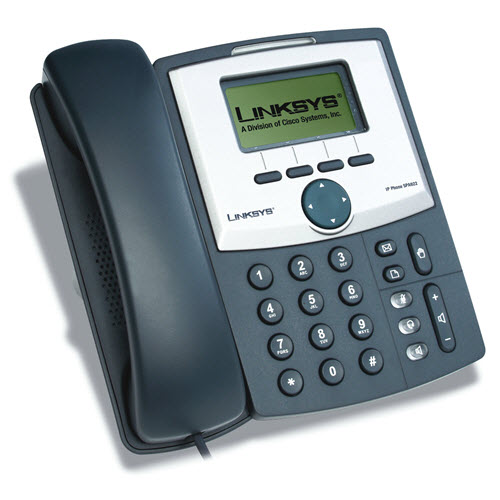 Cisco Linksys SPA922 SPA 922 SPA-922 1-lijns IP Phone 1xSIP
Net als bij de populaire Cisco Linksys SPA-942 2-lijns IP Phone is de SPA-922 een schitterend hoogstandje van klasse, ontwerp en functionaliteit. De SPA-922 is bij uitstek geschikt voor gebruik op de moderne werkplek door haar uitrusting met 2 LAN-poorten en ondersteuning voor Power-over-Ethernet. Hierbij wordt de telefoon gevoed via de LAN-kabel. De SPA-922 werd speciaal op de markt gebracht voor gebruik in combinatie met een eigen VoIP telefooncentrale. Immers: dan heeft u maar één SIP-account nodig, en dat is precies wat de SPA-922 u te bieden heeft.
De SPA-922 voorziet u van een zeer geavanceerde en betrouwbare VoIP-functionaliteit om u van alle gemakken van VoIP-bellen te kunnen voorzien. De uitstekende geluidskwaliteit, zeer veel instellingsmogelijkheden, comfort (waaronder handsfree-functie en een headsetpoort) en een overzichtelijk display zullen u snel overtuigen dat VoIP het medium van de toekomst is.
De SPA-922 is geschikt om één SIP-account op aan te maken, maar hiermee kunt u wel twee simultane gesprekken voeren. Geavanceerd gebruik zoals bijvoorbeeld het voeren van drie-weg-gesprekken (conferentie-telefonie), attended call transfer, een tweede gesprek aannemen terwijl u het eerste gesprek in de wacht zet, etc. De lijn kan worden geconfigureerd als een uniek telefoonnummer (of extensie-nummer) of kan worden geconfigureerd als een gedeeld nummer dat door meerdere toestellen kan worden aangenomen (vgl. callcenter).
SPA-922 product-highlights
zeer compleet uitgeruste 1-lijns Business IP Phone
uitgerust met 2 x LAN en ondersteuning voor Power over Ethernet (802.3af)
direct aan te sluiten op een VoIP-service provider of eigen IP PBX (Asterisk, etc.)
voorzien van handsfree, Caller ID, Call Hold, Transfer, Conferencing, etc.
eenvoudige installatie met veilige remote provisioning; overzichtelijke webbased configuratie
Indrukwekkende interoperability en SIP-based Feature Set
Met de wijd-verbreide SIP-belstandaard als basis, kunt u de SPA-922 zeer goed gebruiken in een netwerk waar reeds VoIP-apparatuur van andere merken functioneert. De SPA-922 is zeer breed getest en zeker niet éénkennig. U creëert zo razendsnel een netwerk met de specificaties die u zelf bepaalt: honderden instelmogelijkheden en configureerbare service parameters voorzien in al uw wensen en eisen en laten u optimaal profiteren van de voordelen van Voice-over-IP. Denkt u bijvoorbeeld aan 'easy station moves', presentie/absentie-controle, shared line appearances (zowel binnen één pand als tussen vestigingen).
Prioriteit voor beveiliging, provisioning en beheer
De SPA-922 biedt veilige remote beheer- en upgrade voorzieningen via de gangbare encryptieprotocollen. De Linksys Secure Remote Provisioning Tools omvatten gedetailleerde instrumenten om de performance van uw apparatuur te meten en problemen op afstand op te kunnen lossen. De netwerkbeheerder kan zo een goede en continu hoge kwaliteit aan haar gebruikers garanderen.
In aanvulling daarop zal remote provisioning de netwerkbeheerder de menige rompslomp en kosten van beheer, preconfigurate en herstel kunnen besparen. U ziet: dit biedt voordelen voor zowel u als voor uw gebruikers, een tevreden klant is het resultaat.
Telefoon-kenmerken o.a.:
One Voice Line with Two Call Appearances
Backlit Pixel Based Display: 128×64 Monochrome Graphical Liquid Crystal Display (LCD)
Line Status – Active Line Indication, Name and Number
Menu Driven User Interface
Shared Line Appearance
Speakerphone
Call Hold
Music on Hold
Call Waiting
Caller ID Name and Number and Outbound Caller ID Blocking
Outbound Caller ID Blocking
Call Transfer – Attended and Blind
Three Way Call Conferencing with Local Mixing
Connects to External Conference Bridge for Multi-party Conferencing
Automatic Redial of Last Calling and Last Called Numbers
On-Hook Dialing
Call Pick Up – Selective and Group
Call Park and UnPark
Call Swap
Call Back on Busy
Call Blocking – Anonymous and Selective
Call Forwarding – Unconditional, No Answer, On Busy
Hot Line and Warm Line Automatic Calling
Call Logs (60 entries each): Made, Answered, and Missed Calls
Redial from Call Logs
Personal Directory with Auto-dial (100 entries)
Do Not Disturb (callers hear line busy tone)
Digits Dialed with Number Auto-Completion
Anonymous Caller Blocking
URI (IP) Dialing Support (Vanity Numbers)
On Hook Default Audio Configuration (Speakerphone and Headset)
Multiple Ring Tones with Selectable Ring Tone per Line
Called Number with Directory Name Matching
Call Number using Name – Directory Matching or via Caller ID
Subsequent Incoming Calls with Calling Name and Number
Date and Time with Intelligent Daylight Savings Support
Call Duration and Start Time Stored in Call Logs
Call Timer
Name and Identity (Text) Displayed at Start Up
Distinctive Ringing Based on Calling and Called Number
Speed Dialing, Eight Entries
Configurable Dial/Numbering Plan Support
Intercom
Group Paging
NAT Traversal, including STUN Support
DNS SRV and Multiple A Records for Proxy Lookup and Proxy Redundancy
Syslog, Debug, Report Generation, and Event Logging
Secure Call Encrypted Voice Communication Support
Built-in Web Server for Administration and Configuration with Multiple Security Levels
Automated Remote Provisioning, Multiple Methods. Up to 256 Bit Encryption: (HTTP, HTTPS, TFTP)
Optionally Require Admin Password to Reset Unit to Factory Defaults
N.B.: deze features vereisen ondersteuning door de gebruikt server
Hardware-kenmerken o.a.:
Pixel Based Display: 128×64 Monochrome LCD Graphical Display
Dedicated Illuminated Buttons for:
Audio Mute On/Off
Headset On/Off
Speakerphone On/Off
Four Soft Key Buttons
Four Way Rocking Directional Knob for Menu Navigation
Voice Mail Message Waiting Indicator Light
Voice Mail Message Retrieval Button
Dedicated Hold Button
Settings Button for Access to Feature, Set-up, and Configuration Menus
Volume Control Rocking Up/Down Knob Controls Handset, Headset, Speaker, Ringer
Standard 12-Button Dialing Pad
High Quality Handset and Cradle
Built-In High Quality Microphone and Speaker
Headset Jack -" 2.5 millimeter
LED Test Function
2 x Ethernet LAN Ports with Integrated Ethernet Switch 100BaseT RJ-45
OPTIONEEL: 5 volt DC Universal (100-240 Volt) Switching Power Adaptor
Specificaties Data Networking o.a.:
MAC Address (IEEE 802.3)
IPv4 – Internet Protocol v4 (RFC 791) upgradeable to v6 (RFC 1883)
ARP – Address Resolution Protocol
DNS – A Record (RFC 1706), SRV Record (RFC 2782)
DHCP Client – Dynamic Host Configuration Protocol (RFC 2131)
ICMP – Internet Control Message Protocol (RFC792)
TCP – Transmission Control Protocol (RFC793)
UDP – User Datagram Protocol (RFC768)
RTP – Real Time Protocol (RFC 1889) (RFC 1890)
RTCP – Real Time Control Protocol (RFC 1889)
DiffServ (RFC 2475), Type of Service – TOS (RFC 791/1349)
VLAN Tagging 802.1p/q – Layer 2 QoS
SNTP – Simple Network Time Protocol (RFC 2030)
Specificaties Voice Gateway o.a.:
SIPv2 – Session Initiation Protocol Version 2 (RFC 3261, 3262, 3263, 3264)
SIP Proxy Redundancy – Dynamic via DNS SRV, A
Records Re-registration with Primary SIP Proxy Server SIP Support in Network Address Translation Networks – NAT (including STUN)
SIPFrag (RFC 3420)
Secure (Encrypted) Calling via Pre-Standard Implementation of Secure RTP
Codec Name Assignment
Voice Algorithms:
o – G.711 (A-law and μ-law)
o – G.726 (16/24/32/40 kbps) vo – G.729 A
o – G.723.1 (6.3 kbps, 5.3 kbps)
Dynamic Payload Support
Adjustable Audio Frames Per Packet
DTMF: In-band and Out-of-Band (RFC 2833) (SIP INFO)
Flexible Dial Plan Support with Inter-Digit Timers
IP Address / URI Dialing Support
Call Progress Tone Generation
J itter Buffer – Adaptive
Frame Loss Concealment
VAD – Voice Activity Detection with Silence Suppression
Attenuation / Gain Adjustments
MWI – Message Waiting Indicator Tones
VMWI – Voice Mail Waiting Indicator – Via NOTIFY, SUBSCRIBE
Caller ID Support (Name and Number)
Third Party Call Control (RFC 3725)
Provisioning, inrichting en beheer onderhoud
Integrated Web Server Provides Web Based Administration and Configuration
Telephone Key Pad Configuration via Display Menu / Navigation
Automated Provisioning and Upgrade via HTTPS, HTTP, TFTP
Asynchronous Notification of Upgrade Availability via NOTIFY
Non-intrusive, In-Service Upgrades
Report Generation and Event Logging
Statistics Transmitted in BYE Message
Syslog and Debug Server Records – Configurable Per Line
Fysieke interfaces:
2 x 100baseT RJ-45 Ethernet Port (IEEE 802.3)
Handset: RJ-7 Connector
Built-in Speakerphone and Microphone
Headset 2.5 mm Port
Stroomvoorziening:
Switching Type (100-240v) Automatic
DC Input Voltage: +5 Volts DC at 2.0 Amps Maximum
Power Consumption: 5 Watts
Power Adapter: 100-240v – 50-60Hz (26-34VA) AC Input, 1.8m (6 ft) cord
LED-indicatoren:
Four (4) Call Appearance/Line Buttons with Associated Tricolor LED
Line LED State Indication: Active, Idle, On Hold, Unregistered
Speakerphone On/Off Button with LED
Headset On/Off Button with LED
Mute Button with LED
Message Waiting Indicator LED
Voicemail Message Retrieval Button
Hold Button
LED Test Function
Uitverkocht