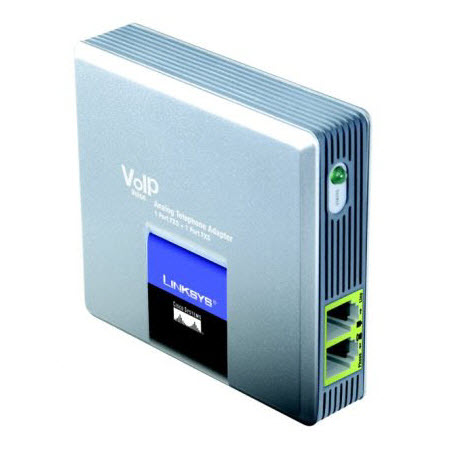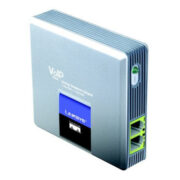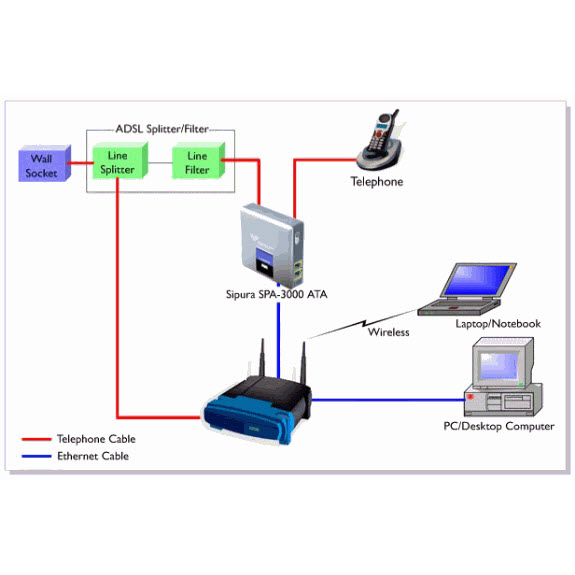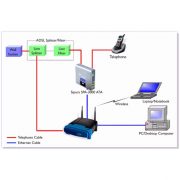 Cisco Linksys SPA-3000 SPA3000 VOIP Phone adapter
LINKSYS SPA3000 SPA-3000 VOIP FXS
The SPA3000 continues to deliver on Sipura Technologys mission to provide market leading,best-in-class VoIP end points providing fredom and opportunity to service providers and end users.The SPA-3000 features VoIP adapter functionality found in the SPA-2000 and SPA-1000/1 with the additional benefit of an integral connection for legacy telephone network hop-on,hop-off applications.SPA-3000 users will be able to leverage their broadband phone service connections more than ever by automatically routing local calls from cellphones and land lines to a VoIP service provider and vice versa.A typical user clling from a land line or mobilephone will be able to reduce and even eliminate international and long distance telephone charges by first calling their SPA-3000 via a lacal phone number or by using a telephone connected directly to the unit.The advanced authenticacantion and routing intel-ligence programmed into the SPA-3000 will connect the caller via the internet to the far end destination with security and ease.Using the SPA-3000 at the far end,calls can be answered immediately or further processed as a local call to any legacy land line or mobilephone allowed by the SPA-3000 dial plan.
If power and/or IP network connectivity is lost to the unit or VoIP service is down,calls can be sent to a traditional carrier via the FXO interface.
SPA-3000 Telephony Features:
Voip to PSTN(USA) Service Call Origination and Termination
PSTN(USA) to VoIP Service Call Origination and Termination
Single or Dual Stage Dailing
Service Authentication via PIN,Digest,Caller ID (Bellcore Type 1)
Per Call Authentication and Associated Routing
Least Cost Routing Support
Terminating Impedance Agnostic-8 Configurable Settings
Call Waiting,Cancel Call Waiting
Caller ID Detection(Bellcore Type 1)
Callers ID with Name/Number(Multinational Varients)Display
Caller ID Blocking
Call Waiting Caller ID with Name/Number
Call Forwarding to PSTN or VoIP Service:No Anwser/Busy /All
Do Not Disturb
Call Transfer
Three-way Conference Calling with Local Mixing
Message Waiting Indication-visual and Tone Based
Cll Blocking with Toll Restriction
Distinctive Ringing
Off-Hook Warning Tone
Selective/Anonymous Call Rejection
Hot line and warm line Calling
Speed Dialing of 8 Numbers/Adresses
Music on Hold
Forward Calls to VoIP service -Selective,Authenticated,All
Forward Calls to PSTN service -Selective,Authenticated,All
PSTN line Sharing with Multipal Extensions
Automatic PSTN Fallback(Loss of Power or IP Service to Unit with Quiescence to Normal Operations)
Advanced Inbound and Two Stage Dailing
Independent Configurable Dial Plans-up to 8
Force PSTN Disconnection
Sequential Dailing Support
Dit is een nieuw product !!
29 op voorraad